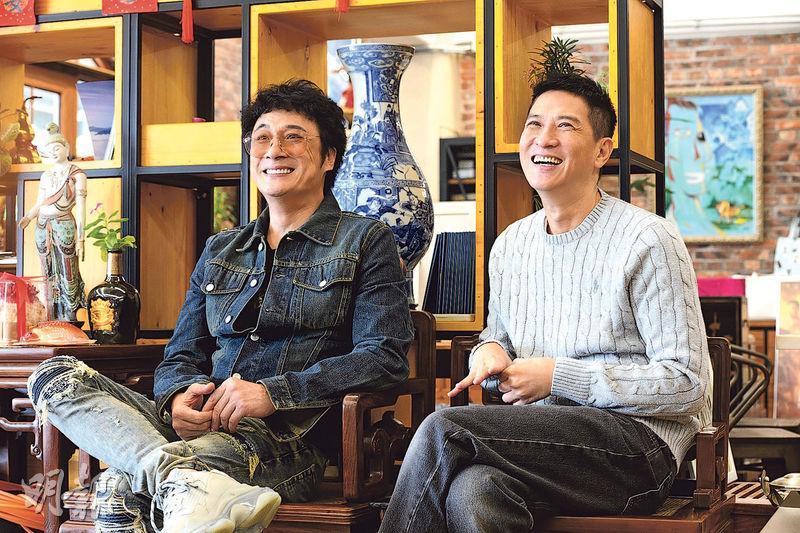 Francis Ng says that interpreting the romance of men is harder than the opposite sex relationship
courtesy of mingpao.com
The Nick Cheung Ka Fai, Louis Koo Tin Lok and Francis Ng Chun Yu starred LINE WALKER 2 (SI TOH HUNG JEH 2 DIP YING HUNG DONG) will officially open on August 8th. From its production specials, the trio with their own identities would set off many sparks in the film. This film went to shoot in Myanmar and Spain, in Spain the Running of the Bulls was also opened to a film production for the first time.
The film LINE WALKER 2 continued to be Jazz Boon (Man Wai Hung) directed. This time in the film, three Best Actors' investigations even expanded to Myanmar and Spain. In Spain the production team even successfully applied to shoot a tradition holiday of Spain -- the Running of the Bulls. Director Man said, "When I wrote the script I already decided that we had to go to shoot in Spain, because I really wanted to shoot the Running of the Bulls. That type of crazy, cheerful climate and chaotic condition were very suitable for this film's large scale action scenes. In addition Myanmar has never been open to another nation or region's film production. This time was the first successful application for a large scale gun fight to be shot on one of the Yangon, Myanmar's main artery. Although it was full of difficulties, it also made our production team very excited."
Speaking of LINE WALKER, aside from a series of speculations and suspicions, everyone would certainly remember the brotherly love within it. Cheung Ka Fai mentioned, "The romance between men, the brotherhood that would go to war for each other -- because in real life you may not be able to find that type of brothers who would make sacrifice and carry the burden for each other. This time in the production Koo Tin Lok and I went from the mutual suspicion from the start to the heart to heart in the face of life and death, I was very touched by that sense of being able to relate. I believe that when the audience see it they would be rather moved as well. I also hope that when the audience watch LINE WALKER 2 they would be able to enjoy and get into different characters in the film, sense the brotherhood within and experience the emotions that they may not be able to find in the real world."
Cheung Ka Fai said that he longed for the brotherhood in the film. "In reality it is very hard to find, but I too want to have several brothers who would go through Hell for and trust each other! It would be good for the audience to more or less experience this type of emotions in the short 98 minutes of this film." Man Wai Hung also mentioned that before creating LINE WALKER, he once heard that the subject of brotherhood was already outdated. "I hope through this creative process to show the audience that brotherhood and loyalty actually are without the idea of being outdated or not."
In the film aside from the trio's emotional scenes, the action scenes would also leave a deep impression with the audience. When asked which stunt was the most dangerous in the film, Ka Fai joked, "All of them were dangerous! If they weren't dangerous we would have gone on a bicycle ride. Although we shot a lot of dangerous scenes, with the production team and action director Chin Kar Lok's hard work, we safely completed the all."
Speaking of the most shocking scene in the film, the running of the bulls must be mentioned. The production team faced difficulty after difficulty when applying for the shoot. Director Man Wai Hung recalled when hey first contacted Spanish authorities they completely shot down the idea. The Spanish production company even said that the main route in Pamplona has never been opened for film production, not to mention that this time truly required so many road blocks. With real running bulls and runners in addition to the car chase, the shoot was basically impossible because in the past other films used computer generated technology. Man Wai Hung said, "At first when Spain got the set up they thought we were crazy. However our production team wanted to use the least CG technology to show the most realistic running of the bulls to the audience. Luckily after several meetings, Spain accepted and felt that the Hong Kong production team's suggestions and methods were viable. Although it was full of difficulties, in the end the production was successful. It was also very rare."
In the end Man Wai Hung also believed in "what goes around, comes around" and hid some scenes that echoed this sentiment in the film for the audience to find and experience.
Francis Ng Chun Yu and Nick Cheung Ka Fa have known each other for years and worked together numerous times, in the new film LINE WALKER 2 (SI TOH HUNG JEH 2 DIP YING HUNG DONG) when they played good brothers they naturally had their roles well in hand. The brotherhood without regret in the film indeed was a touching depiction, but as they said, it was hard to find in reality. They could only satisfied this fantasy in the film.
Ng Chun Yu and Cheung Ka Fai in the film LINE WALKER 2 were friends like in reality. Cheung Ka Fai said that the familiarity helped with the performance, but Ng Chun Yu disagreed. "Many movies had a group of friends, but they mainly would rely on the screenplay and actors. Just because they were good friends their performance was not guaranteed. Real couples playing couples also might not necessarily be entertaining." The task for the audience to deeply sense the brotherhood in the film was not easy at all, Ng Chun Yu felt that playing brotherly love was harder than opposite sex relationship. Because that emotion had to come from the heart, everything was unspoken. Cheung Ka Fai felt that the brotherhood often was a selling point that pleased the audience, because in everyday life everyone wanted to have a friend who supported their stance without any regret and stood by them in theory and in practical action. However actually it was a fantasy.
How did they see the brotherhood in reality? Ng Chun Yu said, "Because in reality we are very busy, our lives are simple. We have no chance for any situation that expresses loyalty between brothers to appear. Only in film would they have a chance to express it." Cheung Ka Fai also said, "Who doesn't want to? Yet finding a good brother without any selfishness and envy, that would only appear in the film world. The brotherhood in the film was able to satisfy me."
One reserved and the other extroverted in the film, Cheung Ka Fai said that Ng Chun Yu's personality was the opposite of the character. His personality was overt but had to play reserved, which was actually acting. Did Ng Chun Yu feel that the character was harder to handle? He said, "I just coordinate with the character's personality. Actually it's funny, many people ask me why I would be reserved now. Because when in the TVB series FAMILY SQUAD, if I played reserved Chor Yuen would have stolen all the spotlight. I wanted to say that the character was this way so I played it this way. Should I use the 'Ugly Kwan' performance method for everything?"
Director Man Wai Hung obviously put a lot of thought into characterization. Ng Chun Yu looked like the film MANHUNT's Masaharu Fukuyama, Cheung Ka Fai's appeared was also based on MISSION: IMPOSSIBLE's Tom Cruise. Ng Chun Yu explained, "Because for many crime films I wore three piece suits and combed back the hair, I didn't want to be like like this again in this film. So I asked if we had any Japanese cop mage. Later I found Masaharu Fukuyama's photo and showed the director, then the director understood what wanted. Thus the director during the entire film would call 'Masaharu Fukuyama' to the set and even used this joke in the film." Cheung Ka Fai said that at first he constantly asked he director why he was made to be like 007. Later the director stated he wanted to make him like a special agent. He then slowly understood that the director did not want ot make a crime film but a special agent film.
The film added classic Hong Kong film elements, the most obvious was the twin gun wielding and white doves. Cheung Ka Fai said, "These were all the director and action director Chin Kar Lok's ideas. They might have been deliberate because we have all witness 1990's crime films. However everyone seemed to have slowly forgotten these scenes that we were excited about. Perhaps this time they deliberately picked up this nostalgia again. I don't think it's anything bad. These elements once made Hong Kong film thrive, the film was a good attempt."