Only Nick Cheung knows the pain of the car crash scene
Carlos Chan plays his first villain role
courtesy of on.cc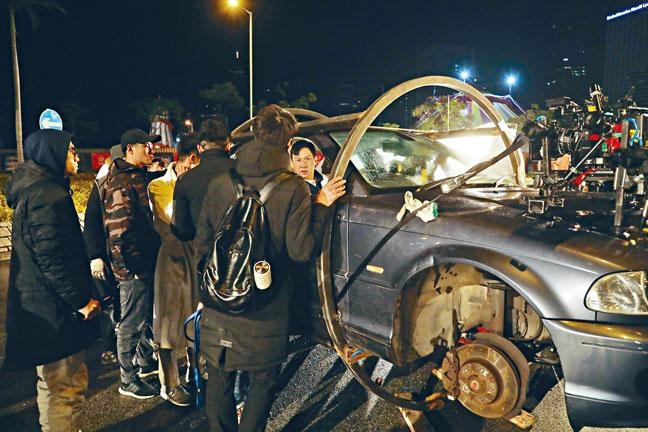 courtesy of singtao.com
Nick Cheung Ka Fai and Richie Jen (Yam Yin Chai) after 15 years worked together again on the film BODIES AT REST (CHUM MUK DIK JING YUN). The Ka Fai played forensic scientist ran into an evidence stealing thief Siu Chai on Christmas Eve and had close combat in the morgue and car chase outside. Ka Fai at Central drove fast and crashed a car. He even had to shoot a wet scene on the coldest days. Even "spectator" Siu Chai could not help but called Ka Fai "life risking".
Siu Chai thanked Hollywood action director Renny Harlin for his effort on this production because unlike other foreign films that came to Hong Kong to shoot the market for nostalgia but the prettiest side of Hong Kong this time. "We were at the Kwai Chung morgue, but he deliberately chose to shoot the car chase by the Central harbor and add into the beautiful Hong Kong night scenery. He was very thoughtful."
Jumping out of the morgue to race and crash at Central, Ka Fai had to drive in a circle and crashed with 4 cars. With the rain making the road slippery, Ka Fai was trapped in the car and bounced around like a pin ball. Finally after a few rolls it stopped. Because the shoot took place in the winter, the morning with the strong Central harbor wind the temperature was only in single digit. Ka Fai's body temperature almost dropped to freezing point. For different angles he was completely soaked then rapidly blown dry, then wet again and dried again. He performed professionally despite the exhaustion. As soon as the director yelled cut the crew rushed in and "rescued" Ka Fai out of the car. They also handed him towels and hot team to keep him warm. The awe struck Siu Chai treated everyone to piping hot dessert and cheered on Ka Fai and team.
Ka Fai helplessly said, "Making a movie is the toughest, on the coldest days rain and diving scenes would take place. Then the next day the temperature would climb back up again." Siu Chai also called Ka Fai "life risking", soaked in the rained, crashing around inside the car, and getting tossed onto a table during their fight scene. "Originally I was hurting all over when I hit Ka Fai, but after watching the playback, Ka Fai told me to do it again harder!" Ka Fai praised Siu Chai for acting with a mask on through, the physical performance was difficult in other ways.