courtesy of on.cc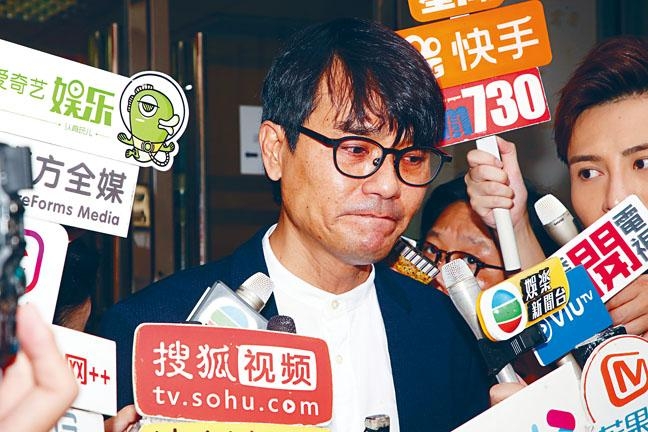 courtesy of singtao.com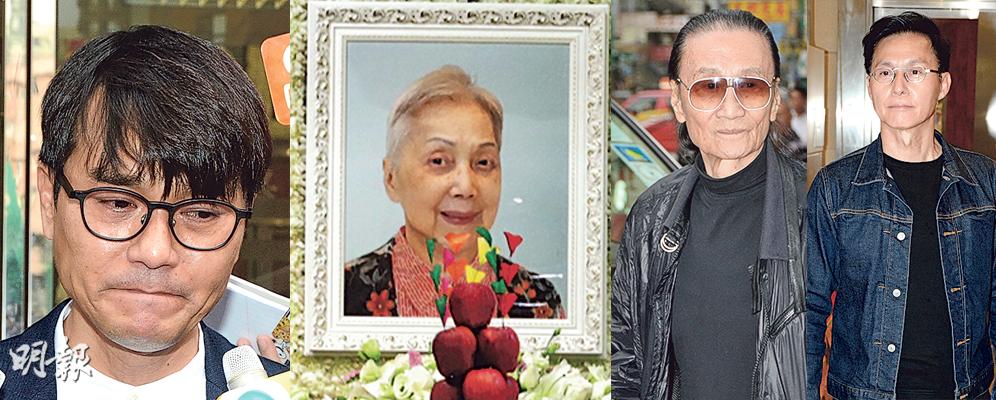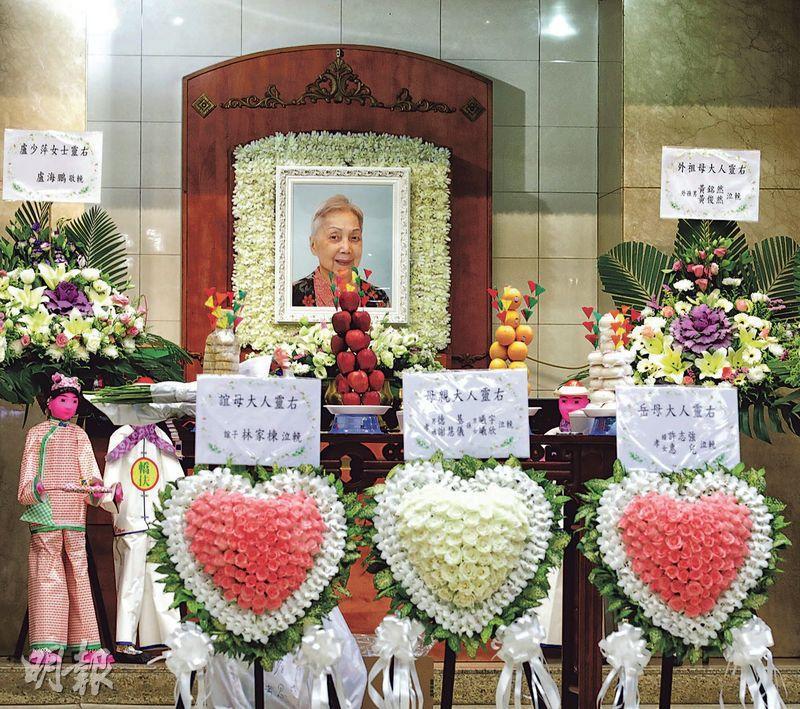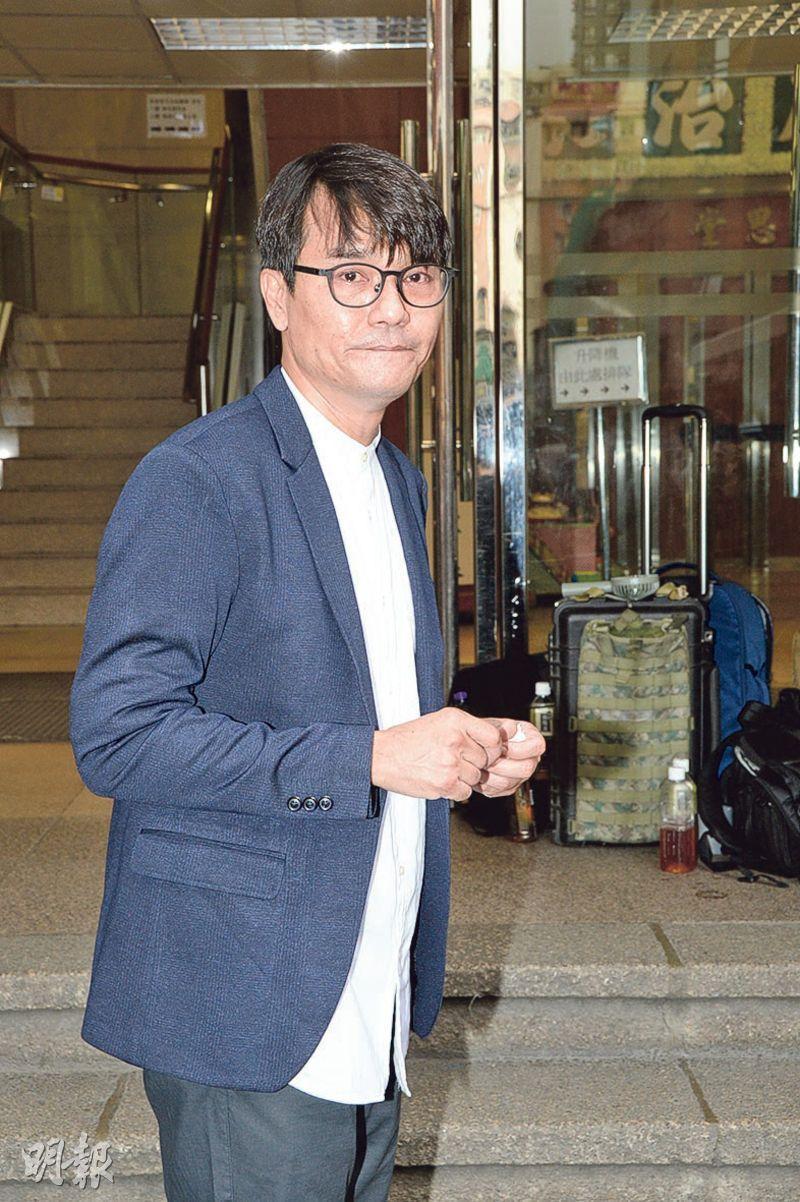 Gordon Lam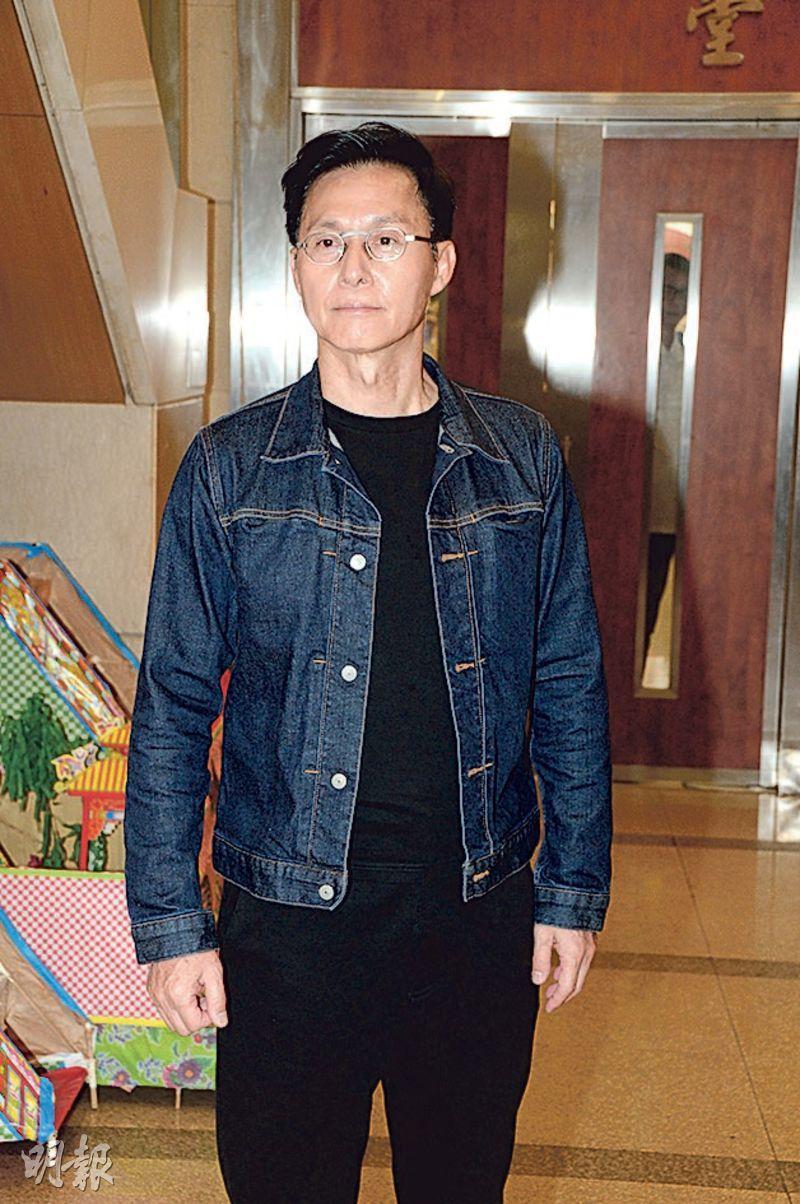 Cheung Kwok Keung
Helena Law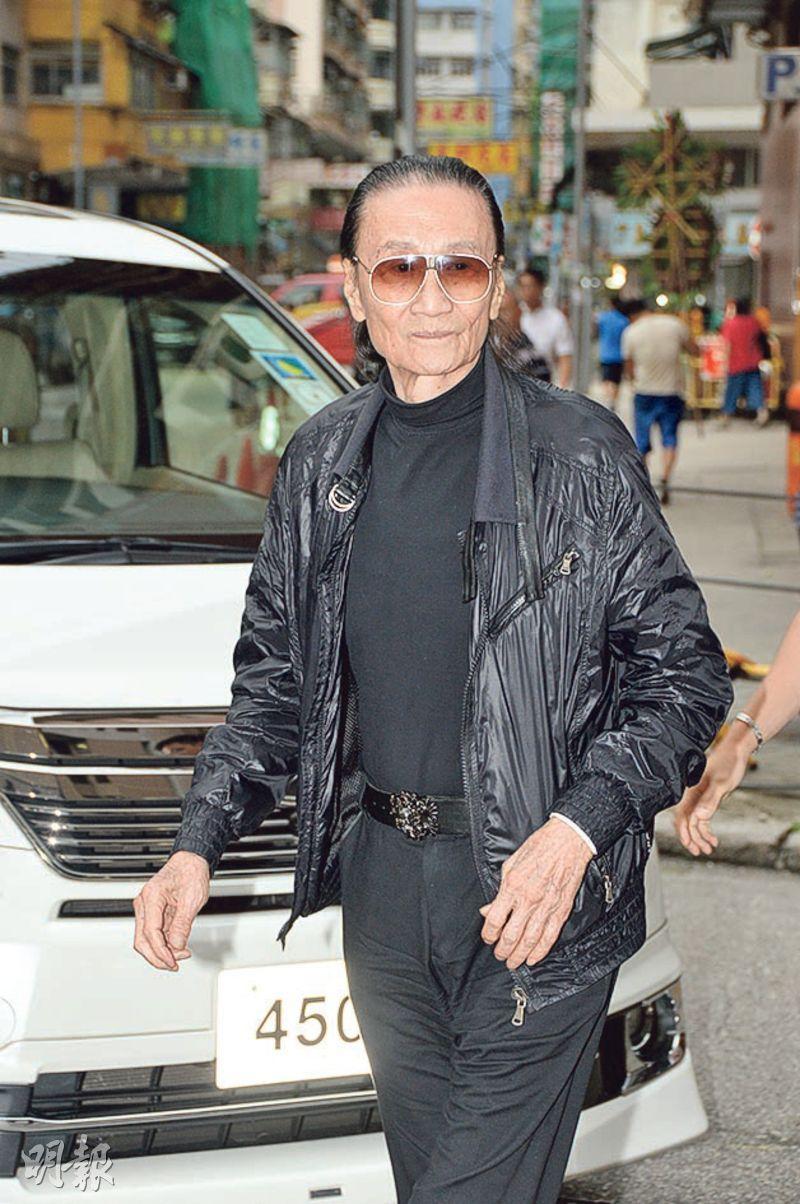 Patrick Tse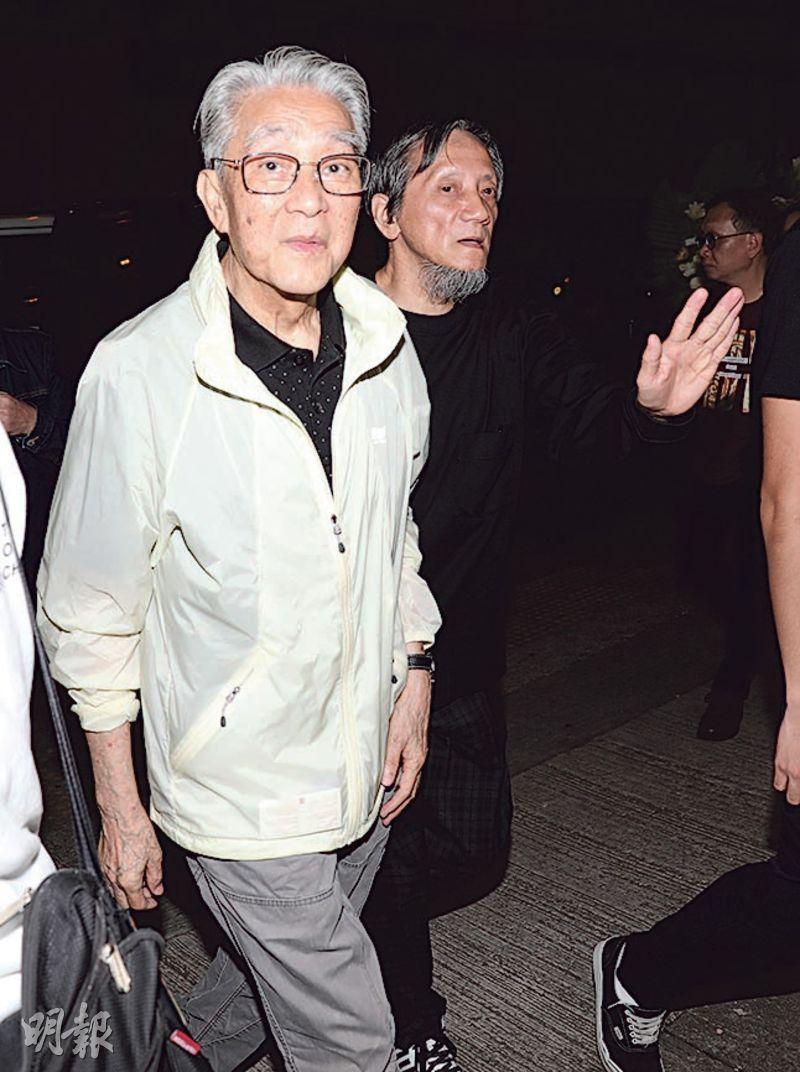 Chow Chung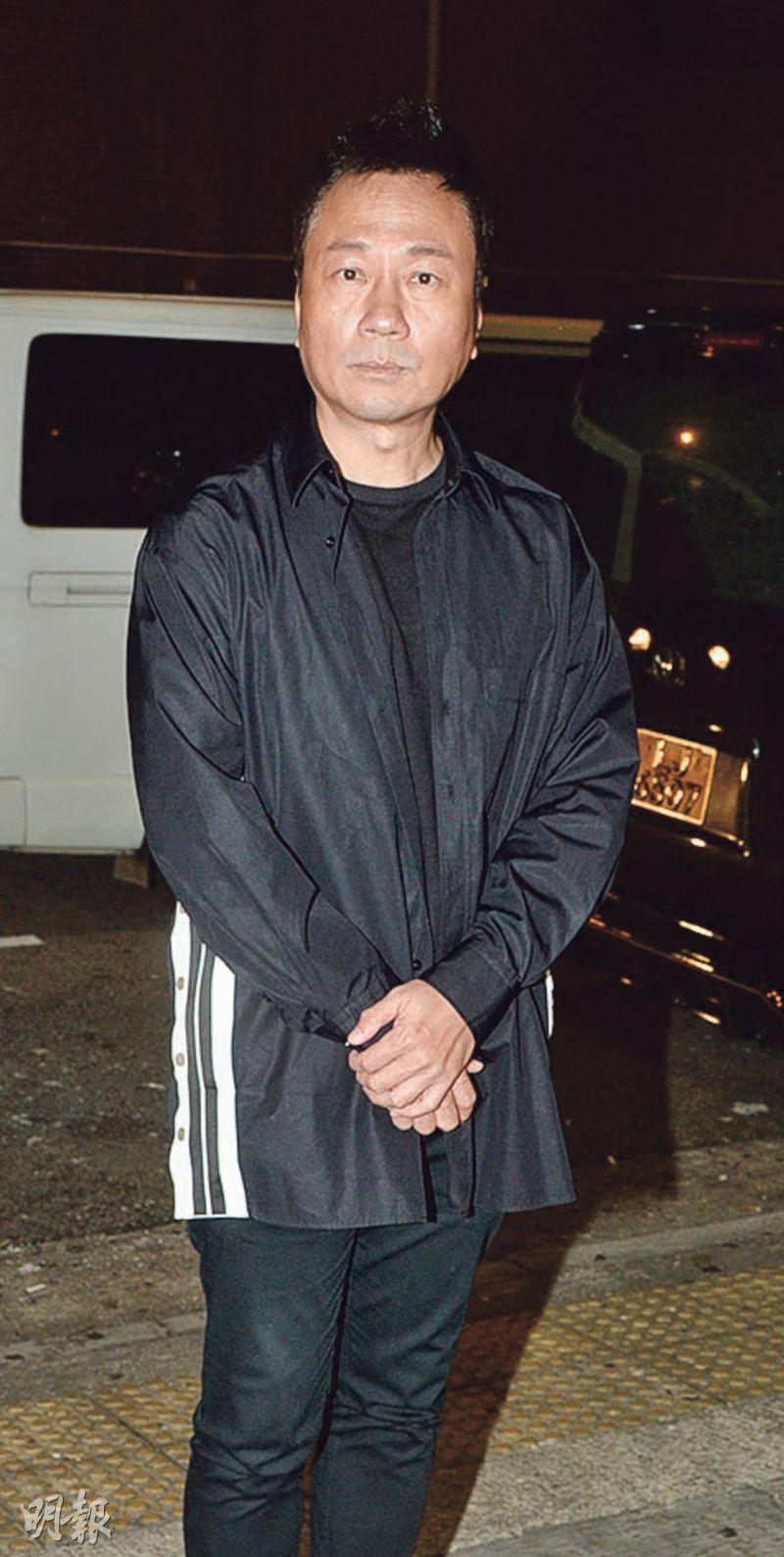 Wayne Lai
Tong Kai and Suet Nei
courtesy of mingpao.com
Veteran actress Ha Ping (originally named Lo Siu Ping) on August 5th passed away due to illness at age 81. Yesterday services began at the Universal Funeral Parlor. After a 9AM funeral the next morning, she would be buried at the Tseung Kwan O cemetery. Last night mourners included Cheung Kwok Keung, Patrick Tse Yin, Louis Yuen Siu Fai, Suet Nei and her husband Tong Kai, Yuen Qiu, Mak Cheung Ching, Chin Siu Ho, Ben Wong Chi Yin, Helena Law Lan and others. Godson Gordon Lam Ka Tung was very emotional. When he mentioned Godmother he could not help but succumb to tears.
Ha Ping's funeral would be a Buddhist ceremony, the hall was simply and cleanly decorated. A color photo was placed at the center with a banner overhead. In the middle were heart shaped floral arrangements from Ha Ping's children, grandchildren and Lam Ka Tung. Her family were present early and Ka Tung around 4:10PM arrived. 20 minutes later he came to speak to the press, during which he got emotional and broke down many times. He revealed that they would follow Godmother's wishes and arrange for a burial. "Godmother said that she wanted a burial. Although she sometimes would say the opposite of what she meant, she was very afraid of fire. Thus we would arrange for a burial." As for the discrepancy over her age, Ka Tung said, "Godmother said that she was 81, in order to work in Hong Kong she reported herself as older. I just went by what she said. Actually I wouldn't ask her too much because she was rather stubborn. If she didn't tell me I wouldn't ask. I just listened to however old she said she was."
Ka Tung revealed that Godmother suffered a stroke at the end of July. Since she already had diabetes and high blood pressure, she had complications. At her age she could only use medication to reduce her pain. Ka Tung began to choke up as he said, "When I found out that she was ailing I was working in Yunnan. I asked the doctor to do his best until I return. In the end she toughed out two weeks with the support of medication and I was able to return to see her one last time. From our television days to now we have known each other for over two decades. She always cursed her out, I really admired her passion and directness. I was the happiest when we kept greeting everyone with foul language at work. She also cared about me alot, she would help me scratch mosquito bites like a mother with her child." Ka Tung was emotional and sobbed.
As for Godmother's final wish, he said, "She was always concerned about what would happen after she passed. I told her not to. I was around so I could always keep her company. Actually as early as ten years ago I already wanted to arrange for her to move into a senior home, she declined though. Finally she fell and no one knew for 10 hours. I immediately contacted To Sir (To Kei Fung) because the TVB alumni association held a senior home. In the end we arranged for her to move in after three days, but she would always say what would happen when she passed. I told her to keep clam, since she was able to call me her son and she my mother, I would take care of her until the end." He wiped tears from his eyes again.
Those who came to pay their respect included Cheung Kwok Keung, Patrick Tse Yin, Louis Yuen Siu Fai, Suet Nei and her husband Tong Kai, Yuen Qiu, Mak Cheung Ching, Chin Siu Ho, Ben Wong Chi Yin, Cheung Wing Hong, Helena Law Lan and others. Tse Yin came to salute Ha Ping and bid her a final farewell. He stayed for almost half a hour and left. He said to the press, "I don't have much to say, we have been buddies for many years. I haven't made a series for a long time, we used to be together alot. (Your impression of Ha Ping?) What do you want me to tell, she and I both were very playful."
Cheung Kwok Keung arrived around 5PM. After paying his respect he spoke to the press. "During Ha Ping's ten days at the hospital, I stayed by her side. When she passed her family, Ka Tung and I as well as one or two people in the business were with her. Seeing her pass peacefully, everyone felt comforted. When she was critical, Ka Tung was working in the Mainland. We kept encouraging her to wait for Ka Tung. When she saw Ka Tung she was at peace and passed away the next morning. From that you could see her perseverance." KK pointed out that Ha Ping has not felt well. Earlier because of a fall the nursing home rushed her to the hospital. Due to the trauma and a second stroke that was even more severe than her first, and all the complications from age, in the end she persisted at the hospital for ten days. As for his memories of Ha Ping, KK said, "I have many, Sister Ha Ping in a series played my mother. We often chatted and joked around. Sometimes I would see that she was not so mobile on the set, I would drive her home after work. She was very interesting, very funny and direct. She was quite a role model. Her humor would always leave everyone not knowing whether to laugh or to cry." KK said that he and Ka Tung went to the viewing and chatted with Sister Ha Ping and saw that she looked more peaceful and even prettier than usual.
Many in the industry sent floral arrangements like Andy Lau Tak Wa, Leon Lai Ming, Johnnie To Kei Fung, Dayo Wong Tze Wa, Wu Fung, Sean Lau Ching Wan and his wife, Chin Kar Lok and his wife, Sandra Ng Kwan Yu, Tse Yin, Liza Wang Ming Chuen and Law Kar Ying, Ng Man Tat and others.