courtesy of on.cc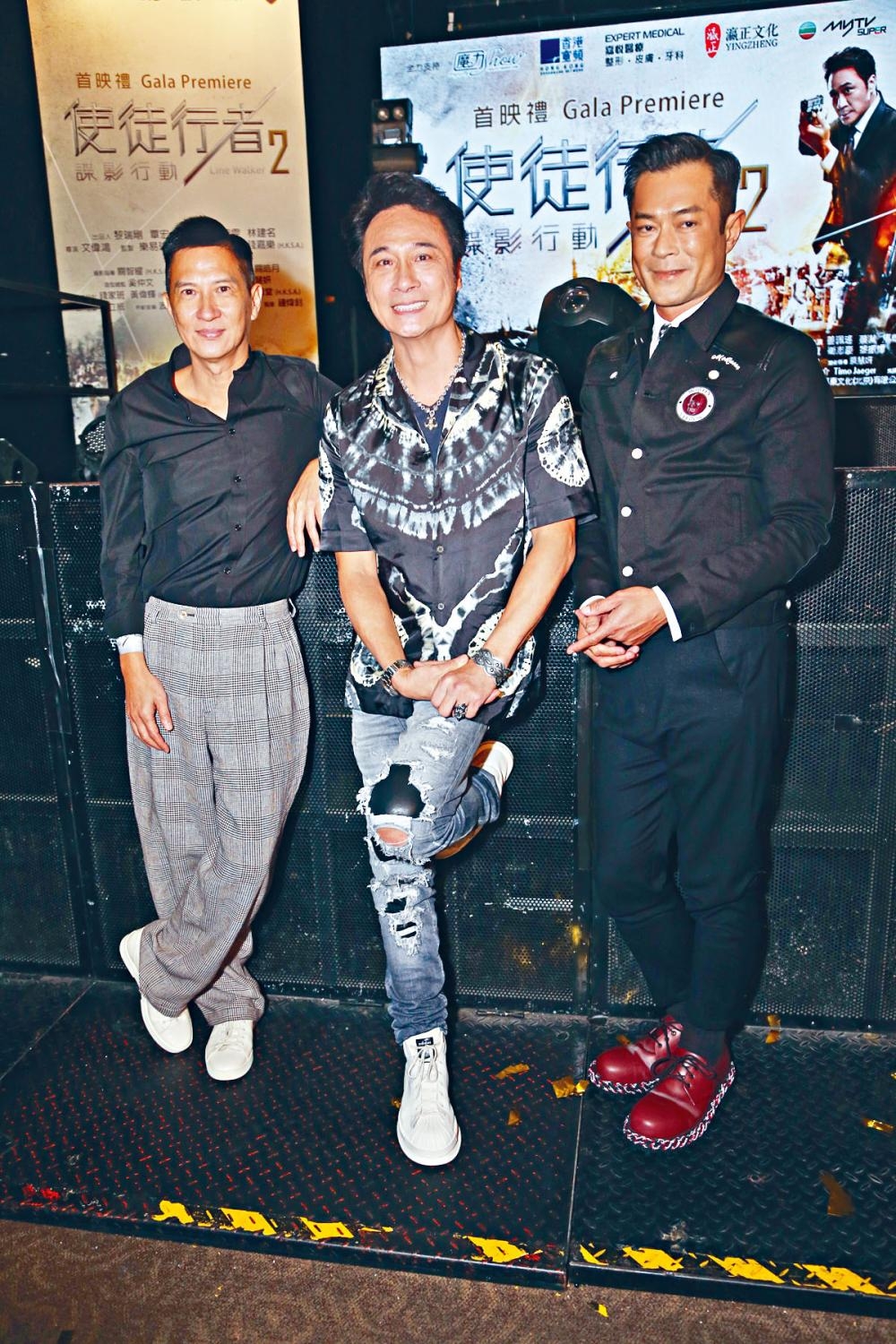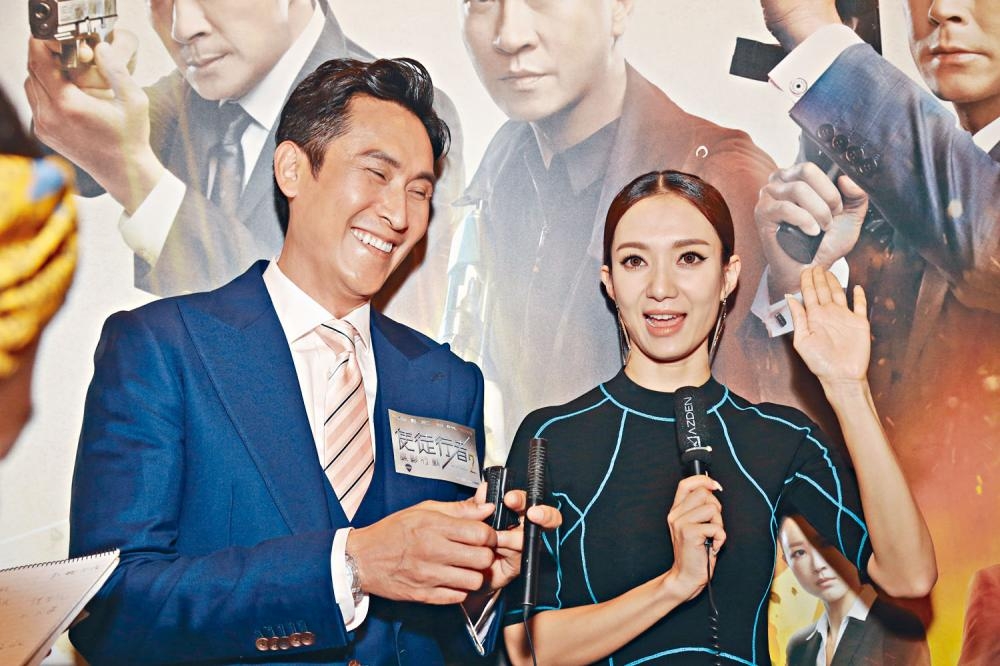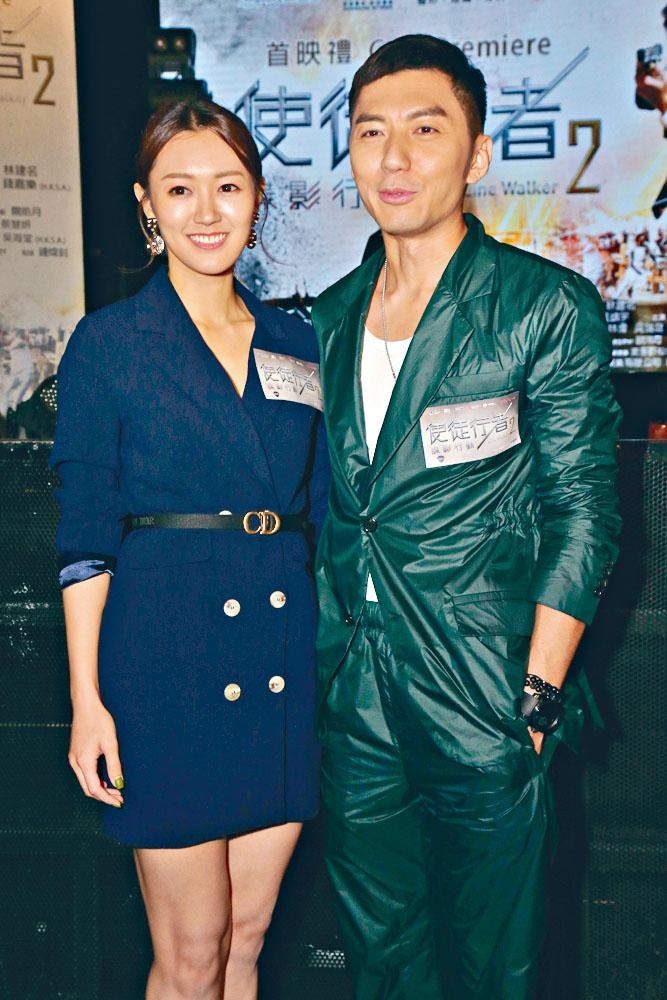 courtesy of singtao.com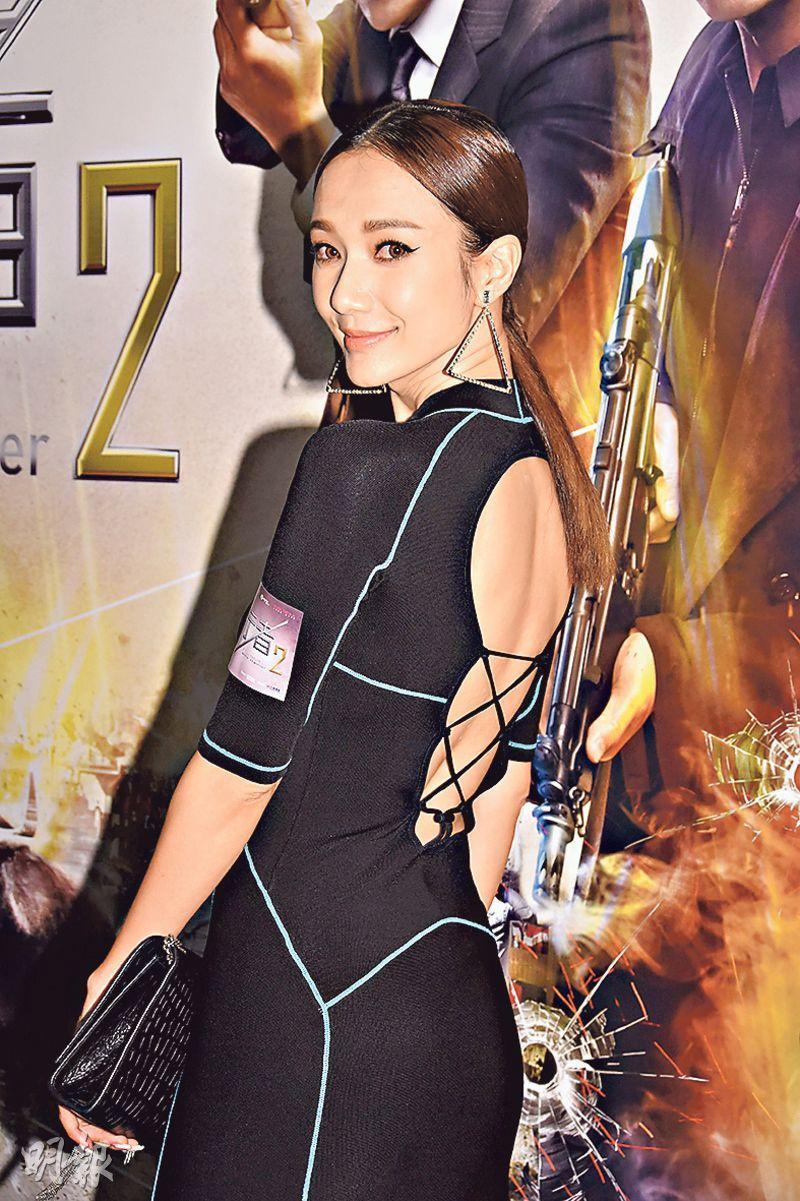 Grace Wong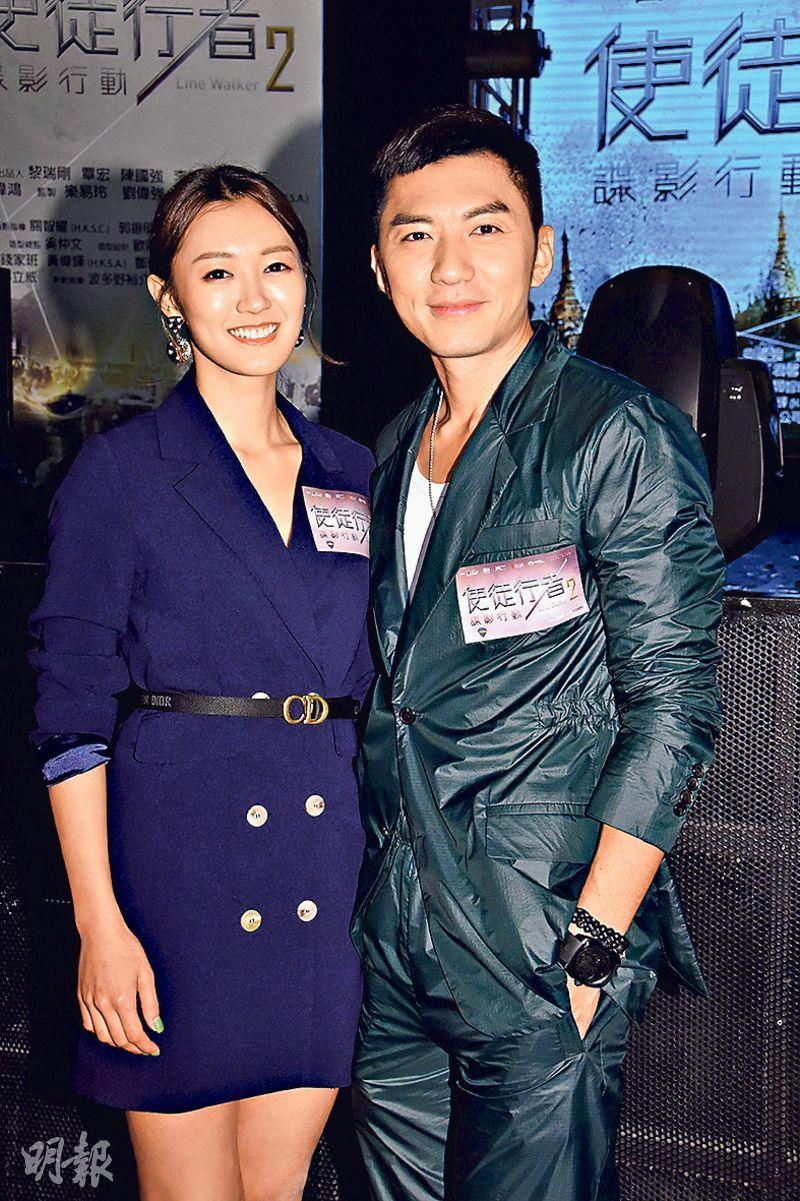 Bowie Cheung, Benjamin Yuen
courtesy of mingpao.com
LINE WALKER 2 (SI TOH HUNG JEH 2 DIP YING HUNG DONG) two nights ago held its premiere. Three Best Actors Nick Cheung Ka Fai, Francis Ng Chun Yu and Louis Koo Tin Lok along with producer Andrew Lau Wai Keung, director Jazz Boon (Man Wai Hung), action director Chin Kar Lok, actors Joe Ma Tak Chung, Benjamin Yuen Wai Ho, Bowie Cheung, Grace Wong Kwan Hing and Joel Chan Shan Chung attended. Speaking of Kay Tse On Kay and Kristal Tin Yui Nei's guest performer invitation to Goo Jai for their concerts, Chun Yu "joined the fray" and joked, "My musical is short on people too, I would ask Goo Jai to guest star in a show or two."
The film went to shoot an action scene on location in Myanmar. Ka Fai and Goo Jai both said that it was not tough because action director Master Chin (Chin Kar Lok) was well prepared. However Goo Jai accidentally injured his right hand during the explosion scene on the last day. He said, "After the explosion glass filled the ground. I accidentally put my hand down and it kept bleeding. Because we were afraid of nerve damage, I went to the hospital for three stitches." Ng Chun Yu had no sympathy for Goo Jai. "Three stitches? Then you are better off not mentioning it! I had two stitches just from a dramatic scene. In that scene when I was having steak in Yuen Long I hurt my pinky, but I was uneasy so I went to Princess Margaret Hospital and even took a helicopter there." Ka Fai also said that he did not get hurt or have stitches, he only had to "jump" a flight of stairs.
Ka Fai and Goo Jai also went to shoot on location in Spain. Ka Fai said that he got quite a tan. Because Goo Jai was rather tan, Ka Fai could only deliberately get burnt to get closer to his tan. However it was still two degrees less. Goo Jai said that he worried about the lighting crew so he accommodated Ka Fai and kept doing facial treatments.
Speaking of some fans said that they would only buy tickets to Kay Tse On Kay's concert when he would be a guest, Goo Jai replied, "I don't know, I probably would have other special jobs to do!" Goo Jai's manager said that they still did not know whether he would be a guest as they were still in negotiation. Kristal Tin Yui Nei also said that she would like to invite Goo Jai as a guest for her concert, Goo Jai still said, "I really don't know!" At the time Chun Yu joked, "My musical is short of people too, I would ask Goo Jai to guest star in one or two shows. As for which role it would depend on the daily menu. Tse On Kay and Tin Yui Nei should hold on and see what I would do. Music has competition in the open and in secrecy, you don't know who he will help!" He also mentioned that Goo Jai earlier was very involved as Sammi Cheng Sau Man's guest. Was he addicted to singing? Goo Jai joked, "I am not good at singing!"
Bowie Cheung and her boyfriend Benjamin Yuen Wai Ho starred in the film LINE WALKER 2. Bowie for her first film already went to Spain for location shoot. Aside from work, her boyfriend also took time off to travel with her. Yuen Wai Ho admitted that after he finished his Myanmar scene he took time off to go with her. In addition he has not been to Spain before and he could learn about the film production process when he tag along. He waited until Bowie finished her role and stayed for a week. Were they scouting location for their wedding? He said, "For the wedding we may not choose Spain, but we can for the honeymoon. The climate there is very dry and comfortable, the air is good, coffee, red wine and ham are also quite enjoyable."
As for Yuen Wai Ho's helicopter scene in Myanmar, he pointed out that he was a little afraid of heights. At the time the helicopter did not have any door. Even the safety belt opened up and he had to lean outside the cockpit. However he would smartly get attention to safety every time. Did Bowie know about her boyfriend's dangerous stunt? She said, " I didn't know, I was scared just from hearing about it. However he has always been a safe person. He has experience so I can trust him. Instead when I work on SIDEWALK SCIENTIST I would be careless!" Yuen Wai Ho said, "Yours is negligence, but I have a lot that she doesn't know about and I may not tell my family. Making money isn't easy!"
Grace Wong Kwan Hing attended the premiere. She said that mainly her husband did not understand Chinese, she was afraid tha she had to translate nonstop at the movies. Thus she planned ot watch him once with him later.
Kwan Hing had scenes with her on screen superior Francis Ng Chun Yu. With the first film, she said that at first she did not dare to look at him during their performance. She would become very nervous and forget her line. Yet this time Chun Yu took everyone to dinner and she realized that he was very friendly. Joe Ma Tak Chung said, "I am very friendly too, I will take you to dinner!" Wong Kwan Hing also said that she has not worked with Ma Tak Chung for six years. They first worked together on the series BORN RICH (FOON GWAI MOON). At the tie she did not dare to look at him either, mainly because she felt his acting would mesmerizing her. However he too took great care of herself and some new comers. Kwan Hing also took the chance to ask if her acting has improved? Ma Tak Chung said, "It's very sharp, it's always been good!" He also pointed ou that when they made LINE they did not have a complete script, so they felt just like that audience. Because the director did not wan to the story to leak out, even by the last scene they still did not know whether they were good or bad. In the end the director of course gave them an answer, but the audience would have to go to the movie to find out.