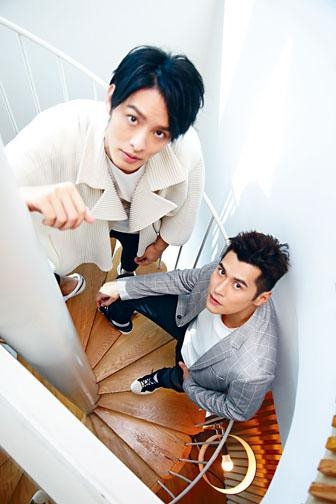 courtesy of singtao.com
Best Actress Kara Wai Ying Hung, Carlos Chan Ka Lok, Taiwan actor Tsao Yu-Ning and others starred in the horror film BINDING SOUL (BONG LING) and even went to an abandoned school, a popular haunted location in Thailand, for a location shoot.
Chan Ka Lok admitted that this time the production atmosphere was a little frightening. Most Hong Kong productions would conduct a simple worship and roast pig cutting ceremony, instead the production start ceremony in Thailand was quite a big deal. Masters were invited to recite scriptures and everything was very solemn. After the blessing everyone had to carry a coin, which made him think whether the location was very haunted. He said, "This abandoned school looked very clean, but why would it become abandoned? I never dared to ask, as I didn't let myself get too curious! However for the official shoot I wouldn't be too afraid, many people were on the set. When I got back to the hotel I would be scared, as I have heard many strange stories about Thailand and Malaysia." Working with Wai Ying Hung again, Chan Ka Lok received praises from her over his improvement. He said that this time he communicated more with the young actors to coordinate with the performance, whereas before he would only just look at the script. "Now I would interact with everyone. This time most of the actors spoke Cantonese. Only Tsao Yu-Ning spoke Putonghua, so I would take care of him good."
Tsao Yu-Ning said that during the shoot he did not run into anything supernatural, on the other hand in real life something strange happened but he could not tell either it was a dream or reality. He said, "One day I was very tired so I went to sleep. Halfway through I saw a child standing at the door at home, without a face and completely white. The strangest was that it suddenly ran over and strangled me with both arms. It was the first time I felt that I would soon die! Later Mama woke me because she heard me in pain. Luckily Mama was at home, I felt very scared!" Working with Wai Ying Hung for the first time, he admitted that he was very scared as he sensed her enormous presence. Her eyes were also very sharp. "Actually I wanted to see Sister Hung, then Sister Hung suddenly looked over! Wow, that was very scary! However Sister Hung gave me some advice. Because I spoke Putonghua, during he shoot Sister Hung knew I didn't understand Cantonese. However she said that was no excuse, as I should memorize my and others' lines. I should also perform some reactions because she discovered that my mind was blank and I couldn't follow. I wouldn't be unhappy, instead I felt like I learned alot." Currently single, Yu-Ning said that he wanted to find a Hong Kong girl, learn Cantonese so in the future he would understand when he would work with Hong Kong actors.