Tang Siu Hau performs a song from the film
courtesy of on.cc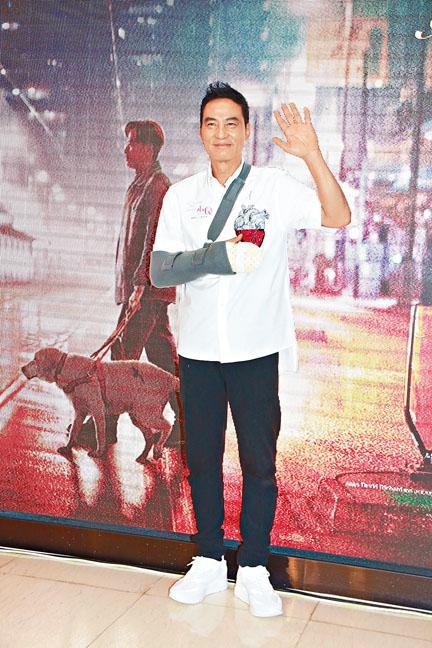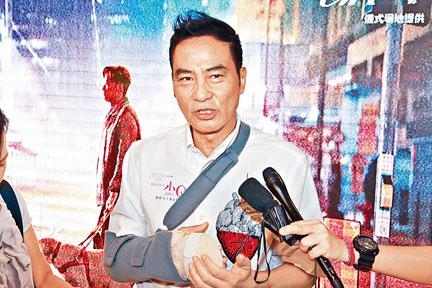 courtesy of singtao.com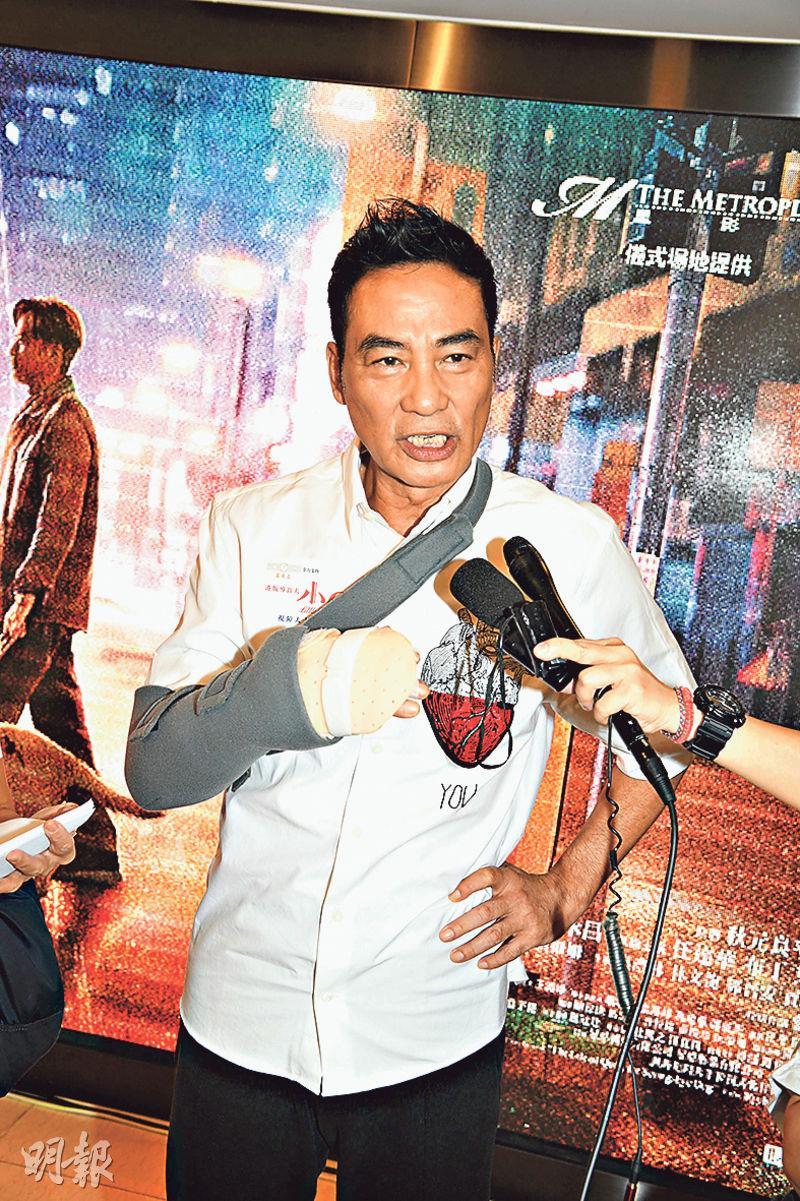 courtesy of mingpao.com
Simon Yam Tat Wa last month was attacked at an event in Zhongshan and suffered injuries to his abdomen and 4 fingers. After over half a month of recovery, last Sunday he already returned to work to promote his film LITTLE Q (SIU Q) in Guangzhou. Last night he again promoted the film and made his first officially appearance in Hong Kong after the injury.
The film LITTLE Q opens today in Hong Kong. Brother Wa, Tang Siu Hau and others last night attended the LITTLE Q screenings for the visually impaired. At the ceremony, the film company arranged for guide dogs to participate and asked students from the Ebenezer School and Home for the Visually Impaired to host. Visually impaired Lau Yik Keung also performed WALK WITH YOU with the film's Tang Siu Hau.
Brother Wa appeared to be in a decent shape but two fingers of his right hand were still bandaged and his arm was still in a sling. He had two bodyguards, not as much as 80 in Guangzhou. Brother Wa said, "Thank you friends for your concern for me, to my wife and daughter as they got thinner while taking care of me. I am very touched. My TOMB RAIDER sequel co-star Angelina Jolie also sent a text, which made me feel that the entire world is full of love. My wife Qi Qi and friends bought a lot of stuff for me to eat, and my daughter personally made desserts that were very sweet to me inside."
Brother Wa said, "Last week I started physical therapy, which would take half a year to 9 months. I would have to wear the sling for 8 to 10 more weeks before I can take it off. Although the incident happened almost a month ago, I still am not completely healed. However I really like LITTLE Q so I want to attend and show my support." After his injury Brother Wa had to stop exercising, but he had a lot of soup for nourishment. He gained over a pound from it. Brother Wa happily said, "I received consolation from many years, in particular was goddess Angelina Jolie. After reading the news she was very concerned about my condition and texted me. I thanked her in my reply. Many French and European fans sent their well wishes through my manager. I would also like to thank some doctor friends and boss Yeung Sau Sing."
When asked he would return to work, Brother Wa said, "Film companies would understand my current status. For commercials they would take one or two days so they can be completed first. Otherwise I hope to resume exercising first and return to work when I would be at my best." He pointed out that his family already went on vacation so they did not accompany him to the event. Later he would join them on their trip. Brother Wa hoped to be able to spend more time with his family and admitted that earlier when he went to work in Guangzhou his wife was very worried. However he truly liked this film too much, as it would be able to spread the message of companionship and love. After this difficulty, he still would look ahead and leap over it. Of course he would have more security when working in the Mainland, he would not keep his distance from fans though. Contact and love are needed between people. Speaking of the difference in security between this time and his Guangzhou event, Brother Wa said, "This is Hong Kong, and media like you are here."
In addition, Tang Siu Hau did not have a dog in real life but had five cats. She almost adopted one every year. They were all street cats, either sick or blind. For now she probably would not adopt any more. Yet if she ran into street dogs and cats near her home she would feed them. Siu Hau felt that the most important was to spay or neuter them to reduce the chance of animals being abandoned. Siu Hau praised the guide dogs in the film as very obedient. During the shoot she also gave them a lot of love. The opportunity was rare.