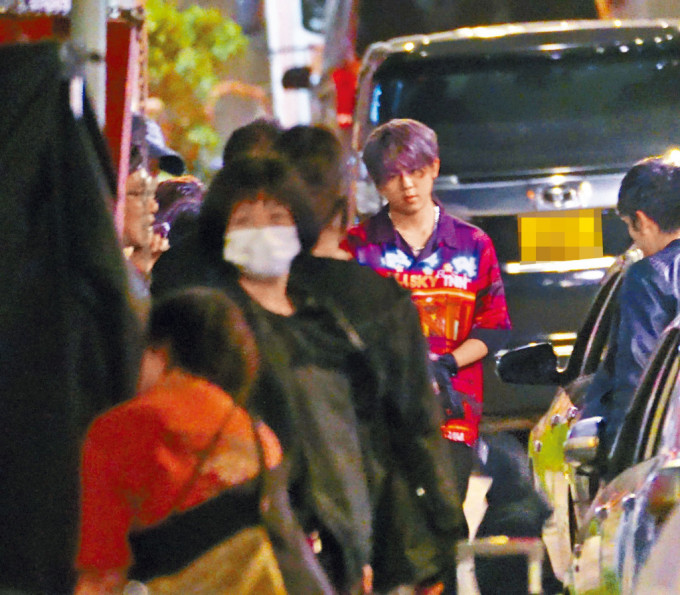 courtesy of singtao.com
Turning 24 two days ago, Keung To in recent months not only prepared for his new song, rehearsal, personal clothing label and charity events, but was also busy with two movies. After attending events on the day before his birthday, he rushed to work on the Emperor Motion Picture DOH YUET JEH (MOON THIEVES) at the Tseung Kwan O Industrial Estate. Although the dangerous explosion scene had stunt doubles that night, he still tightly followed the shoot and stayed until the morning before making a surprise attack on his fan club's INNOPARK birthday charity walk.
Keung To posted on his birthday to thank everyone and at the same time reminded himself, "Stay humble, believe everyone would be good." He posted several birthday celebration photos, in which he raised his victory signs and pretended to kiss. After spending his birthday last year with the WE GOT GAME team, Keung To this year also spent his birthday at work. For his special performance in DOH YUET JEH, he was still working on his production wrap shoot on his birthday!
Stepping into the moment of his birthday, Keung To was working on the streets of the Tseung Kwan O Industrial Estate. In a color short sleeve shirt, a leather jacket, black gloves and a thick silver chain, he looked rather wild! Because they were shooting a big explosion scene that night, the location drew black screens for the shoot and used a water truck. Although the dangerous scene required stunt doubles to be on hand, Keung To insisted on performing many scenes personally. Before the cameras rolled, Keung To often communicated with the director and the staff. He listened attentively to the explanations. Keung To personally tested the positions with the cast and waited for everything to be ready and the director to yell action. with prop guns in their hands Keung To and the cast immediately got into characters next to the vehicles. After running for awhile Keung To crouched down onto the floor for multiple angle shots, but Keung To remained unfazed. after finishing each scene he even intensely watched playback with the staff near the cameras. He was very anxious about his performance.
On the day of the shoot, director Steve Yuen Kim Wai and the staff arranged for a cake to celebrate Keung To's birthday. The director posted, "Keung, I can't believe I am celebrating your birthday again with you this year! Happy Birthday! Happy Workday!" The shoot went on until 6:30 AM. Keung To mischievously jumped onto the back of a staff member as he carried him on the street. Keung To cracked up and absolutely was a big kid! After resting for several hours, Keung To went to Tai Po INNOPARK for hair and make up and made a surprise attack on "Keung Candies" birthday support activity. At night he continued to work with other MIRROR members. Keung To knew that tens of thousands of "Keung Candies" continued to wait for him to celebrate his birthday and learned that everyone passionately surrounded Keung Ma. Keung To posted on his story, "I truly feel that you are even happier than I am" "Ma...you are very popular". He even posted for Mommy, "Mother in law told me to let you know, thank you for your passion!" In addition, after Keung To wrapped up production on DOH YUET JEH, Lo Hon Ting and Lui Cheuk On yesterday also officially wrapped up.