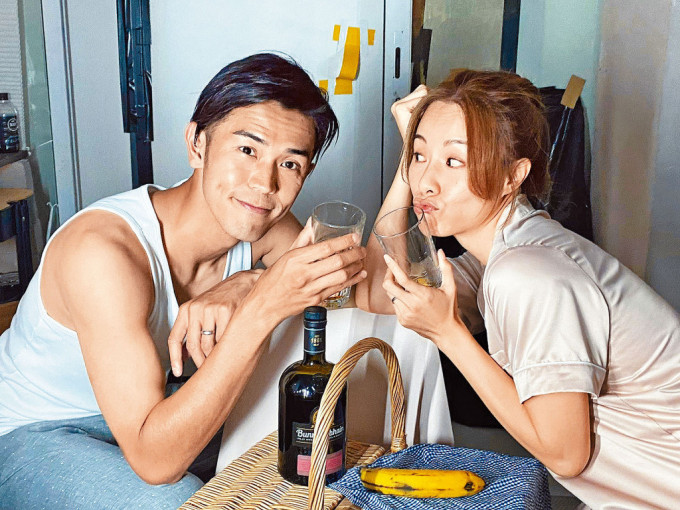 The director has already prepared red wine for Edward Ma and Stephy Tang to relax with
courtesy of singtao.com
Stephy Tang Lai Yun in the new film TWELVE DAYS (12 YUT) played a couple with Edward Ma Chi Wai. In the film they had their share of intimate scenes. Aside from the passion of being in love, they also had intimacy after marriage. Stephy said that working with Ma Chi Wai for the first time, they were not too familiar. In addition in recent years she has made fewer bed scenes. Looking back at the day of the shoot she was rather nervous, she needed to rely on alcohol to help her get into character!
The new film TWELVE DAYS in 12 chapters tells the 10 year relationship of a couple. Leads Tang Lai Yun and Ma Chi Wai needed in an extremely short production period to experience a relationship from sweet to hot and heavy, to struggle, argument and break up. In the end they faced the love cycle of love becoming a habit. They in the film had their share of love scenes. While in love they even got hot and heavy at the movies and in the office. They shot a bed scene after their marriage on the second day of the production.
Stephy admitted that she was very nervous that day, because she has not made an intimate scene in a very long time. "In recent years I have mostly made women's movies more, even in romantic films they were just pecks. I wasn't familiar with Ma Chi Wai. Earlier I have thought that for a love scene, would only familiarity or unfamiliarity with the co-star would make it not awkward? I thought that only being not too familiar would make it not awkward. In addition on the second day everyone have not warmed up yet. After the bed scene we should be able to warm up faster. I believe the director have thought about that in detail." Thus to prepare before hand, Stephy joked that she had a lot of of garlic. Actually that night she only had coffee, before the shoot she also rinsed her mouth with mouth wash and made the whole health and hygiene preparation. Director Aubrey Lam Oi Wa before the shoot also communicated with them in detail, explaining how to express the feeling of turning love into a habit. She even prepared red wine for them to relax their emotions with alcohol, so they would be able to get into character easier.
Stephy and Ma Chi Wai in the film experienced 10 years of couple relationship. In real life Stephy was with her former boyfriends Alex Fong Lik Sun and Prince Chiu for 10 and 3 years respectively. Although neither relationship ended up bearing fruit, Stephy felt that maintaining a relationship required effort from both sides, the most important was trusting each other. "Trust is very important, you have to trust him and make him trust you. This term includes a lot that you have to give, but don't expect anything in return. After you give and long for him to give you the same thing and he doesn't, it would be rough on you." Speaking of what she is looking for in a mate now, Stephy said that she has not thought about it. She was in no hurry to wed, as she only hoped to run into someone she was destined to.