MIRROR
Anson Lo defeats his fellow MIRROR members for the big prize
Keung To dances and all of his confidence seemingly has returned
COLLAR is not at full strength again
Vincy Chan
P1X3L's Phoebus Ng goes back on his early comments and his group mates try to help out
Janice Vidal and Kaho Hung show up for photos despite not accepting their awards the night before
courtesy of on.cc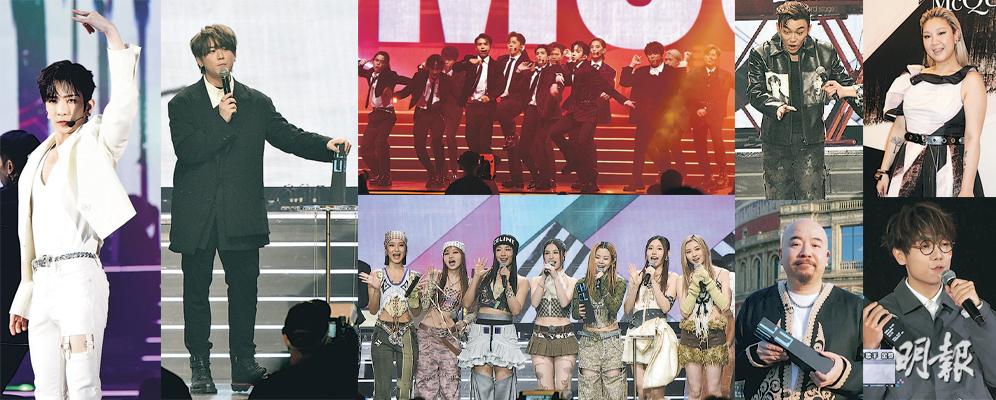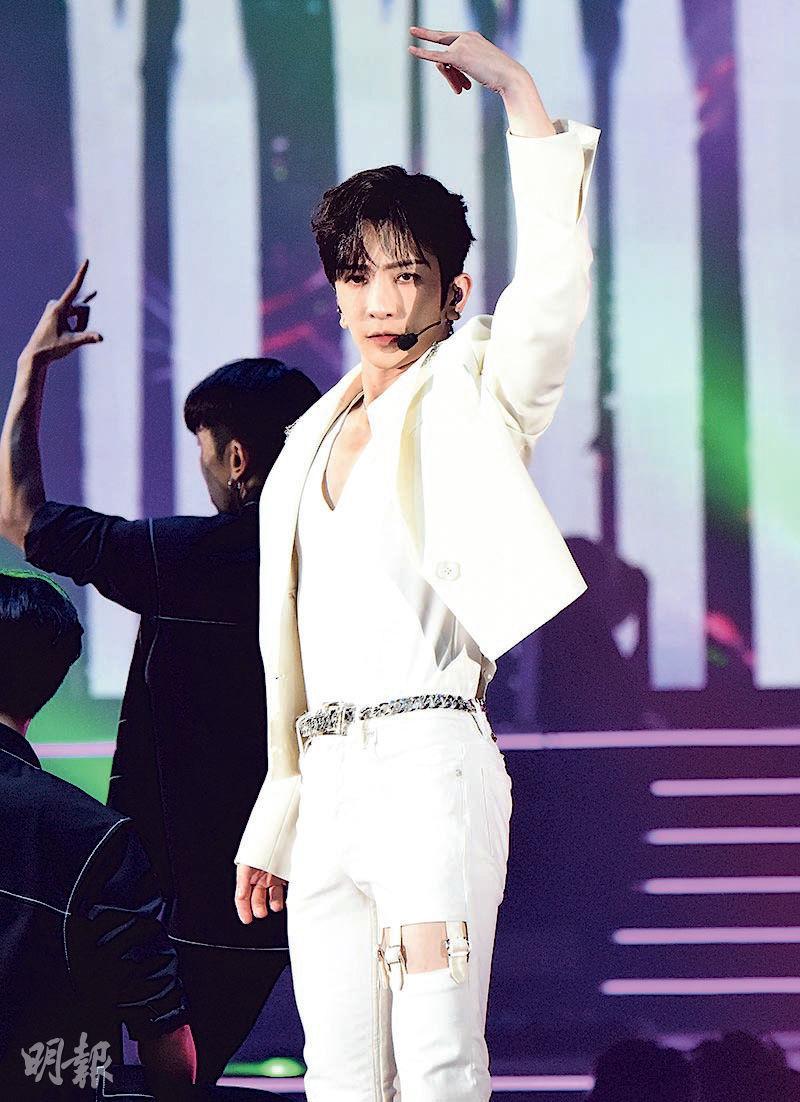 Anson Lo repeats as the Male Singer gold prize winner and opens the show with a Prince Charming look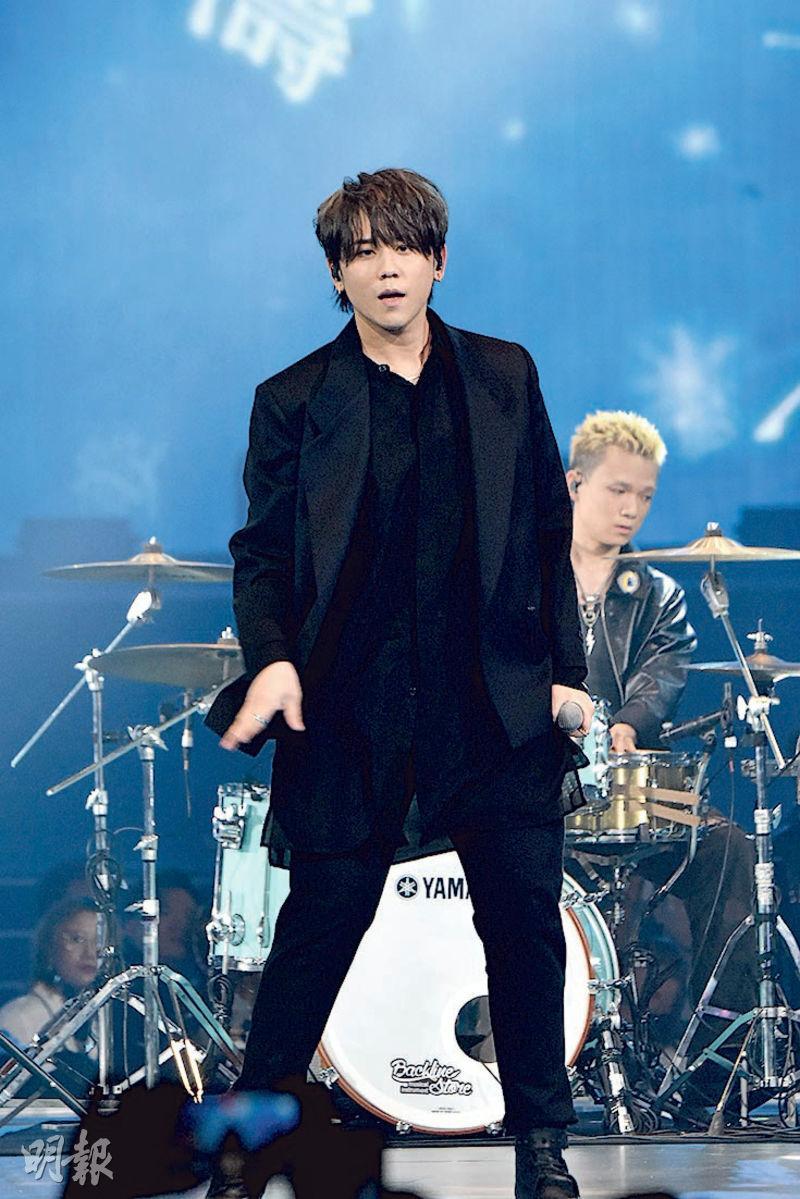 Keung To speaks from the heart to his fellow MIRROR members, and even says "I love you" to Anson Lo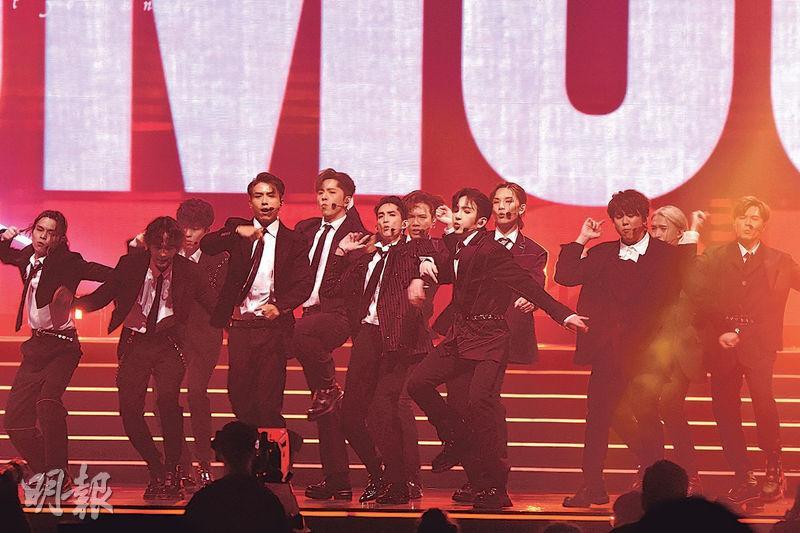 MIRROR again wins Group gold prize, displaying the power of unity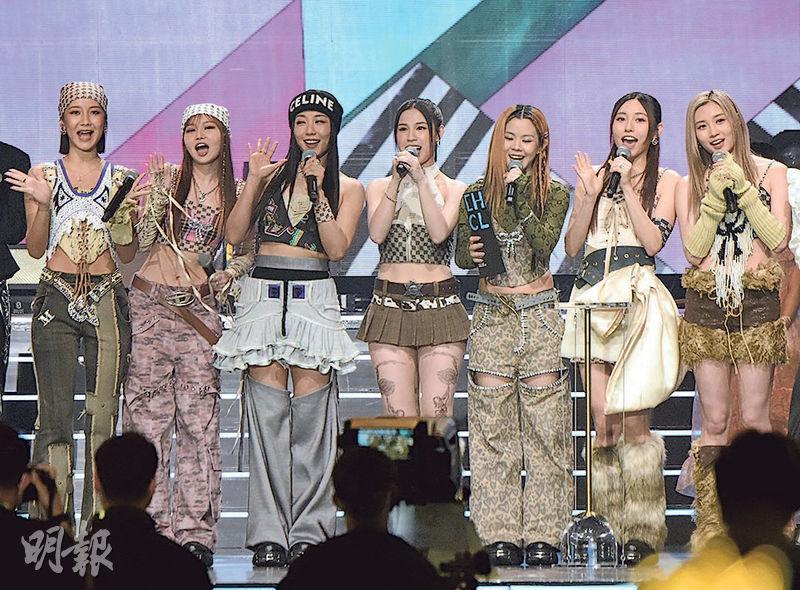 COLLAR wins Group bronze prize and Rookie Female Singer gold prize, but member So Ching remains absent
When MC Cheung accepts the Genre of the Year award, the award suddenly falls to the ground and he scrambles to pick it up
Wyman Wong thanks ViuTV colleagues for presenting the award to him in London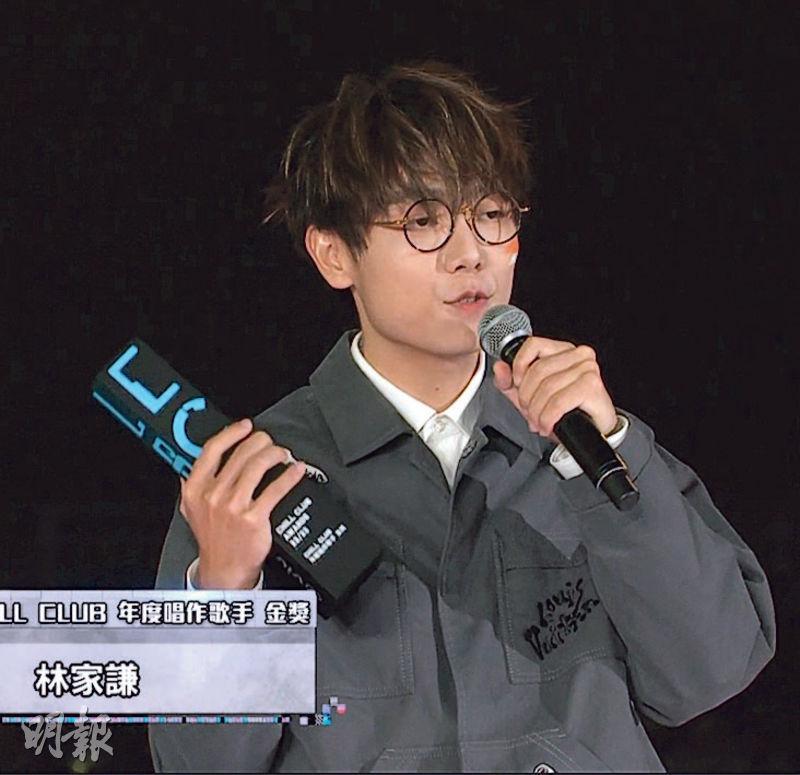 Terence Lam wins Creative Singer gold prize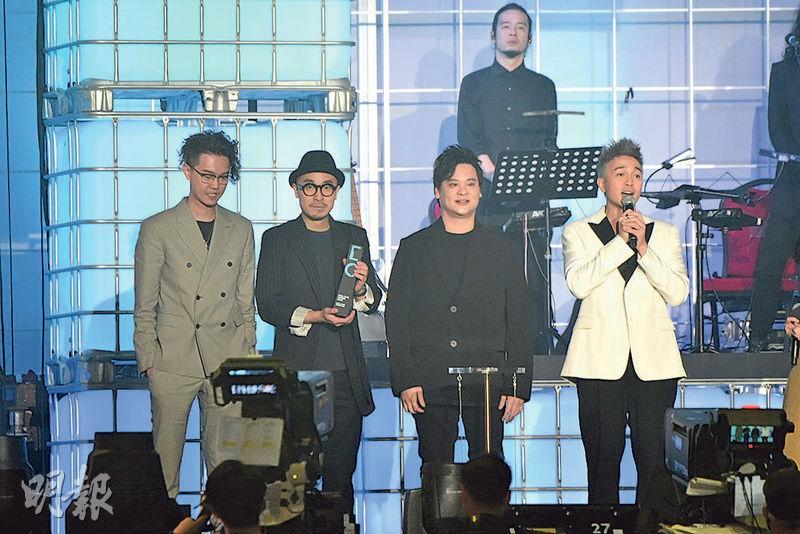 Dear Jane wins Band gold prize and Rock Song of the Year Award
courtesy of mingpao.com
The CHILL CLUB Awards 22/23 took place last night at the AsiaWorld Expo. Over 100 singers dressed up. The event this year changed the top ten song award form and divided song awards by genre. 16 awards in 3 categories of song awards, individual awards and behind the scenes awards, among which songs and individual awards were chosen from one vote per person format. The "Genre of the The Year" award was also added. MIRROR as a group and individuals won 7 awards and became the big winner, among them Anson Lo Hon Ting performed the best. Keung To during his acceptance spoke from the heart to the other 11 members, saying that he never cared about the outside comparison between him and Anson Lo and to Anson Lo "I love you"; Anson Lo also got choked up and said that the outside won't be able to divide MIRROR in a show of unity.
The evening only presented 4 song awards, with "Popular Song of the Year" went to Anson Lo's 39 WING SHUN STREET, "Rock Song of the Year" went to the band Dear Jane's WHAT HAPPENED, "R and B Song the Year" went to Jay Fung Won Him's SWEETLY, and MC Cheung Tin Fu's CAUTION WET FLOOR won both "Alternative Song of the Year" and "Genre of the Year" awards. Anson Lo said, "This song is a slow song, and also my favorite slow song. I am sincere about slow songs." Dear Jane's singer Tim said, "Thank you to friends who voted. Nowadays everyone may be a little heartbroken, this song kept everyone company. Thank you."
The award show is exactly like a large scale concert, the ViuTV's homemade guy group MIRROR of course was the focus at the home court award show. The "popularity kings" of the group Anson Lo and Keung To had the fiercest competition. During the performance, Anson Lo transformed into "Prince Charming", arrived with 6 dancers, sang and danced MR. STRANGER and left the "disciples" screaming! Keung To did not appear until the middle of the show. In all back he performed NUMBER ONE SEED and jam with Taiwan singer YELLOW, returning to form his double chin has vanished. Keung To while accepting his award spoke to his 11 group mates, saying that Edan Lui Cheuk On was well rounded and the second person who he admired in MIRROR; the first was Anson Lo. He said to Anson Lo, "The outside always compares you and me, supporters also have a lot of conflicts because of us. However I never cared. Starting from KING MAKER, we have experienced a lot of misunderstanding but I would always trust you the most, you know that. I love you." Anson Lo got choked up when he accepted his award. "Like Keung To said, the outside have many conflicts and comparisons, we have no way to stop them but nothing can stop the power of the 12 of us together. We won't be divided. We would continue to use performance to tell these people, we will always be MIRROR."
MIRROR won the group gold prize, ERROR won silver and COLLAR won bronze. MIRROR captain Lokman Yeung said, "I feel this year is very hard to describe with words, we learn to be true this year, truthfully face ourselves and everything around us. No matter what kind of treatment we would run into, truth is a great power. We will continue to work hard." ERROR member Denis Kwok Ka Chun (193) joked that he hoped next year the event would add a Group other than MIRROR award, only then would they be able to win the gold prize.
Another MIRROR member Jeremy Lee won "Rookie Male Singer of the Year" gold prize. He said, "Thank you MIRROR, ERROR, fans, family and music team." Another "biological son" ERROR member Poki Ng received the silver prize and was emotional. He thanked the company executive. "You guys are the one who didn't give up on me, making me someone with self discipline. Thank you ERROR, our music dream is very hard. This award isn't just mine alone. If you have a dream they continue to support us." Bronze prize recipient is the group P1X3L member Phoebus Ng Kai Yeung, but the female host was more excited than he was.
"Rookie Female Singer of the Year" gold prize also went to ViuTV's girl group COLLAR, unfortunately So Ching was absent. Some online were curious why the girl group COLLAR was in the "Rookie Female Singer" category, which seemingly was unfair to other female singers. However captain Ah Gao thanked supporters who voted for them. "In the past year we have been very grateful to have everyone with us. Thank you to our families and fans who have always supported us. We would keep working hard." Silver and bronze prize went to Cloud Wan Ho Ying and kayan9896.
Female Singer gold prize again went to Joyce Cheng Yun Yi, but she was absent. Panther Chan Lui won the silver prize and the bronze went to Serrini. Dear Jane won the Band gold prize, silver and bronze went to Rubberband and ToNick respectively. Terence Lam Ka Him with 113,806 votes won the Creative Singer gold prize. Silver and bronze prize went to Ian Chan Cheuk Yin and Jay Fung Won Him.
Wyman Wong Wai Man again won Lyricist of the Year. ViuTV sent Thor Lok Chun Wai to London to present the award to him. Wyman was moved and thanked ViuTV colleagues for going to London to present the award to him and bring him warmth from Hong Kong. He said that as long as Cantonese songs need him, he would continue to work hard and write some songs that everyone would need.
Two music award shows on two consecutive nights have become a hot topic. Two nights ago half the award winning singers were absent at the Radio Television Hong Kong "Top Ten Chinese Gold Song" award concert, even the first time "Most Excellen3t Popular Female Singer Award" Joyce Cheng Yun Yi was nowhere to be found! According to her manager, make up artist and dancers were already preparing at the Hong Kong Coliseum. At first the event also said that she would attend, but in the end she was absent due to illness, possibly upset at the results. Yun Yi's Media Asia records replied, "Yun Yi was thinking about coming, but because she was feeling unwell she was absent. Why would she be upset, she would have received her first Excellent Award. Tonight she wouldn't go to Chill Club Awards either."
In addition, the group P1X3L's members earlier posted a Earth photo that was similar to Universal Records' logo with foul language, perhaps they were upset at the record company. Phoebus two nights ago won the "Male New Comer Excellence Award", during the interview he revealed that the company promised to set up a concert for them. However it has dragged its feet time and after. Recently they were even informed that it was cancelled, leaving him greatly disappointed. He stated that the Universal contract would soon end and appeared upset during the conversation. "I would negotiate contract renewal after the concert." However, Phoebus last night at the Chill Club Awards went back on his comments and overturned his comments about a concert before contract negotiation. His partners George and Marco also stressed that the concert had nothing to do with the contract and that the contract in the short run would not end. "Universal has been very gracious and didn't yell at us. We just really want to perform a show!"
Two Warner singers Janice Vidal (Wai Lan) and Kaho Hung two nights ago at the "Top Ten Chinese Gold Songs" received awards, the former received the "excellent popular singer award" while the latter won the "Best Improvement Award" gold prize and "CASH Best Creative Singer Award" silver prize. Yet both were still absent.
Yet at last night's CHILL CLUB CHART AWARDS 22/23, they not only arrived early but also lined up with company colleagues like Cecilia So Lai Shan and Panther Chan Lui for a pre race photo -- an obvious difference in treatment!
CHILL CLUB AWARDS 22/23
GENRE OF THE YEAR
Alternative Song

CAUTION WET FLOOR (MC Cheung)
POPULAR SONG OF THE YEAR

39 Wing Shun Street (Anson Lo)
ROCK SONG OF THE YEAR

WHAT HAPPENED (Dear Jane)
R AND B SONG OF THE YEAR

SWEETLY (Jay Fung)
ALTERNATIVE SONG OF THE YEAR

CAUTION WET FLOOR (MC Cheung)
MALE SINGER OF THE YEAR
GOLD:
Anson Lo
SILVER:
Keung To
BRONZE:
Ian Chan
FEMALE SINGER OFTHE YEAR
GOLD:
Joyce Cheng
SILVER:
Panther Chan
BRONZE:
Serrini
GROUP OF THE YEAR
GOLD:
MIRROR
SILVER:
ERROR
BRONZE:
COLLAR
BAND OF THE YEAR
GOLD:
Dear Jane
SILVER:
RubberBand
BRONZE:
ToNick
CRETIVE SINGER OF THE YEAR
GOLD:
Terence Lam
SILVER:
Ian Chan
BRONZE:
Jay Fung
ROOKIE MALE SINGER OF THE YEAR
GOLD:
Jeremy Lee
SILVER:
Poki Ng
BRONZE:
Phoebus Ng
ROOKIE FEMALE SINGER OF THE YEAR
GOLD:
COLLAR
SILVER:
Cloud Wan
BRONZE:
kayan9896
COMPOSER OF THE YEAR

Tsui Ho
LYRICIST OF THE YEAR

Wyman Wong Wai Man
SONG ARRANGEMENT OF THE YEAR

Ariel Lai, Wong Kwong Ming
PRODUCER OF THE YEAR

T-Ma, Wong Seung Chun