For the week ending Sunday, May 7 2023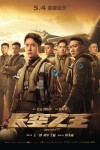 10 BORN TO FLY
Can : Cheung Hung Ji Wong
d. Liu Xiaoshi
Wang Yibo, Hu Jun, Yosh Yu Shi, Zhou Dongyu, Bu Yu, Zhai Yujia
Rating : IIA
Opening May 1 2023 in Mainland China
Opening May 4 2023

[ CINEMA CITY ]
BORN TO FLY tells the story of a special operations team headed by elite pilots, being ordered to test new fighter jets. Test flight after test flight, they continue to challenge the sky and the limits of themselves.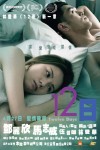 9 TWELVE DAYS
Can : 12 Yut
d. Aubrey Lam Oi Wa
Stephy Tang Lai Yan, Edward Ma Chi Wai
Rating : IIB
Length : 89 mins.
Opening October 27 2021 at the 18th Hong Kong Asian Film Festival
Opening April 23 2022 at the Udine Far East Film Festival
Opening April 27 2023
fb :
https://www.facebook.com/film.Twelvedays
Site :
https://www.hkaff.asia/en/film/2021/detail/57
[ GOLDEN HARVEST CINEMAS ]
The 1st day when Jeannie and Simon decided to get married, they couldn't find a place to get intimate. That's Hong Kong for you – getting married so that a couple can have a place to be intimate. The traditional marriage ceremony is considered old fashioned and cringeworthy in the 21st century, but it's only supposed to happen once in your life, so people savor in it anyway. And so, the marriage begins out of love, but this is the beginning of many challenges to come. One day, Jeannie realized that the person closest to her has become a stranger. She feels that her ideologies no longer align with those of Simon, and starts to feel ashamed about herself. She feels that her whole life revolved around Simon, and without him, she lacked purpose. And so, she decides to leave him, but she didn't realize that this parting would be more painful than death. At the end, she signs the divorce papers nonetheless. Three years later, Simon comes back to her, he's run into a dead end, with his business...
[ HONG KONG ASIAN FILM FESTIVAL ]
In 2000, screenwriter Aubrey Lam made her directorial debut with Twelve Nights, a heartrending romantic drama that unravels a doomed relationship over a dozen episodes. Two decades later, Lam offers up another searing dissection of modern romance with this long-awaited thematic continuation. Like Twelve Nights, Twelve Days depicts 12 scenes of a tumultuous marriage, from its blissful beginning through its bitter collapse. On day one, Jeannie and Simon seem to have the makings of a perfect marriage, but the following 11 vignettes reveal the various conflicts, both big and small, that slowly eat away at their bond. Love may build a marriage, but Twelve Days shows that reality can just as easily shatter it.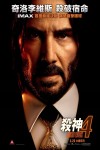 8 JOHN WICK CHAPTER 4
d. Chad Stahelski
Keanu Reeves, Laurence Fishburne, Lance Reddick, Clancy Brown,
Ian McShane, Bill Skarsgard, Donnie Yen, Hiroyuki Sanada,
Shamier Anderson, Rina Sawayama,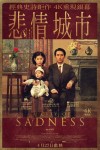 7 A CITY OF SADNESS (4K DIGITAL RESTORED VERSION)
d. Hou Hsiao-Hsien
Tony Leung Chiu Wai, Li Tien-Lu, Chen Sung-Young, Jack Kao,
Wu I-Fang, Hsin Shu-Fen
Rating : IIA
Length : 159 mins.
Opening April 27 2023

[ BROADWAY CIRCUIT ]
This intimate epic chronicles the tragedies that befall the three Lin brothers, and those around them during a chaotic period in Taiwan's national history, between the end of Japanese Imperial rule (1945) and the secession from Mainland China and creation of martial law (1949-1987).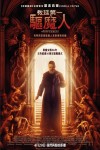 6 THE POPE'S EXORCIST
d. Julius Avery
Russell Crowe, Daniel Zovatto, Alex Essoe, Franco Nero,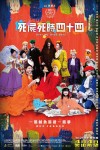 5 OVER MY DEAD BODY
Can : Sei Si Sei Si Sei Sup Sei
Lit : Corpse Died At Forty Four
d. Ho Cheuk Tin
Teresa Mo Shun Kwan, Ronald Cheng Chung Kei, Wong Yau Nam,
Jennifer Yu Heung Ying, Edan Lui Cheuk On, Alan Yeung Wai Lun,
Lau Kong, Bonnie Wong Man Wai, Wu Lai Ying, Jer Lau Ying Ting,
Hanna Chan, Jiro Leung Sheung Ching, Kenneth Cheung Moon Ting,
Josie Ho Chiu Yi,
Rating : IIB
Length : 119 mins.
Opening March 10 2023 at the Osaka Asian Film Festival
Opening April 4 2023
Teaser :
https://youtu.be/57EFTCutFek
Site :
https://www.oaff.jp/2023/en/program/op.html
[ OSAKA ASIAN FILM FESTIVAL 2023 ]
Welcome to Seaside Heights, a fancy residential building where a group of residents experience a night of chaos and comedy after the nude body of a man appears and threatens to cause scandal and plunging property values!
It all begins when Ming, together with his wife, mother-in-law, and brother-in-law, finds an anonymous naked body lying at their doorstep. Fearing that the presence of a corpse will turn their unit into a "murder home" and its property value will nosedive and impoverish them, their bickering family unite to pass the buck to their neighbours by moving the corpse to other units on the same floor. Their fiendish plot ropes in a motley bunch of people, including retired elderly couple, Mr. and Mrs. CHAN; a single lady and her maid; the CHEUNG's, an irascible father and his cantankerous son; and an overzealous security guard. Last but not least, is a mysterious chain smoking woman named Sue who might hold the key to helping get the body out of the building...
A dark comedy of manners and Hong Kong home-ownership woes ensues in "Over My Dead Body" as each of these vividly portrayed characters turns on each other in an effort to avoid taking responsibility for both the body and their own personal problems.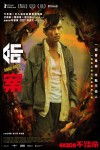 4 MAD FATE
AKA : FATAL FATE
Can : Ming Ong
d. Soi Cheang Pou Soi
Gordon Lam Ka Tung, Lokman Yeung,
Berg Ng Yin Yip, Peter Chan Cham Man, Ng Wing Sze,
Bonnie Wong Man Wai, Ko Tin Lung
Rating : IIB
Length : 109 mins.
Opening February 19 2023 at the Berlin Film Festival
Opening March 30 2023 at the Hong Kong International Film Festival
Opening April 20 2023
Opening April 27 2023 at the Udine Far East Film Festival
Site :
https://www.berlinale.de/en/2023/programme/202307420.html
Site :
https://www.hkiff.org.hk/film/getdetail?fid=2358
[ HONG KONG INTERNATIONAL FILM FESTIVAL ]
When a fortune teller predicts that a psychopath is destined to commit murder, he uses the powers of feng shui and metaphysics to change the course of events. A thematic continuation of his classic films about the neverending struggle between fate and free will, Soi Cheang delivers a gripping thriller with intensity and panache, powered by producer Johnnie To and screenwriter Yau Nai-hoi. Gordon Lam and Lokman Yeung are extraordinary as two men standing at the edge of sanity, as they fight an invisible enemy. Berlinale Special.
[ BERLIN INTERNATIONAL FILM FESTIVAL ]
The sky above Hong Kong is not just heavy with clouds and rain, it also contains astral signs and dark omens in this esoteric neo-noir. In a radical and counter-intuitive move, rather than having the characters' trajectories converge towards the end, the plot instead knits their fates together from the start. Crossing paths at the scene of a heinous crime in a brothel are the serial killer perpetrator and the upstanding detective chasing him, but also a delivery boy obsessed with blood and knives and an occultist feng shui master who had predicted the victim's gory fate without being able to prevent it. The last two quickly form an unlikely pair, and this transforms the film into a surreal, hyperkinetic, expressionist buddy thriller. The horoscopes confirm that the boy will soon succumb to his bloodthirsty temptations, but to redeem past failures and save him from his fate, the fortune teller is willing to do anything. As the investigations gather pace, the pair sinks into delirium in a whirlwind of superstitions, rituals and distortions, against a backdrop of an alchemical metropolis.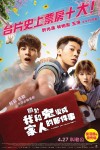 3 MARRY MY DEAD BODY
Can : Guan Yu Ngor Wor Gwai Bin Sing Ga Yun Dik Na Gein Si
d. Cheng Wei-hao
Greg Hsu Kuang-Han, Austin Lin, Gingle Wang,
Tsai Chen-nan, Tuo Tsung-hua, Ma Nieh-hsien
Rating : IIB
Length : 129 mins.
Opening April 1 2023 at the Hong Kong International Film Festival
Opening April 27 2023

[ HONG KONG INTERNATIONAL FILM FESTIVAL ]
During a pursuit, homophobic police officer Ming-Han inadvertently picks a red envelope off the ground and becomes roped into a ghost marriage with a dead man named Mao-Mao. To get rid of his ghostly groom, Ming-Han agrees to help Mao-Mao find the culprit behind his death. Previously best known for scaring audiences with The Tag-Along series, director Cheng Wei-Hao proves himself to be one of the best genre directors in Taiwan cinema with a rambunctious high-concept comedy that has the comic energy of an old-school Hollywood farce.

[ BROADWAY CIRCUIT ]
Ming-Han is a passionate policeman in a muscular shape. One day, in the process of arresting a criminal with his beautiful colleague - Zi-Qing, Ming-Han accidentally picks up a red envelope, and a group of people suddenly jumps out to call him "son in law". They ask him to get married with their dead child, who is a dead guy! It is impossible for Ming-Han to accept this decision. However, he doesn't expect to be in misfortune since then. What is even more terrifying is that he begins to see his ghost husband Mao-Mao that scares Ming-Han to death. Therefore, Ming-Han visits a great master to get rid of Mao-Mao. The master tells him that he must get married to Mao-Mao and check Mao-Mao's wish lists; otherwise, Mao-Mao will follow him forever. To get rid of Mao-Mao, Ming-Han has no choice but to help him fulfill all his wishes; at the same time, Mao-Mao also acts like Ming-Han's partner to help him with the investigation of drug smuggling. A fantasy journey full of laughter and tears between a straight man and a gay ghost has begun.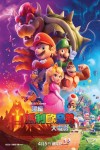 2 THE SUPER MARIO BROS. MOVIE
d. Aaron Horvath, Michael Jelenic
Illumination Animation
English Voices: Chris Pratt, Anya Taylor-Joy, Charlie Day,
Jack Black, Seth Rogen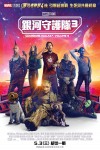 1 GUARDIANS OF THE GALAXY VOLUME 3
d. d. James Gunn
Illumination Animation
Chris Pratt, Zoe Saldana, Dave Bautista, Karen Gillien,
Pom Klementieff, Sean Gunn, Chukwudi Iwuji,
Will Poulter, Elizabeth Debicki, Sylvester Stallone
English Voices: Vin Diesel, Bradley Cooper, Maria Bakalova