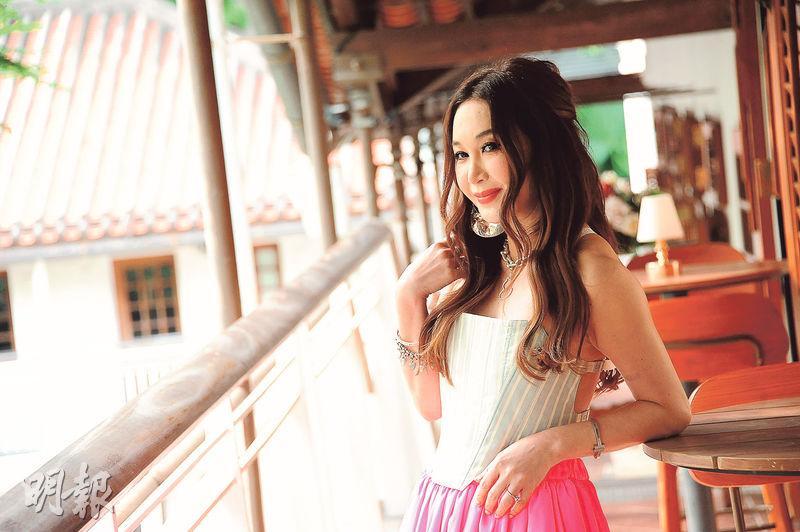 Irene Wan spends 5 years to make the autobiographical film LONELY EIGHTEEN, which will open in June. She looks forward to it very much
courtesy of mingpao.com
The Irene Wan Bik Ha produced film LONELY EIGHTEEN will open in June. The film theme song JOURNEY OF LIGHT AND SHADOW would not only be performed by her but its music video would also be directed by her in an all new attempt.
When Irene heard the song's demo she already really liked the song's melody. She invited music make Tsui Ho to write the lyrics and the visuals from the film then appeared in the song. As a first time music video director, Irene invited the film THE FALLEN (DOR LOK FA)'s cinematographer to assist with the production. The music video featured "black and white" concepts. Irene explained, "I want to coordinate with the film' story of a young girl growing up. I want to have a type of nostalgia of remembering the past in the diary. The cinematographer even used a hand held cameras throughout to make the sense of motion and art stand out." Irene had her fill of directing fun from her first time at the helm of a music video. Would her goal be directing a film? Irene said, "I want to, but I am afraid I wouldn't be able to handle it. The sense of satisfaction is still a little greater from being a producer. From casting to controlling the entire production, the creative space is also greater. Although directing would have a greater sense of accomplishment, I still want to mainly act. Being a film producer I would learn more stuff!"
Irene has a film office, and has produced her films LOVE IN LATE AUTUMN (OI JOI SUM CHAU) and THE FALLEN. This time her third film as a producer LONELY EIGHTEEN (NGOR MOON DIK SUP BAK SHUI) would be released at the end of June. The film would be based on her real life experience, document the journey from her rebellion in her adolescence, to the obstacles she ran into in entertainment and transformation. For perfection, Irene pointed out that the film took 5 years to make. Just the script alone took almost 3 years to write. "From the experience of producing two past movies, I want to take my time. In addition I participated in the script and the production, and I am very pleased with the result. It feels like my baby being born. I also look forward to everyone seeing my effort."
Because LONELY was about the experience of her growing up, Irene had many memories and sentiments brought back during the shoot. "In one scene the child who played me at age 5 was getting hit by Papa. I was behind the mon(itor) and recalled when I was little how strict Papa disciplined me, but Papa was much older than I was. We had a big gap between us and thus never communicated. I was very rebellious, in the end I left home." Irene knew that her parents loved her, but they did not truly understood what she liked. In addition, the living condition in Tiu Keng Leng was very poor. Rain often leak into the home. When she was little she only had soy sauce with rice. These experience would make her learn to cherish everything she had. "Because of these childhood experience, I wanted to make a world for myself so my family would be able to live even better."
Recently Hong Kong film box office repeatedly set records. Irene said that she also had certain confidence in the film. In particular her new film would be about the story of growing up and childhood memories that everyone must have experienced, she believed that it would also triggered a lot of sentiments in the audience and viewers would be able to relate to it.