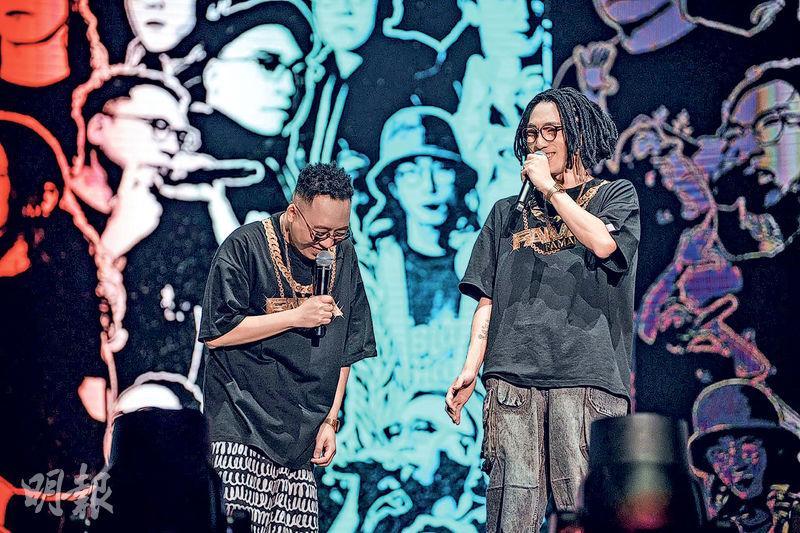 Fama not only sing at their concert but also perform stand up comedy
courtesy of mingpao.com
courtesy of on.cc
Fama after 13 years earlier performed a concert in Guangzhou, their largest scale performance in the mainland so far. They prepared an all new set list and content and over 30 dancers for the 9000 viewers. The first half of the show included a 60 minute long medley. Fama arranged their old and new songs anew. C Kwan said, "Singing 20 songs in 60 minutes, not one by one but in a nonstop medley. It absolutely is in Cantonese hip hop history the longest live medley." 6 Wing joked, "Lam Gor (George Lam Chi Cheung) had a song called 10' 12", our song could be called 60' 20", with multiple inches more than him."
The second half of the concert was stand up comedy. Fama revealed that they starred in two movies. The first day was completed in 7 days, but the boss in the end decided against releasing it. They said, "The director shot as he watched, in the end he decided to change the ending a little. He felt that we should be the final boss, and we had to use all of our strength to fight a frail girl to a tie. We didn't feel it was very reasonable, maybe the boss in the end felt that way too so decided that not releasing it was the most reasonable."
Then they shared their second experience as the film leads. On the second day of the shoot, the set caught fire accidentally and ended the shoot. Some of the crew went to court with the film company because they did not receive their pay. 6 Wing and C Kwan said that they have never truly been film leads, but they met many good elders in the industry. They were able to work with Stephen Chow Sing Chi and became friends with Dayo Wong Tze Wa, so they were happy.