courtesy of on.cc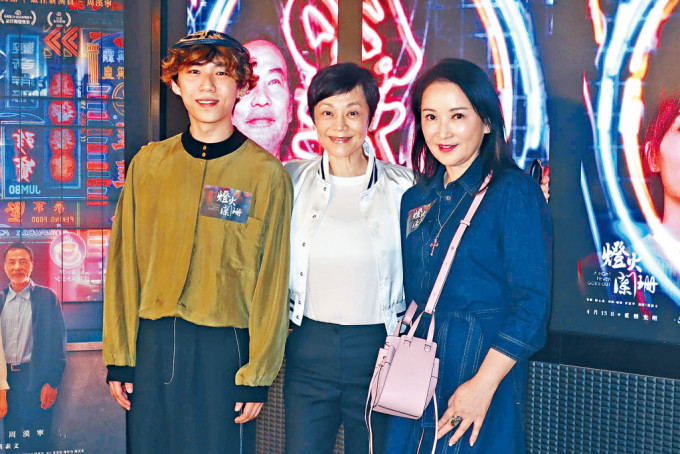 Sylvia Chang promotes A LIGHT NEVER GOES OUT as soon as she returns to Hong Kong
courtesy of singtao.com
courtesy of mingpao.com
The film A LIGHT NEVER GOES OUT (DUN FOR LAN SHAN) yesterday held an after screening forum. Producer Saville Chan Sum Yiu, director Anastasia Tsang Hin Ning, actors Sylvia Chang, Henick Chou Hon Ning, Mimi Kung Chi Yun and Maverick Mak Chau Sing attended and shared their production experience with the audience.
Sylvia Chang just finished working on Koh Samui. Upon returning to Hong Kong she immediately attended the forum to promote. She said that making a movie now is not easy, LIGHT was completed two years ago and promoted for half a year. However she was very happy to still be able to see the actors from the film. Speaking of losing the Hong Kong Film Awards Best Actress, Sylvia Chang said that at the time she was not in Hong Kong so she did not attend. Yesterday she sent a text message to congratulate the fresh out of the oven Best Actress Sammi Cheng Sau Man and learned that Sammi was very happy. Was she disappointed? Sylvia Chang smiled and asked, "Me? Are you kidding? I hid at home and cried, haha, of course not!" However Sammi was very emotional on the stage when she won her first Best Actress. Sylvia Chang said, "Don't give yourself too much pressure. After so many years in the business, if you are unhappy then you shouldn't keep working. However the award should be hers. Not winning though doesn't mean you haven't performed well enough. You should perform well too, you are a professional!"
Would she continue to work on Hong Kong films in the future? Sylvia Chang said that actually last year she also worked on 24 FLAVORS (YI SUP SEI MEI), a Hong Kong film with Kenny Bee (Chung Chun To). It was another new female director's movie. She said that both "neon lights" and "herbal tea" are the most special in Hong Kong but few have taken notice. They also represented many Hong Kong stories. "Although neither were youth films, the film uses 24 herbs tea as a parable for life, family and love. Different flavors are within them as well." Sylvia Chang has always supported newcomers, whether they are on or off screen. She reveled that as a member of the Hong Kong Film Development Council, she currently is promoting the Directors' Succession Scheme to cultivate newcomers. She would mentor a Baptist University graduate, whose film she also judged in the past. She learned that the director started as a production assistant and an associate director. Now she has the opportunity to lend him a hand, starting from zero from writing the script to making the movie. She said, "I hope in the future even more younger generation would come, make different types of movies and go to different markets, all of which are good things!"