courtesy of on.cc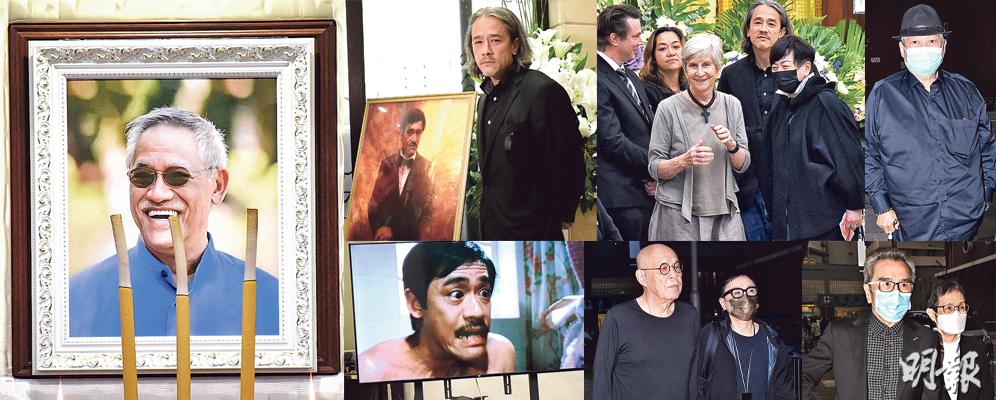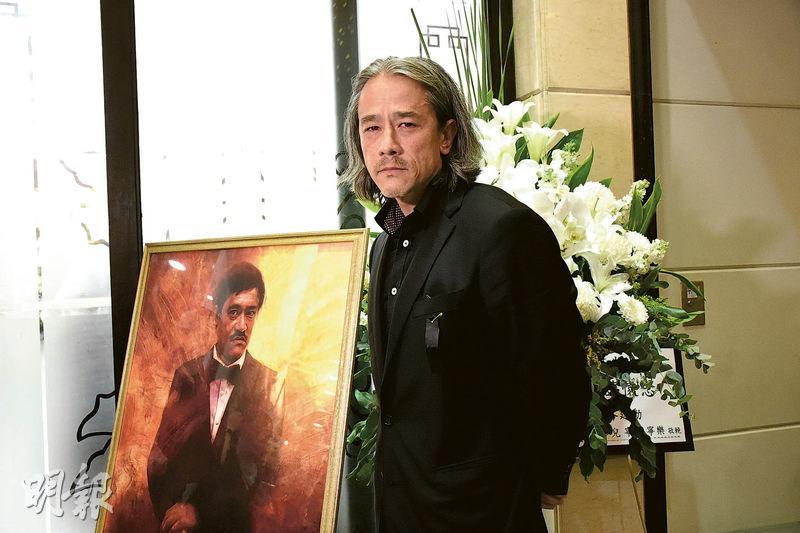 Carl Ng when recounting his father's life cannot help but get teary eyed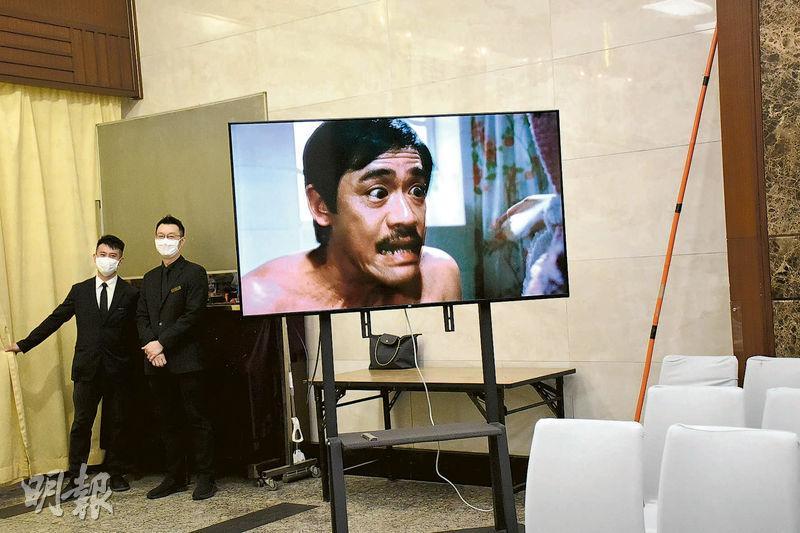 Carl Ng reveals his sister Ng Shui Shan personally edited that the video in the hall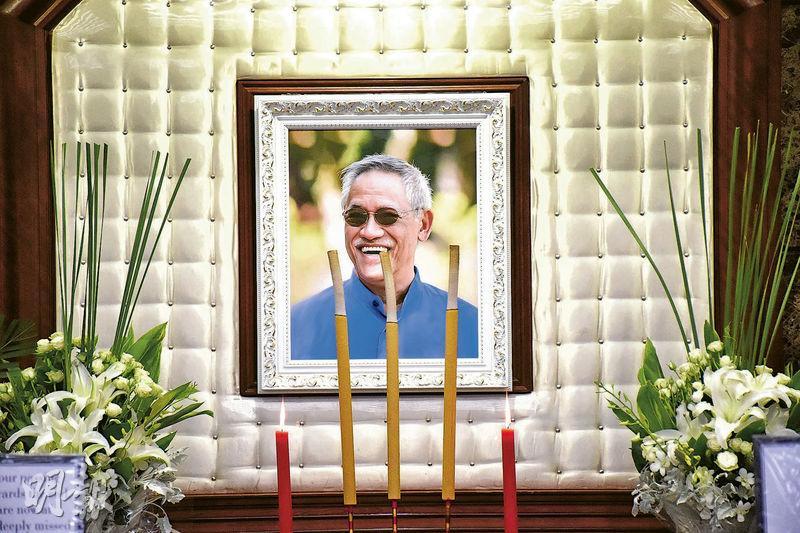 The photot has Ng Yu Hon in sunglasses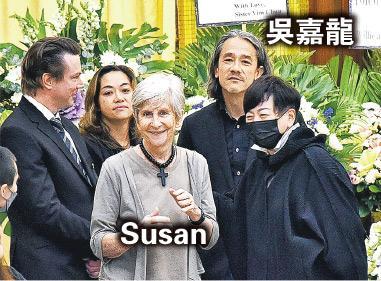 Richard Ng's wife Susan and son Carl Ng

Sammo Hung, John Chiang and wife Lee Lam Lam, John Shum and ex-wife Tina Lau pay their respect
courtesy of mingpao.com
Veteran comedy actor Richard Ng Yiu Hon passed away last month at age 83. Yesterday services begn at the Universal Funeral Parlor. The funeral would take place at 11AM this morning, and the remains would then be transported to Kowloon Tong's Sheng Kung Hui Christ Church. Chow Leung Suk Yi who signed him to ATV, His LUCKY STARS film series co-star Sammo Hung Kam Bo, John Chiang Dai Wai and his wife Lee Lam Lam last night paid their respect.
Yesterday afternoon Ng Yiu Hon's widow Susan, son Carl Ng Ka Lung and the family arrived at the hall. The hall was decorated simply with white flowers. The family's floral arrangement was placed front and center at the hall. In the photo Ng Yiu Hon in sunglasses was laughing. The venue even showed film footage from Ng Yiu Hon's films. Ng Yiu Hon was well liked in life. Industry insiders including Jacky Cheung Hok Yau, Gordon Lam Ka Tung, Daniel Wu (Ng Yin Cho), Miriam Yeung Chin Wa, Lowell Lo Koon Ting and his wife Tong Shu Sum all sent floral arrangements in his memory.
In the hall Ng Yiu Hong's film footage was played. Carl said because his younger sister was the most upset, he asked her to edit the video. That way she would be with father even more, and able to remember their time together with laughter; as for choosing the photo, he pointed out that it was a private family photo of his father. "There was a third thing, the 'thank you' he signed a week before his passing. He knew (that he would be passing soon), and said thank you to everyone for caring about him and let him say goodbye."
Ng Ka Lun outside the hall spoke to the media. How was he currently? Ka Lung said, "I am much better, but everyday I would still cry. Dad in the past few months had great difficulties. He told us to say 'see you next time'. He would be more comfortable after getting his release, but the family would be sad everyday." He missed his father's sense of humor the most. From childhood he and his father were more like friends than father and son. So far he still has not been able to accept his father's passing, and with sorrow he wanted to get back his father's sense of humor.
Carl also remembered his father's lessons. "There were many, life doesn't need to be overly serious. Because life is very short, live happily and be kind to others." While his father was ailing he still kept telling jokes. As for his father's wish, Carl got choked up. "He asked me to watch over my sisters. He said that he was in a rough time, but he still told jokes everyday. So I were very touched and my heart ached very much for him. Now he could rest a little, go to an even better place. He was a very interesting person, he wanted everyone to be able to laugh. He also brought many beautiful and happy memories to Hong Kong. My family and I hope that everyone would remember this side of him."
Carl on the day before his father's funeral remembered him on social media and reveled that last month his father had the idea of ending his life but was unsuccessful. He said, "That day I brought him something to eat, he said that the night before he wanted to end his life but was unsuccessful. I smiled and encouraged him to do what he excelled the most in, living. Then we both laughed, knowing that everyone understood. Everything has its time in life, whether happy or sad it would all pass." He admitted that the experience was from seeing his father being tortured by long term illness. Even his sense of humor was eroded, in particular during the pandemic years when he could not see his friends, go to restaurants he liked. He sensed the enormous pressure, but he still was full of passion for life.
Having worked with Ng Yiu Hon on many LUCKY STARS films, Sammo Hung Kam Bo stayed for over a hour at the hall before leaving. He watched the film footage at the hall. Big Brother Sammo said, "We were together for many years, worked together on many movies. Without looking at the video I still have a lot of memories, after watching it I have even more memories. Did Ng Yiu Hon ever try to play a prank on him? He said, "Very little, I play pranks on people more but they would be just for laughs. They didn't hurt anyone in the heart, in the flesh or in the bones. They were visually funny. You have to see who you play pranks on. With Jackie Chan I can 'pound' a little, even a little blood would be fine. Ng Yiu Hon was an educated person, I could just joke around."