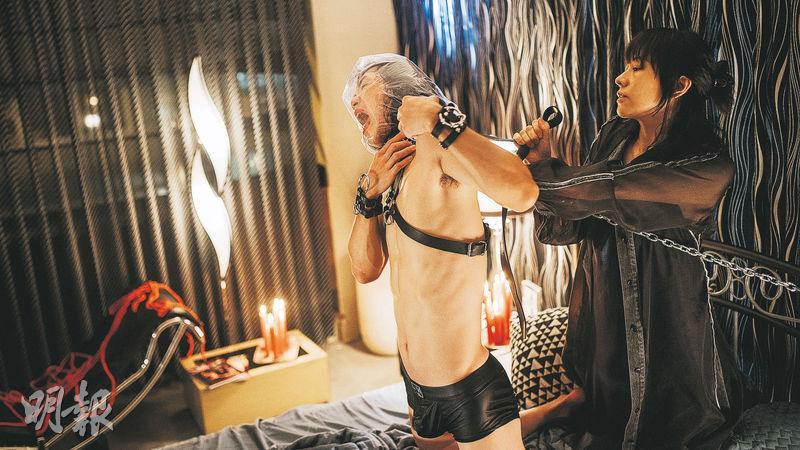 Karena Lam tightens the belt around the neck of Kelvin, whose head is in a plastic bag. She hopes to get each S and M scene in one take as much as possible to keep her co-star from suffering
courtesy of mingpao.com
Karena Lam Ka Yun returned to a horror film after many years, playing a nurse in the film TALES OF THE OCCULT: BODY AND SOUL (SUT HUNG HUNG GAN ji JUI YU SAT)'s segment TOOTH FAIRY with tis share of bloody violent scenes. She challenged a S and M bed scene, not only wrapping her co-star Kelvin's head in a plastic bag but also choking him and chaining him to the bed. Before the shoot began, Ka Yun saw the topless Kelvin and joked, "I want to kill you, your figure is much better than mine. I am very mad."
After the passion, Ka Yun admitted that she was nervous about her first S and M scene. "I was very worried, Kelvin's hands and necks were only belted and his head was in a plastic bag. Playing scenes like these I have to use real force to look the part. If the belts were loose it wouldn't look good. Everything had to be precise, I tried to get it in one take as much as possible to keep my co-star from having a tough time." Each time the director yelled cut, Ka Yun immediately untied Kelvin and asked how he was. "Everyone understood that making this scene would be tough, but safety is the most important."