Gingle Wang
Greg Hsu, Gingle Wang and Austin Lin are very pleased with their new film's performance
courtesy of on.cc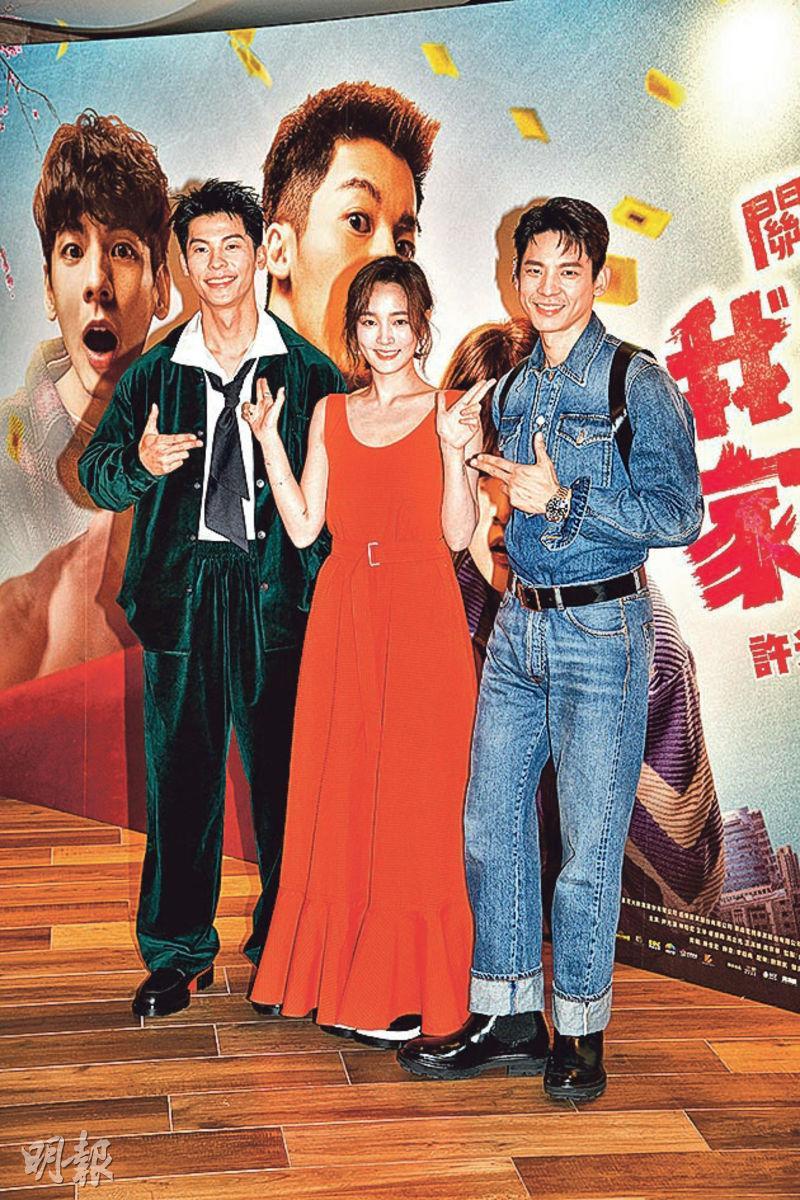 Greg Hsu, Gingle Wang and Austin Lin show off their Cantonese
courtesy of mingpao.com
"Taiwan God" Greg Hsu, Austin Lin and Gingle Wang yesterday along with producer Jin Bai-lun attended their film MARRIED MY DEAD BODY media meeting at a Tsim Sha Tsui cinema. The three leads not only greeted everyone in Cantonese but also made their trademark shooting pose during posing for photos.
At the event they not only talked about their production experience but also showed off their less than fluent Cantonese. Greg Hsu greeted everyone with "very happy to see everyone". Austin Lin hoped that when everyone watch this movie they "would laugh, cry and be touched". Gingle Wang pointed out that this was a movie with love and hoped that everyone after watching it would share it with their friends. "Thank you". Later when Gingle Wang turned around for media photos, Greg Hsu said in Cantonese that she was "photographed in the back" (sounds like Best Actress). He also praised Austin Lin as "handsome".
MARRIED since its Hong Kong release has had a box office performance. Greg Hsu happily said that he knew the box office has already surpassed HK$ 9 million. He hoped that later it would reach HK$ 15 to 20 million. How would he repay the audience if the box office goal would be reached? Greg Hsu said, "I have already bared all in the film, not much left to show. I would have to give this mission to Austin Lin." Austin Lin joked that if he showed off his muscles, no one would be too happy. He would be better off practicing more Cantonese to make everyone happy. Gingle Wang pointed out that she could not strip, and joked that the mission of showing the body would be left to the director (Cheng Wei-hao) because during the shoot he already wanted to show off his figure very much.
Coming to Hong Kong two days ago, Greg Hsu and Austin Lin have since attended many audience appreciation events. However Greg Hsu said that when he saw the sold out cinemas and the sincere return and passion from the audience, he did not feel tired. Has his Hong Kong "wives" (female fans)'s passion frightened him? He said, "No, Austin Lin also has many 'wives' and Gingle Wang also has many 'Mr. Wang'."
Austin Lin was asked about recommending to Stephen Chow Sing Chi on social media to watch his film, but Sing Yeh replied, "Why don't you invite me to watch the premiere?" Austin Lin said that after he saw that he immediately asked the film company to come up with ideas. He also joked, "If Sing Yeh goes to see this movie, it would be the achievement and the honor of my lifetime. (Would you like to work with Sing Yeh?) This is the dream of being an actor, since childhood I have watched Sing Yeh's works and they have influenced me."
In addition, Gingle Wang's series had daring scenes that have become hot topic online. Gingle Wang said that lately she has been busy with the film's promotion so she has not paid too much attention. During the shoot she did not feel awkward because it was a part of being an actor. Has her boyfriend Tsao Yu-Ning seen it? She said, "I don't know, because he has been busy with work." Her co-stars Greg Hsu and Austin Lin said that they have not said it, they only knew that the show had great word of mouth.