courtesy of on.cc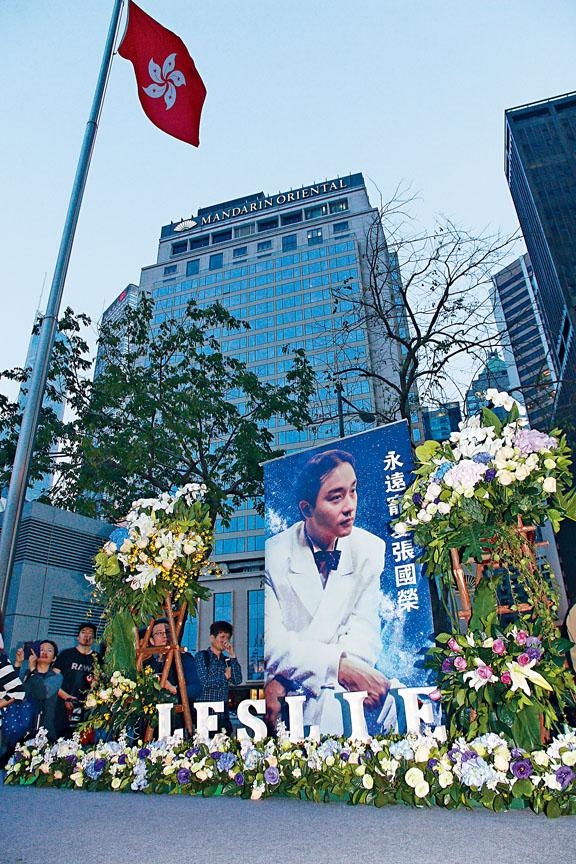 courtesy of singtao.com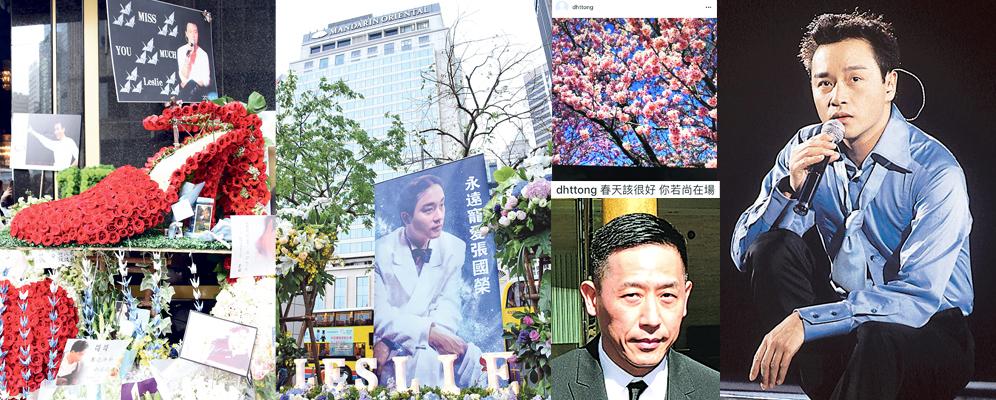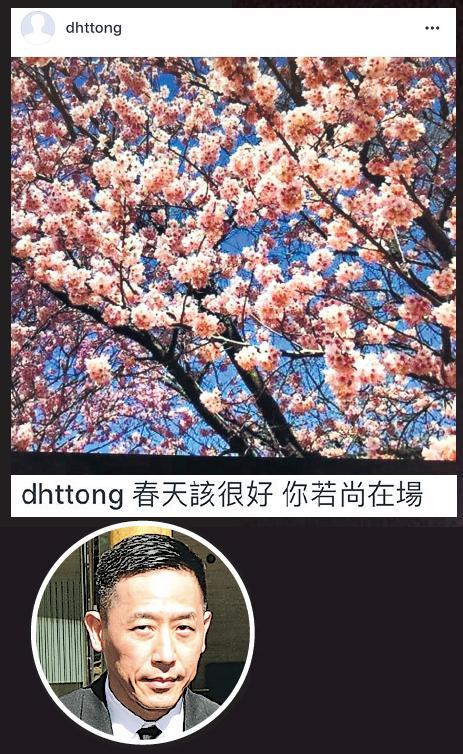 Daffy Tong posts a photo of cherry blossom in bloom, "Spring should be great, if you are still here"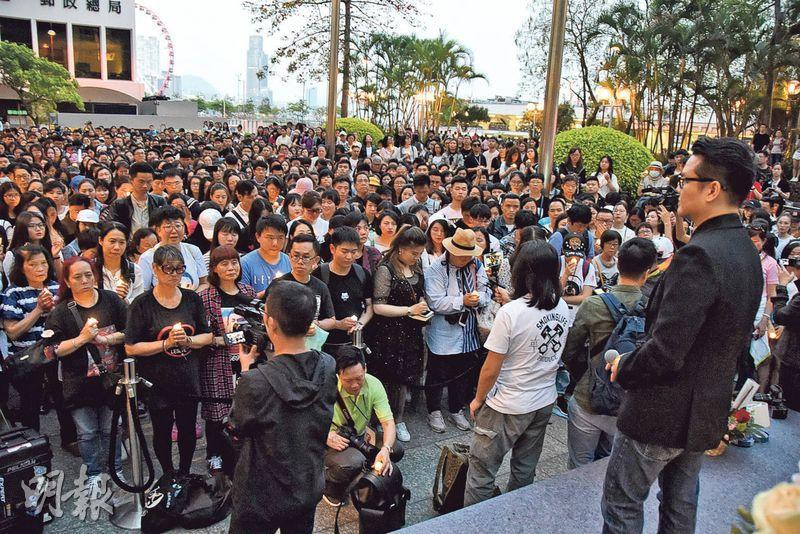 Hon Yeung leads fans in a moment of silence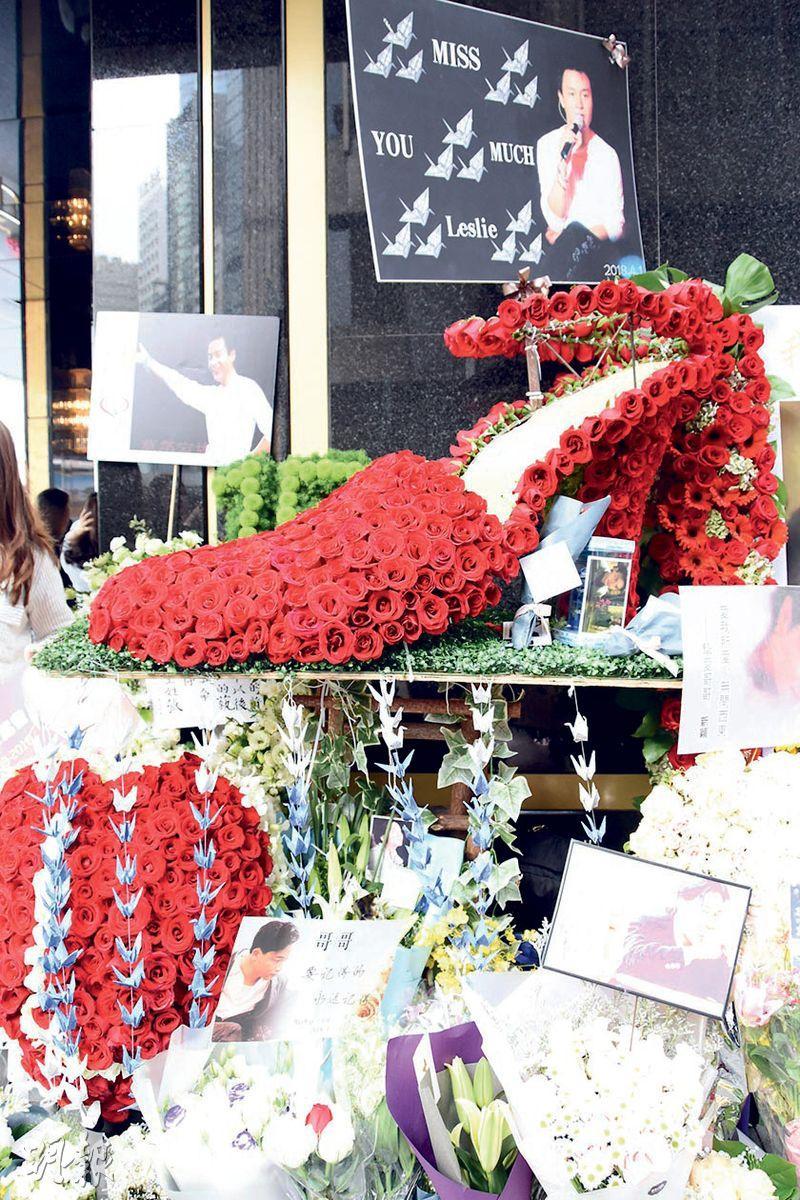 Red high heel floral arrangemenet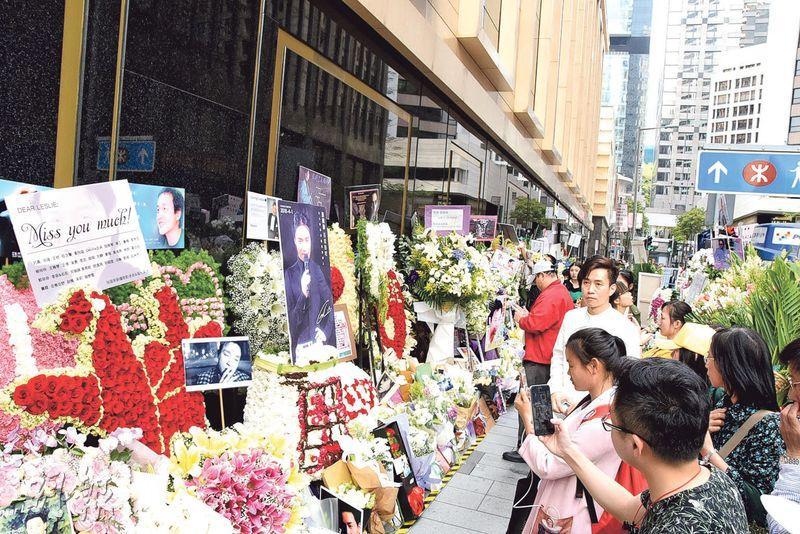 Fans remember Leslie Cheung with a sea of flowers outside the Mandarin Oriental Hotel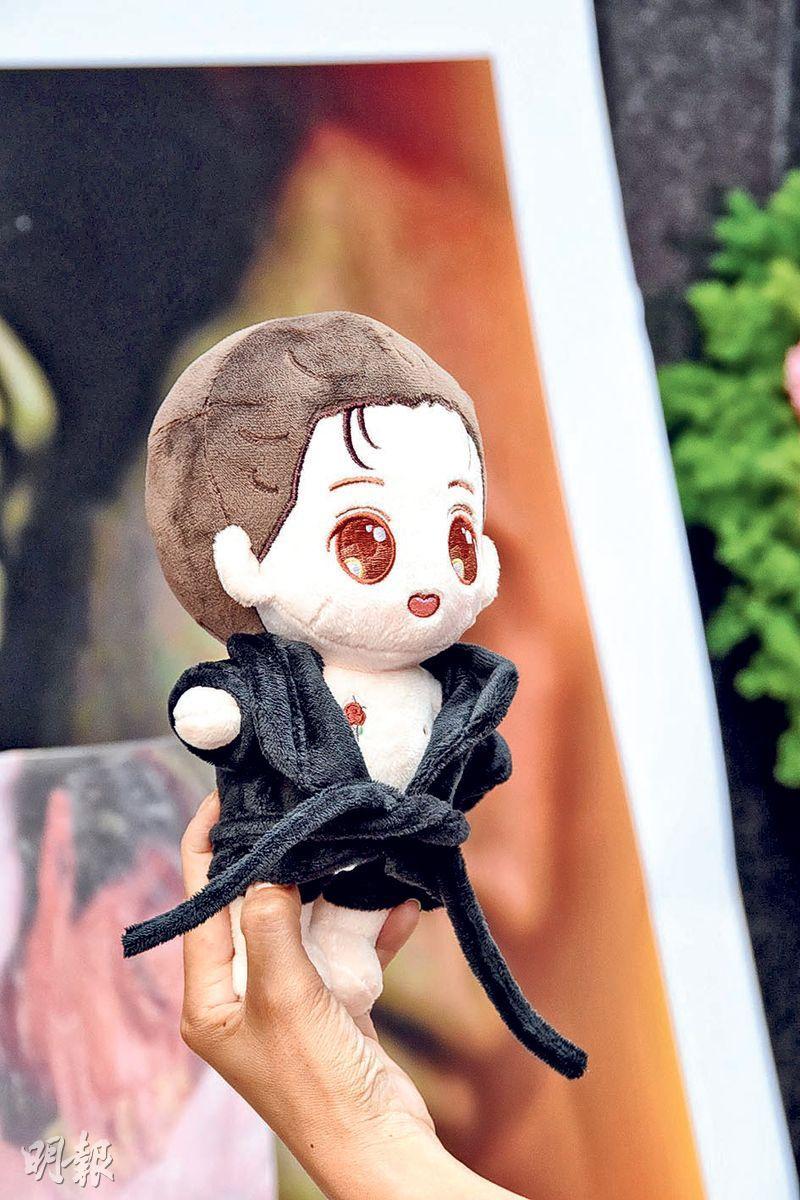 A fan brings a Leslie doll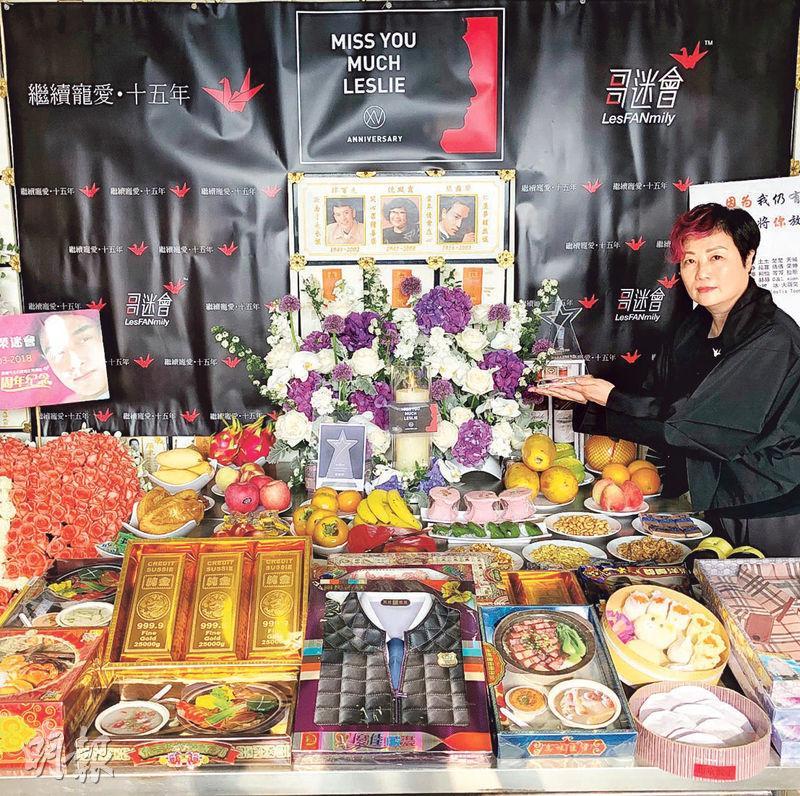 Chan Suk Fun presents the Baidu prize
Two vehicles were parked at Edinburgh Place for fans to write messages
courtesy of mingpao.com
Yesterday was the 15th anniversary of superstar Leslie Cheung Kwok Wing's passing. Although Gor Gor has left us for so many years, his fans have never forgotten him. Fans around the world, including Japan, Malaysia, the U.S. and the Mainland, went to present flowers and floral arrangements outside the Mandarin Oriental Hotel at Central to remember their idol. Over 300 "Gor" fans attended the candlelight vigil, which the fan organization Leslie Legacy announced would not be held next year. However they said that "love never ends".
Fresh flowers filled the sidewalk outside the hotel as countless fans arrived to remember their idol. Many even took photos. The giant high heel made from red roses was the most eye catching. Red origami crane, musical note, hearts, "Leslie" and the number "15" that were made from fresh flowers were also present.
This year's new addition was a vehicle with a giant television screens that kept showing Gor Gor's concert and interview videos. Fans could even write messages on the vehicle windows. After visiting fans could receive a magnet and postcard with a "Gor Gor" golden quote.
Around 6PM, around 300 fans went to the park across the street from the Mandarin Oriental Hotel for the candlelight vigil. Some parents even brought their children. At the center of the stage was a giant poster of Gor Gor in a white suit, as well as some floral arrangements and fan made origami cranes. Before the ceremony began, Gor Gor's songs played nonstop. Fans carried white candles and sang to remember Gor Gor.
After the event began, Leslie Legacy representative Ms. Chan announced that next year no memorial event would be held. "15 years went by quickly. The fan organization Leslie Legacy has already held different events to relive Leslie's singing and charm, understand and appreciate the world through Leslie. After 15 years, we hope to start over. Starting next year, Leslie Legacy will no longer hold a candlelight vigil to remember Leslie; but love never ends. We would still remember Leslie's spirit, every highlight, his perfectionism, and his sincerity, kindness and beauty, all of which are the directions in our hearts." Then Terence Lam (Hon Yeung) thanked loyal Leslie fans who have selflessly contributed in the past 15 years and then sang GOR GOR, the song that he wrote. Around 6:43 PM, all the fans present lit their candles for a moment of silence. A female fan wept and needed comforting from friends. After the moment, the event played a clip from Gor Gor. "Thank you all, I hope you would always remember me." Then Gor Gor's song WIND STARTS AGAIN was played as all of the fans sang along. After the event, Leslie Legacy representative Ms. Chan was asked why the candlelight vigil would not take place next year. She sad that because it already has been 15 years, it was a good spot to start over for everyone to have the time, opportunity and space to remember privately. She also said that over 15 years Gor Gor has already been deeply embedded into people's hearts. All Chinese communities know Cheung Kwok Wing. They have already done what they could do, which was the perfect time to give personal space and place to remember him. Gor Gor fans of course would continue to remember him privately. She also said that Leslie Legacy had no membership, so everyone could attend any of its events.
"Gor Gor's" manager Chan Suk Fun prepared fresh flowers, fruit, "Gor Gor's" favorite food and other offerings, went to Po Fook Hill with her son Ka Ho, friend Alan Lin Yim Fai, Roman Tam (Law Man)'s sister and a group of "Gor" fans to send their blessing to "Gor Gor".
This year with the Easter holiday and proximity to the Ching Ming Festival, Po Fook Hill had road blocks and crowd control in place. Mrs. Chan and friends arrived early at Po Fook Hill. Hundreds of "Gor" fans already lined up outside around 6 AM in preparation for sending their well wishes to "Gor Gor". Several hundred "Gor" fans came from the Mainland, Hong Kong, Macau, Japan, Korea, Indonesia, Malaysia and other places, presented fresh flowers, cards and origami cranes and turned Po Fook Hill into a sea of flowers. Earlier a the "2017 Baidu shout out popularity chart" received enthusiastic support from "Gor" fans as "Gor Gor" came in second place. Mrs. Chan brought the prize to Po Fook Hill and represented the fans to present to "Gor Gor". "15 years have passed, we haven't forgotten about him. We all 'continue to love Cheung Kwok Wing'."
Japanese "Gor" fans as they have on past "Gor Gor" birthdays and anniversaries would make origami cranes for "Gor Gor". For the 15th anniversary of his passing, Japanese "Gor" fans folded 912 shining silver origami cranes to represent "Gor Gor's" everlasting brilliance. Yesterday they personally brought the cranes to Po Fook Hill to present to "Gor Gor". They even sentimentally said to "Gor Gor". "Our dearest Leslie, on the 15th spring, we made for you a new crane. It was made from 912 origami crane, its theme was 'everlasting brilliance'. You and your glory will shine on forever; your smile and pure soul will always be brilliant. Leslie, we will always love you, always praise you."