courtesy of on.cc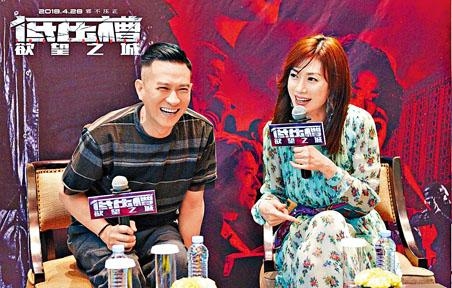 courtesy of singtao.com
The Nick Cheung Ka Fai directed crime action film THE TROUGH (DAI NGAK CHO) will open soon. Ka Fai and one of the actresses Maggie Cheung Ho Yee yesterday arrived in Guangzhou and Dongguan to promote. Cheung Ka Fa and Cheung Ho Yee spoke to the media about the production. Two friends of many years were full of chemistry, making people look forward to their exciting acting in the film.
Ka Fai and Ho Yee had a very friendly exchange with the audience and the media in Cantonese. Hong Kong film and Hong Kong series viewers were no strangers to the team of Cheung Ka Fai and Cheung Ho Yee, as they starred in Hong Kong series like UPS AND DOWNS IN THE SEA OF LOVE and A SMILING GHOST STORY. In the former they even played happy rivals. The audience looked forward to Cheung Ho Yee's performance in THE TROUGH very much. Cheung Ka Fai recalled his original intention. "Cheung Ho Yee's character generally would be a role for an actor. Because I am relatively rebellious, I felt that an actress could play this character. I always feel that Cheung Ho Yee is a great actress, very mild mannered, very suitable for my upside down creative concept."
Cheung Ho Yee was asked how she would grade Cheung Ka Fai the director and Cheung Ka Fai the actor. She gave a very objective reply. "I have known Cheung Ka Fai as an actor. After all this time he has completely matured and jumped out of the actor frame. He is very sensitive and attentive to an actor's performance. I have nothing but praise for both identities."