Chrissie Chau is happy for director Kearen Pang
courtesy of mingpao.com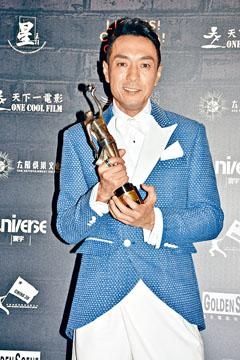 courtesy of singtao.com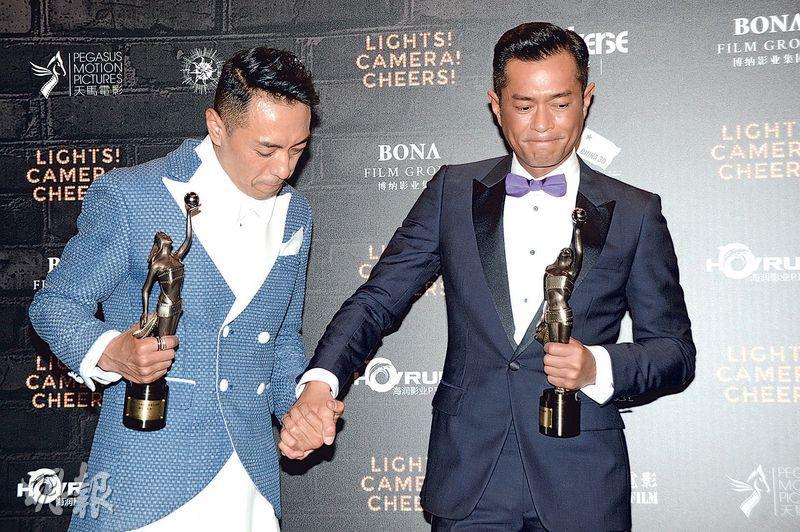 Both Philip Keung and Louis Koo win their first Hong Kong Film Award after years in the business. They both encourage each other.
courtesy of mingpao.com
The 37th Hong Kong Film Awards two nights ago came to an end. The nine major Hong Kong film companies for the first time held a joint celebration in Tsim Sha Tsui, but due to the narrow space, winners and almost 100 media members filled the entrance. Fresh out of the oven Best Actor Louis Koo Tin Lok, Best Actress Teresa Mo Shun Kwan, Best Supporting Actor Philip Keung Ho Man and Best Supporting Actress Deanie Ip Tak Han had to duck and dodge in the crowd to be able to get into the press area for interviews. Goo Jai and Hak Jai were sweating bullets.
Koo Tin Lok won his first Hong Kong Film Award Best Actor. Has his excitement subsided? Goo Jai said that he did not think too much about it. He did not expect to win either. Instead when he saw other winners he felt very sentimental, he felt even more that the award did not just belong to one person but the contribution of everyone. Thus he really wanted to make Hong Kong films well. Speaking of Anthony Wong Chau Sun's comment about Hong Kong film's future, Goo Jai noticed but felt that each person had their own way of expressing themselves. Chau Sun wanted to say how he thought and felt, thus he probably should not comment on it.
Would he get a salary after the award? Goo Jai said that he has not thought about it, as it was in his manager's hands. As for how he would celebrate, he said, "I have to celebrate with too many people, my family knows too. Last week will be Papa's birthday. We will celebrate together then." Would his next goal be a comeback to music or starting a family? Goo Jai said, "The next goal is something that I really want to do, that I want to do every moment. I am already very happy to be able to finish what I do everyday, but now I want the most to go home and sleep. Tomorrow I have to work." Did he feel like he could breathe a sigh of relief? He said, "I didn't disappoint!"
Keung Ho Man with SHOCK WAVE (CHAK DAN JUEN GA) won his first Hong Kong Film Award Best Supporting Actor award. At the celebration he was asked if his favorite won? Hak Jai said that he played a cool cop in SHOCK. The other nominated character in CONCERTO OF THE BULLY (DAI LOK SI WAI OI PUI LOK) had more drastic changes and many people liked it as well. Thus some friends worried about his votes being split. "However Cheng Chung Kei told me that having two nominations is glorious first and foremost. I have always felt normal and didn't get nervous until a few days before the award show!"
Speaking of forgetting to thank his wife on the stage, would he buy another home for his wife as a reward? Hak Jai said, "I don't know yet, it's hard to make a living. Actually I constantly reward her!" Hak Jai also revealed that when he got home he often threw tantrums at his wife. Now would he reverse their roles? Hak Jai stated, "I would welcome that, she has always accommodated me. In particular she knows I am explosive so she hides a lot. When she talks on the phone she goes outside the house. I am very sorry. Actually she can relax and chat with me!" Hak Jai praised his wife for being tolerant. Not only was she not mad that he did not thank her on the stage, but she instead told him to thank more people who have helped him. "She doesn't mind, she always puts me first. She never wants me to always talk about her."