Jackie Chan adjusts the microphone for Pauline Yeung
Stephy Tang goes super low cut to present an award with Sam Lee
Louis Cheung and Charlene Choi sing and dance
Michael Ning, Law Kar Ying
courtesy of on.cc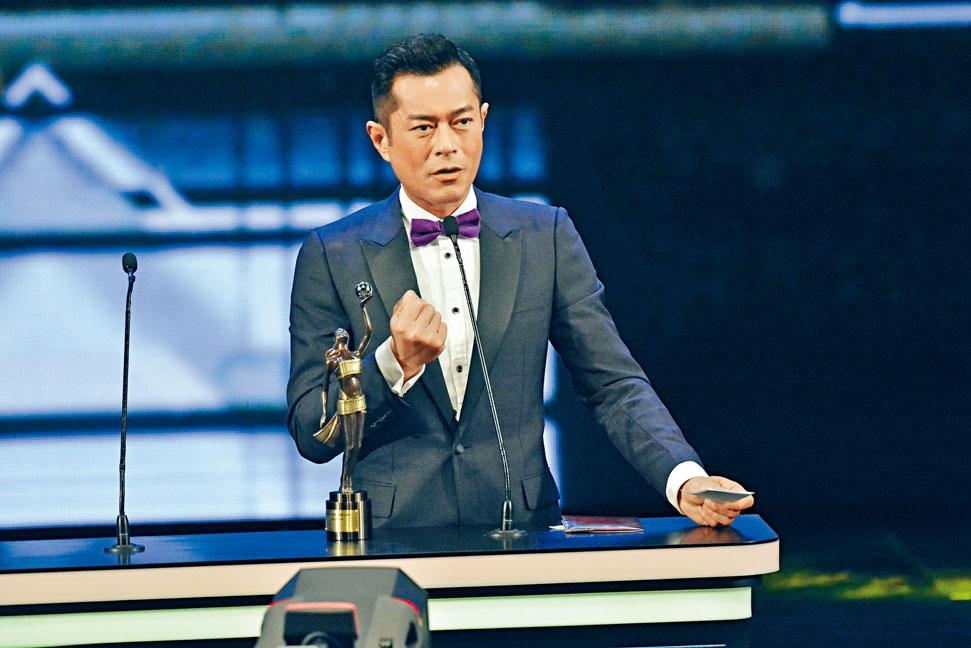 Louis Koo believes in a better tomorrow for Hong Kong film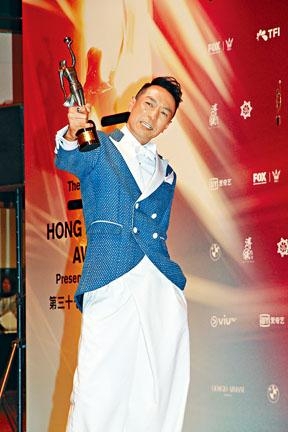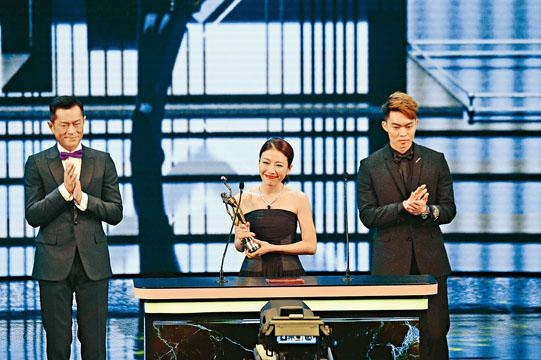 courtesy of singtao.com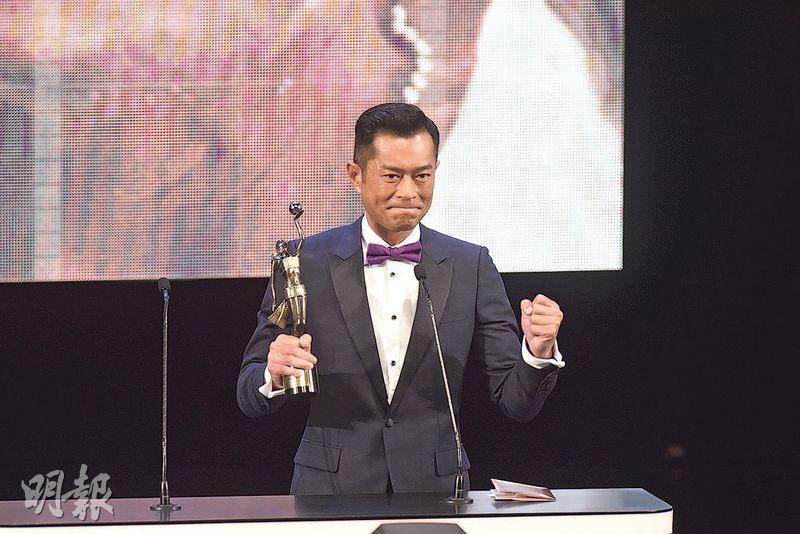 Best Actor Louis Koo gets emotional as he clinches his fist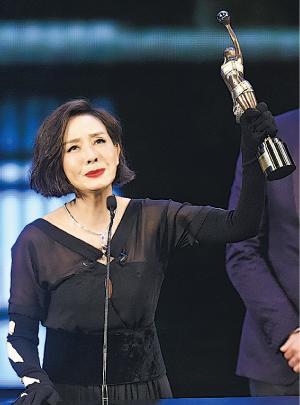 Teresa Mo finally wins Best Actress after two defeats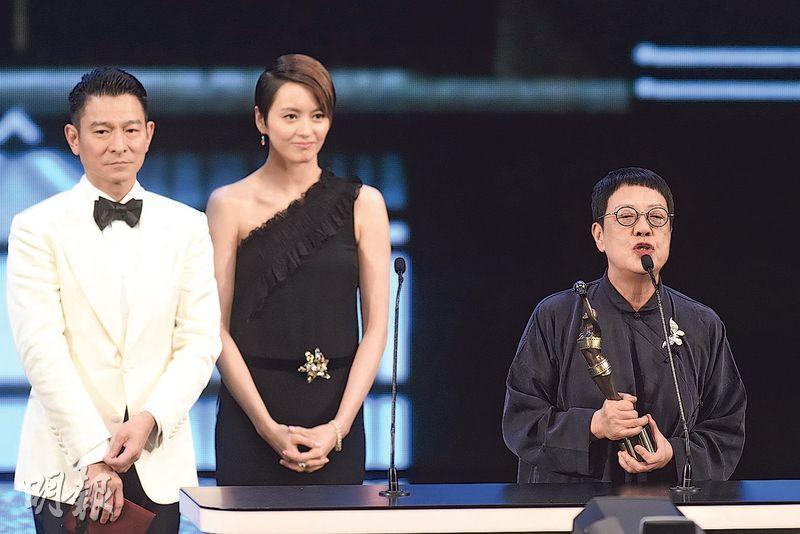 Ann Hui wins her 6th Best Director Award with OUR TIME WILL COME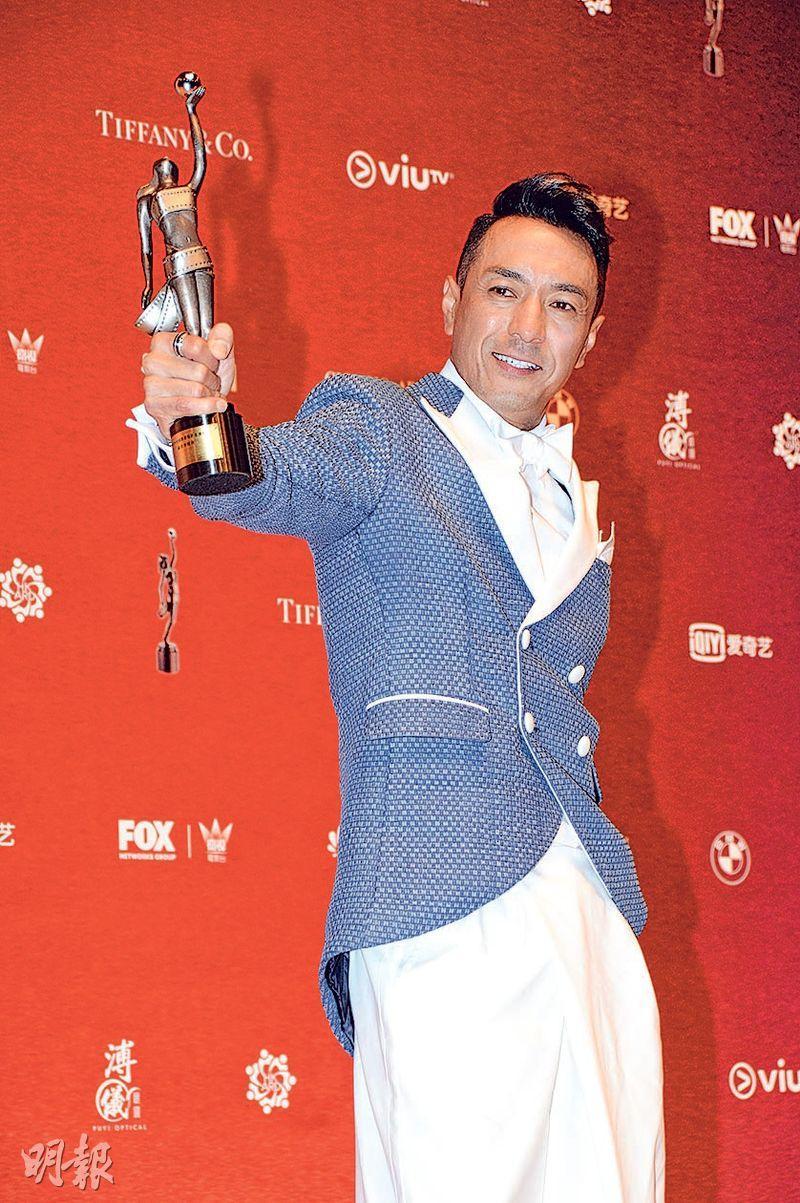 Philip Keung wins Best Supporting Actor and Best Dressed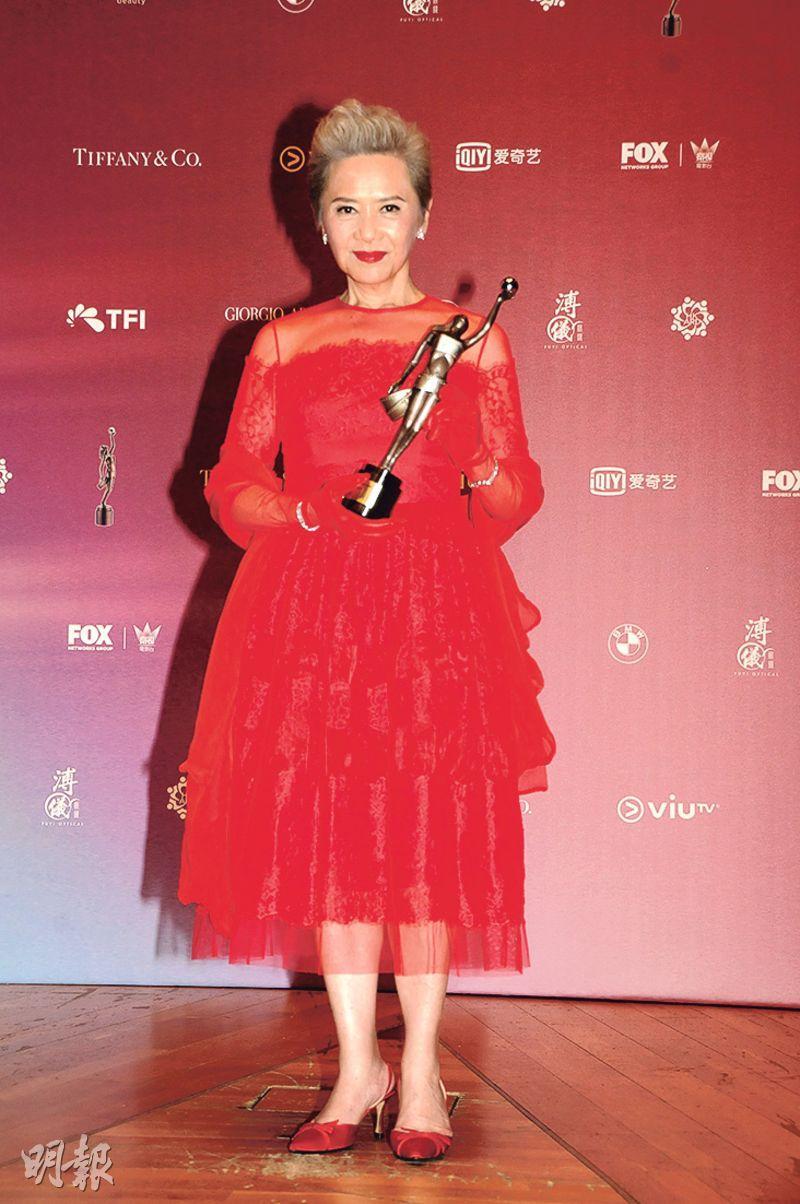 Deanie Ip is too nervous to eat before the awards. Now she can celebrate with food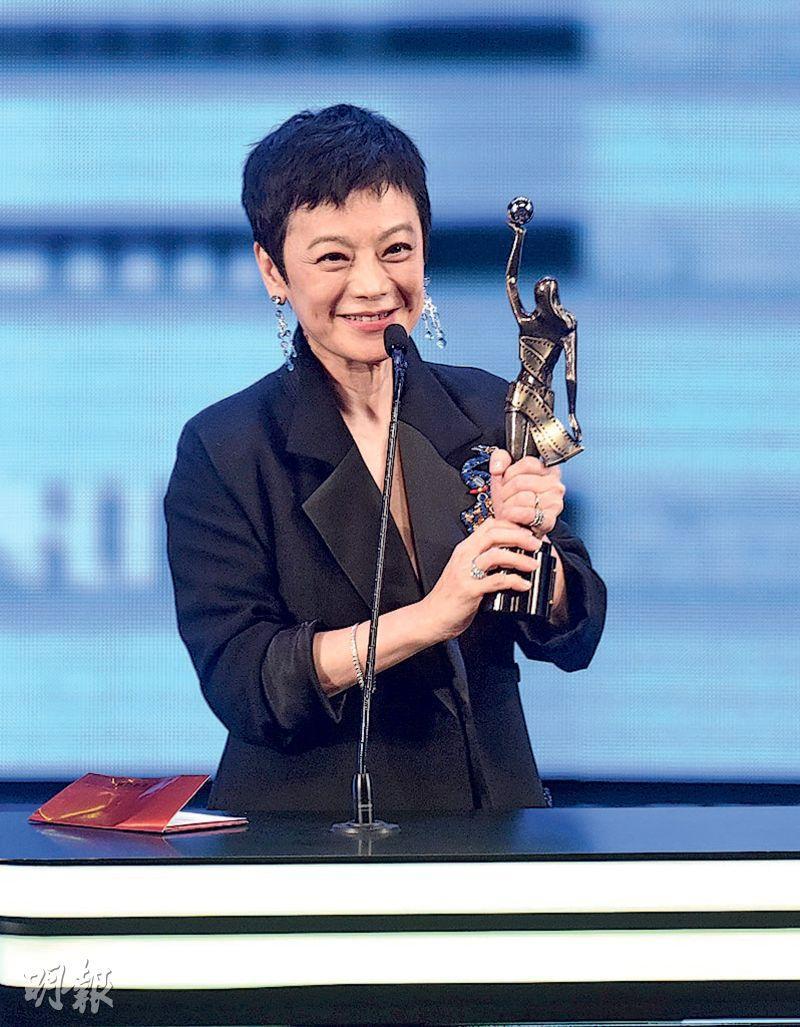 Sylvia Chang wins Best Screenplay for LOVE EDUCATION with You Xiaoying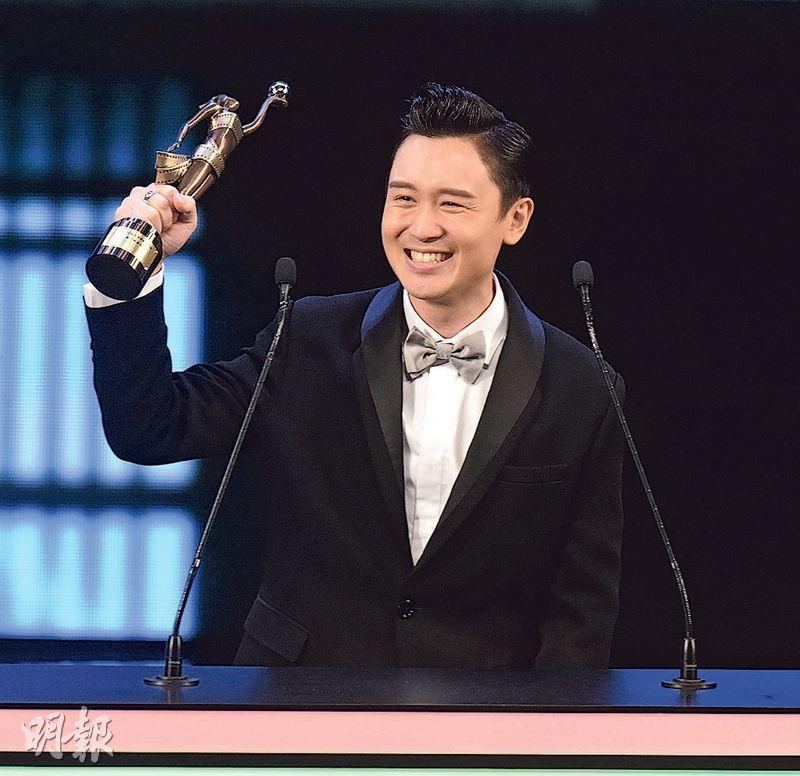 Ling Man Lung wins Best New Performer with his first film. No wonder he is teary eyed.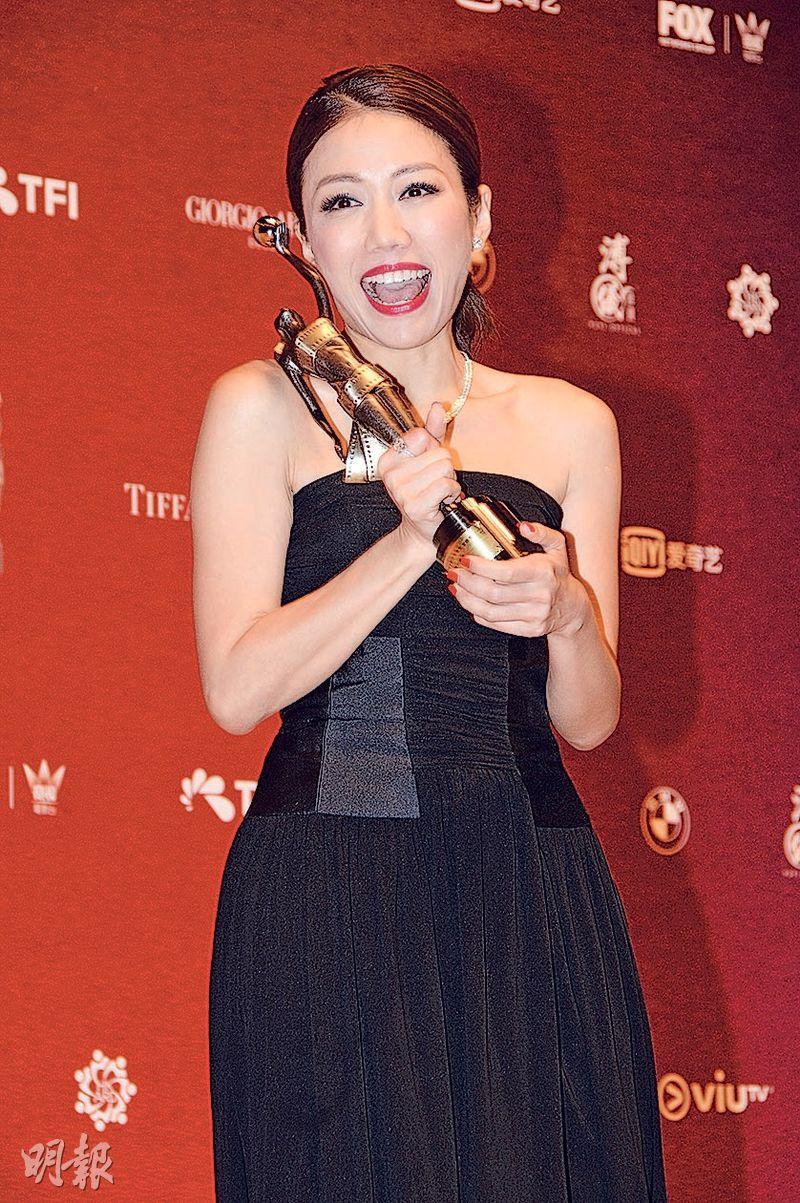 Best New Director Kearen Pang wants to thank 3 people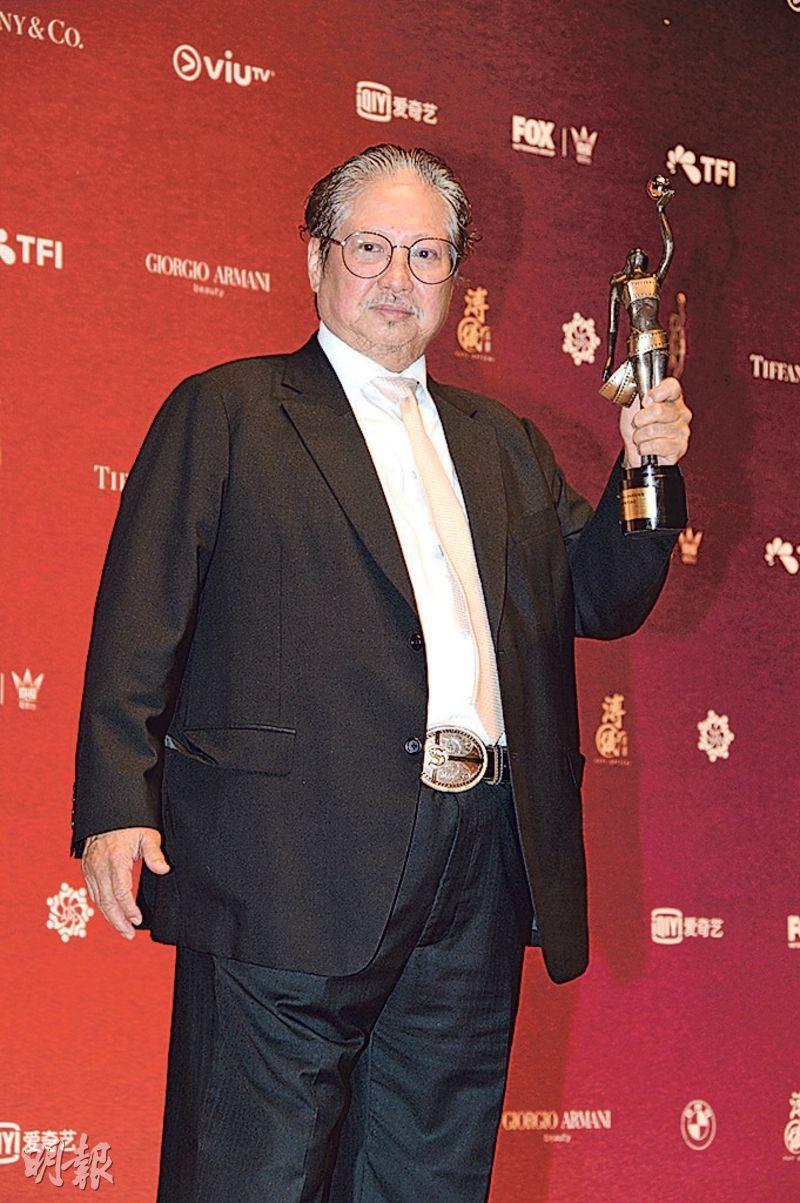 Sammo Hung says with less and less Hong Kong films he may not be able to attend the Hong Kong Film Awards even if he wants to in the future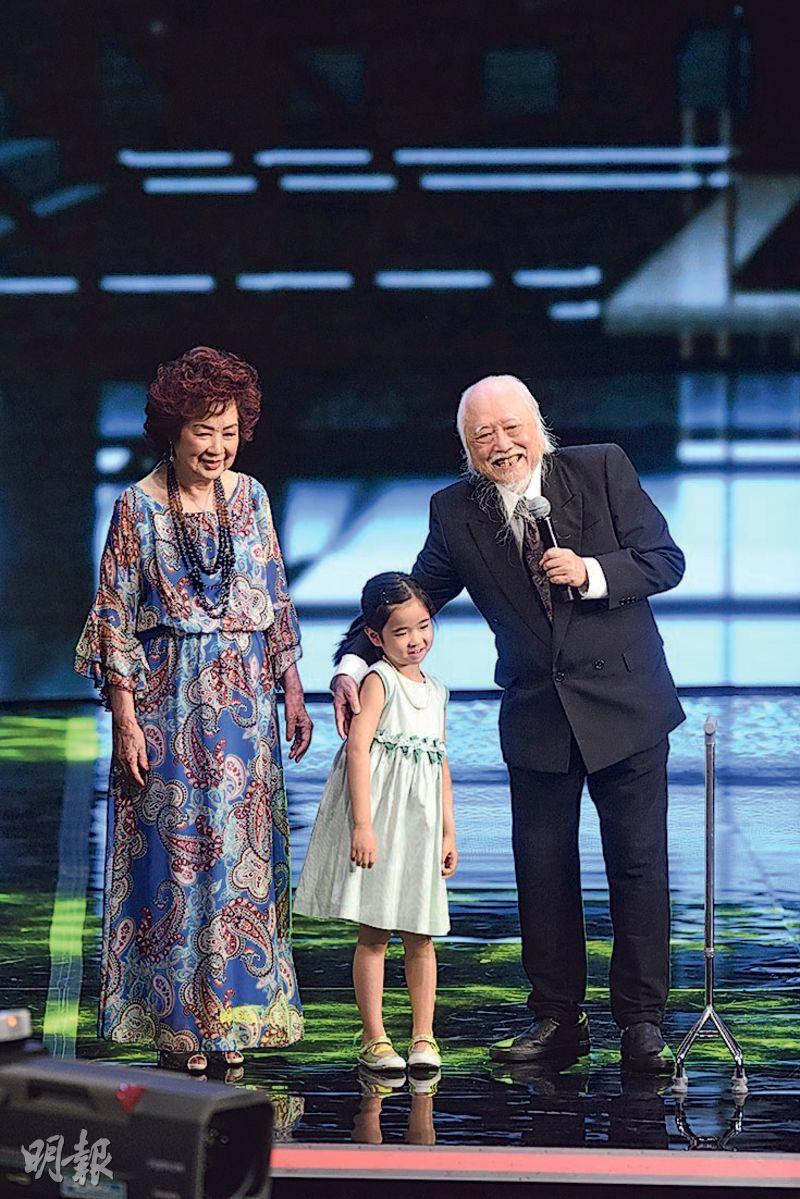 Lifetime Achievement Award recipient Chor Yuen with his wife Nam Hung and their granddaughter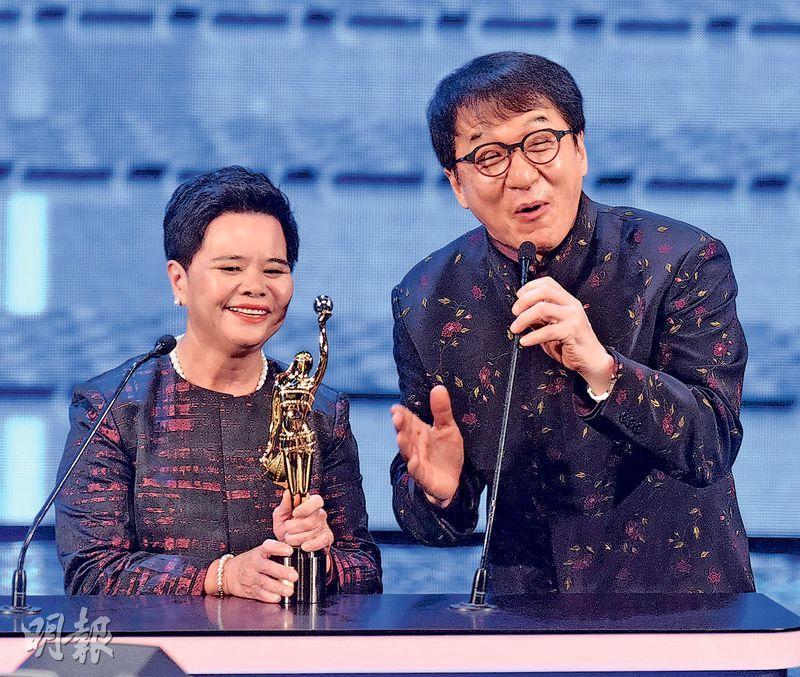 Jackie Chan is happy for Pauline Yeung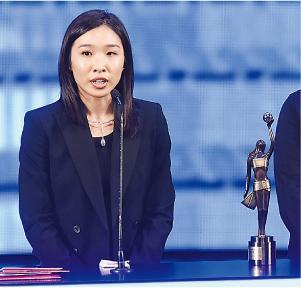 Tsang Yuk Yi says that this Best Sound Designs award for her late father Kinson Tsang is also his last
courtesy of mingpao.com
The 37th Hong Kong Film Award took place last night at the Tsim Sha Tsui Cultural Center. Finally OUR TIME WILL COME won five awards as the big winner. Best Actor went to PARADOX (SAT POR LONG)'s Louis Koo Tin Lok and Best Actress to TOMORROW IS ANOTHER DAY (WONG GUM FA)'s Teresa Mo Shun Kwan. Best Director was OUR TIME WILL COME's Ann Hui On Wa, her sixth win. The highest honor, the Lifetime Achievement Award went to veteran director Chor Yuen.
Last night's show opened with Louis Cheung Kai Chung, Charlene Choi Cheuk Yin, MC Jin and two child star's song and dance number. Philip Keung Ho Man with SHOCK WAVE (CHAK DAN JUEN GA) won Best Supporting Actor. He was teary eyed at the moment of announcement and shared the joy with a kiss on the cheek for his wife. The entire crowd applauded in support.
Hak Jai stared at his wife from the stage and said, "Old lady, I got it. It really is me. I have never been too lucky. I don't know where my luck went, but in recent years I ran into many good people, right people, people who love me. Suddenly my lucky got much better, so good that even I was scared. I don't know if I would die (from it)."
Hak Jai thanked Andy Lau Tak Wa for giving him a lot of opportunities, he also thanked the Koo Tin Lok's One Cool Film company and his old boss Gordon Lam Ka Tung. Deanie Ip Tak Han with OUR TIME WILL COME won her second Best Supporting Actress. She thanked director Hui On Wa, boss Yu Dong, the cast and the crew.
Best Dressed winners were Hak Jai and Stephy Tang Lai Yun. Judge Dorian Ho Kwok Ching pointed out that the latter's floral dress matched the event theme of "forever young". Stephy happily said, "I fell in love with this dress at first sight. (Was it a little better than Chrissie Chau Sau Na's?) A little, but not this part (figure). The most important is this dress is right for me, colorful enough to coordinate with the event theme."
The Ronald Cheng Chung Kei sung UNHEARD MELODY won Best Original Film Song. He thanked his wife and daughter, "Especially my daughter. At home she keeps saying that she likes to listen to hear my sing, so I muster up the courage to sing again."
First time Best Actor Koo Tin Lok said, "For the past few days I really have been very nervous, but tonight as I sat here I felt the most important was how we Hong Kong people make our own Hong Kong films. At TVB I worked with the Lifetime Achievement Award recipient Uncle Chor Yuen. While waiting on the set I asked him, 'When you directed how did you make your movies?' He only said one thing, which I still remember today. He said to always, always remember with every scene, every line of dialogue you don't give up. When you take your mark you go over it again, again, again, because you can't give up on a good movie." Goo Jai also thanked people who supported him and his family. He said that now he is still living with his family. Every morning his mother wakes him up. He felt that because for a person the family support was the most important, just like Hong Kong film needing the support of all Hong Kong. Then Hong Kong film would be made even better.
Goo Jai did not forget to thank the entire PARADOX team and revealed that Gold Label manager Paco Wong gave him a gold plaque during the shoot for good luck.
Goo Jai gave special thanks to Sammo Hung Kam Bo for directing a non action film like him in action scenes. He also thanked his manager for enabling him to focus on making the film. Later Goo Jai admitted that although many said that he deserved the award, he felt it probably would not happen in this world and he had to keep working and not give up. He praised Best New Performer Ling Man Lung for his great performance and Keung Ho Man for his persistence as he waited for years. He was happy for them.
Fresh out of the oven Best Actress Mo Shun Kwan thanked investors but also people who voted for her, her sisters, family, Papa in Heaven, two daughters and husband Au Ting Ping.
"It's like I am dreaming, thank you God. I don't dare to think that I would win, it seemed impossible so I didn't prepare a speech. I was afraid that I would be disappointed again. Thank you to the 3 bosses, to everyone who voted for me and my friends, sisters (Ada) Choi Siu Fun, (Candy) Yu On On, (Margie) Tsang Wa Sin and others, for always being around me, encouraging and supporting me. Thank you to my family, sister, brother in law, brother and parents. I know that father in Heaven would be very happy to see me win. Finally I thank my daughters. Over the years I have lost many times, seeing them was the greatest comfort. I got the biggest prize. Today I am holding this award, I am too happy. I also have to thank my husband Au Ting Ping. He helped me a lot with this film, giving me a lot of suggestions. I know you are not satisfied, but I w want to tell you, 'I got it'. I promise from now I would do even better."
Backstage she said that her heart was beating too fast and she did not dare to look at the monitor. "I am very grateful, I remember when I lost before, I would look at my daughters' photos. I felt that they already were my biggest rewards. This time I look at my younger daughter and won, I feel that she gave me luck. My husband and older daughter didn't come, my husband was afraid that I would lose. My young daughter has a lot of confidence in me and insisted on coming. She gave me a lot of strength." She revealed that she would first go on vacation to celebrate, then would cook for 5 days and nights straight to thank her friends. She stated that since starting her career in RTV in 1976 she finally wins her first Best Actress, but she felt that it was not too late.
Ann Hui On Wa with OUR TIME WILL COME won Best Director, her sixth in her 37 year career. When the result was announced she was surprised. "Next time don't nominate me, my heart can't handle it. Thank you Yu Dong, the crew, the cast including the guest stars, especially (Ray) Lui Leung Wai. Thank you for supporting my dream of making a Hong Kong history film."
Six time Best Supporting Actress nominee Deanie Ip Tak Han won her third with OUR TIME WILL COME. Speaking of having won Best Actress and Best Supporting Actress, she joked that she was greedy and getting more would be even better. She said that Hong Kong film still had room for older actors.
TOMORROW IS ANOTHER DAY's Ling Man Lung won Best New Performer. He was so happy that he embraced Mo Shun Kwan in tears. He tearfully said, "Thank you for this award, I am very happy. I want to thank the entire production team, especially Sister Mo. She recommended me for this film. She really took care of me and we had a lot of fun working together. Thank you godmother Yu On On, when she learned that I wanted to make a movie she became my manager without hesitation. Only because of that it went so smoothly."
First time director Kearen Pang Sau Wai with 29+1 won Best New Director. She happily said, "Thank you boss and to 3 people, Pang Ho Cheung who brought me into the film world, the producer , and (Eric) Kot Man Fai who told me to keep a creative heart."
Best Action Choreography award went to Sammo Hung Kam Bo for PARADOX. Big Brother said that originally he thought about not attending. "However Hong Kong action films are growing fewer and fewer, if I don't come now, later when no one makes them the event wouldn't even have this award anymore. Then it would be for me to come even if I want to. So I am very happy that I came and won."
Lifetime Achievement Award went to director Chor Yuen. The event arranged for his eldest disciple Stanley Fung Shui Fan to present the award. Chor Yuen with a cane in one hand and his six year old granddaughter in the other went on and off stage with help from his wife Nam Hung. The entire audience gave him a standing ovation. He thanked Fung Shui Fan for his loyalty, coming from Taiwan to present the award to him. He also thanked his granddaughter, who normally would be asleep by 8:30PM for staying up to accept the award with him. Chor Yuen said, "Giving the Lifetime Achievement Award to Chor Yuen, who hasn't achieved much in his lifetime, is forcing me to say 'I don't deserve it'. I indeed don't deserve it." He said that looking back at the first half of his life, he had happy times and a lot of hard days as well. He also recalled when he was young and Mona Fong Yat Wa stopped him from making DEMI GOD AND SEMI DEVIL (TIN LUNG BAK BO).
"I once broke the Hong Kong film box office record. The company signed a new contract with me and gave me 10 times my salary, I became the luckiest director. 10 years later, after a few movies that weren't as great, I wanted to make DEMI GOD AND SEMI DEVIL. On the day when the production started, Fong Yat Wa came over and ripped up the notice to stop me from making it. She said, 'Who approved this? If it bombs can you make up for it? Chor Yuen doesn't understand the art of film!' At that moment, I became the most embarrassed director at the Shaw Studio."
On set caterer Pauline Yeung Yung Lin received the Professional Spirit Award. Francis Ng Chun Yu joked in his video, "I thought everyone at catering was called Pauline, so you can see she has already become synonymous with catering. This is an anonymous hero." When Pauline received the award from Jackie Chan, the audience gave a standing ovation as a salute. She happily said that her grandchildren were also present.
Law Kar Ying and Michael Ning (Bak Ji) presented Best Sound Design and Best Visual Effects. In order to demonstrate the difference between computer sound effect and real sound, Law Kar Ying pretended to slap Bak Ji. Only in the end he really slapped him. Bak Jai looked a little lost after being slapped then upset. Including Law Kar Ying, many guest presenters "complained" about the tightly sealed the envelopes were. When Cecilia So Lai Shan presented with Fish Liew Chi Yu and Jennifer Yu Heung Yi, the event gave her a prop to stand on so she would not look like too short next to them.
Veteran sound effect master Kinson Tsang King Cheung passed away in September from cancer. He and George Lee Yiu Keung won Best Sound Effect with their film PARADOX, Tsang Kin Cheung's eighth. His daughter Tsang Yuk Yi accepted the award on his behalf. She said, "Papa on this night didn't accept the award in person as usual. This was his final award. I want to take this opportunity to thank director Yip Wai Shun, and all the directors and people who have worked with Papa." She also thanked all the colleagues who have gone through life and death with Papa.
THE 37TH HONG KONG FILM AWARDS
http://hkfaa.com/winnerlist.html
BEST FILM
OUR TIME WILL COME
BEST DIRECTOR
Ann Hui (OUR TIME WILL COME)
BEST SCREENPLAY
Sylvia Chang, You Xiaoying (LOVE EDUCATION)
BEST ACTOR
Louis Koo (PARADOX)
BEST ACTRESS
Teresa Mo (TOMRROW IS ANOTHER DAY)
BEST SUPPORTING ACTOR
Philip Keung (SHOCK WAVE)
BEST SUPPORTING ACTRESS
Deanie Ip (OUR TIME WILL COME)
BEST NEW PERFORMER
Ling Man Lung (TOMORROW IS ANOTHER DAY)
BEST CINEMATOGRAPHY
Jason Kwan (CHASING THE DRAGON)
BEST FILM EDITING
Li Ka Wing (CHASING THE DRAGON)
BEST ART DIRECTION
Man Lim Chung, Billy Li (OUR TIME WILL COME)
BEST COSTUME AND MAKE UP DESIGN
Bruce Yu, Lee Pik Kwan (JOURNEY TO THE WEST: THE DEMONS STRIKE BACK)
BEST ACTION CHOREOGRAPHY
Sammo Hung (PARADOX)
BEST ORIGINAL FILM SCORE
Joe Hisaishi (OUR TIME WILL COME)
BEST ORIGINAL FILM SONG
AN UNHEARD MELODY (CONCERT OF THE BULLY)
Composer : Peter Kam
Lyrics: Chen Shaoqi
Performer: Ronald Cheng
BEST SOUND DESIGN
Kinson Tsang, George Lee Yiu Keung (PARADOX)
BEST VISUAL EFFECTS
Henri Wong, Eric Xu (WUKONG)
BEST NEW DIRECTOR
Kearen Pang (29+1)
BEST FILM FROM MAINLAND AND TAIWAN
THE GREAT BUDDHA+
PROFESSIONAL SPIRIT AWARD
Pauline Yeung
LIFETIME ACHIEVEMENT AWARD
Chor Yuen
BEST DRESSED
Stephy Tang, Philip Keung