courtesy of on.cc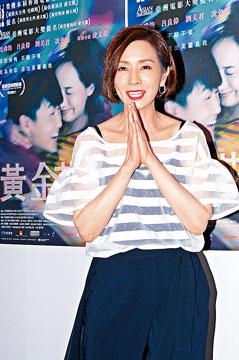 courtesy of singtao.com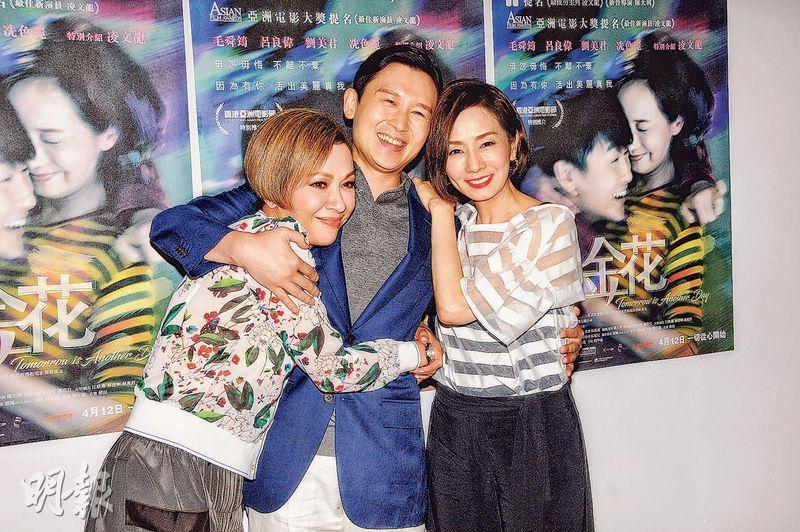 courtesy of mingpao.com
Teresa Mo Shun Kwan with the film TOMORROW IS ANOTHER DAY (WONG GUM FA) won the Best Actress Hong Kong Film Award. Two nights ago she, Best New Performer Ling Man Lung, boss Raymond Wong Pak Ming and Candy Yu On On attended the celebration. Best Actress Mo Mo admitted that she would occasionally raise her rates, but when she would run into good scripts the price would be flexible.
Mo Shun Kwan tightly embraced her on screen son Ling Man Lung as soon as she saw him. He also hug his godmother Yu On On tightly for a photo. Mo Mo revealed that the day after the awards she already flew to Japan for a four day vacation. Because after her victory she was relaxed and had no pressure at all, every night she got drunk. "Actually I am quite a drinker, but I don't do it often. I was happy and relaxed so I drank more!" Mo Mo said that On On happened to be in Japan and arranged for a surprise party. She said, "We had champagne, whenever my glass was empty someone would fill it. It was always full. One night I didn't know how I got into bed. Every night I was drunk, luckily I just kept laughing!" Mo Mo said that when she woke up every day it would already be 2PM. Then she went out shopping. Although she did not go crazy, she still got something.
Speaking of Yu On On's hope that she and god son Ling Man Lung would play mother and son in a film, Would Mo Mo be willing to guest star for them? Mo Mo said that definitely would not be a problem. Because they have already played mother and son on the stage, she definitely would support them on a big screen reunion. After winning Best Actress, has Mo Mo thought about a raise? Mo Mo said, "I haven't yet, I will read what the manager does. Actually occasionally I would raise my rate, but when I would run into good scripts the price would be flexible. However with some scripts that I don't really dislike, money would be more important."
Yu On On's god son Ling Man Lung not only kept treating her to dinner after his award but also bought a new scarf for her. On On said, "I yelled at him, since he just started in film he shouldn't waste money!" Since winning Best New Performer, Man Lung had more film offers. On On also hoped that he would be able to play different types of characters. After playing a good son in TOMORROW IS ANOTHER DAY, now a director wants him to play a bad boy. Man Lung said that he never thought that he would play a CEO in a micro movie just now.