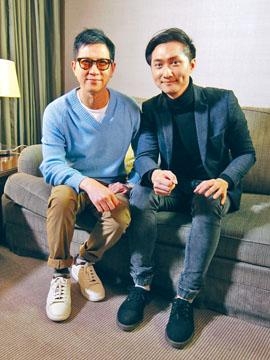 Nick Cheung promotes THE TROUGH on Fantastic TV
courtesy of singtao.com
After HUNGRY GHOST RITUAL (YU LAN SUN GUNG) and KEEPER OF DARKNESS (TOR DEI KUI MOR YUN), Nick Cheung Ka Fai directed again with THE TROUGH (DAI NGAK CHO). Earlier he appeared on a Fantastic TV program.
Although Ka Fai already directed for a third time, he was making his writing debut. "Crime, drama and action are all Hong Kong film strong suits, among them undercover is a subject that Hong Kong especially likes. I also have a preference for it." He revealed that the film had many large scale car chase and gun fight, as he believed that it would able to please the audience.
Speaking of the always righteous Xu Jinglei playing the villain, Ka Fai stated that he wanted to turn actors' past image upside down and to be able to give the audience a fresh new look. He even revealed that an actor quit, but he felt that was normal. As for awards, he stated that he had no ambition. He only wanted to do his best.