Charlene Choi does not mind being at the same event as her former husband
Louis Cheung is perfect for the hosting gig with his quick wit
courtesy of on.cc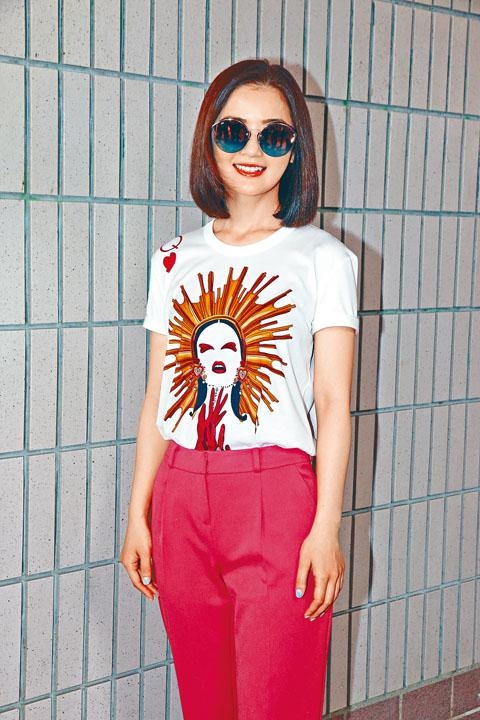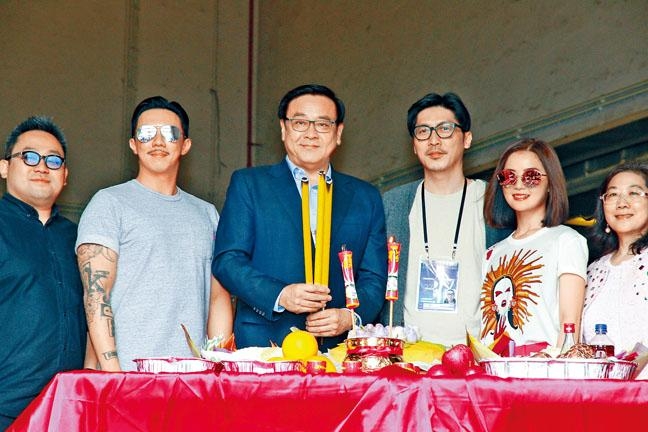 courtesy of singtao.com
Hosts Louis Cheung and Charlene Choi pray for a smooth show
Derek Yee says that the Hong Kong Film Award broadcast rights are not just given out to friends
courtesy of mingpao.com
The 37th Hong Kong Film Awards will take place tonight at the Cultural Center. Yesterday a vegetarian worship ceremony took place to pray for a smooth performance. Attending the ceremony included Hong Kong Film Award Association president Derek Yee Tung Sing.
Speaking of the awards constantly running into rainy days, Yee Tung Sing admitted that in recent years the red carpet already added cover against the rain. According to the data the days before the awards had good weather. His only worried was the tight voting schedule, but he still hoped that next year they would be able to avoid "sauna day". "Actually under such a climate I worry the most about female stars keeping to have to fix their makeup. Although the award ceremony flow would not be too affected, it would be very messy."
Siu Bo said that the most out of control time was when the awards took over four hours to finish. Now it would try to control its flow to within three hours. He pointed out that the Hong Kong Film Awards has studied the Oscar format. For example for the broadcast, this time ViuTV would provide more flexibility. However due to overseas broadcast if the show ran too long it would need to be cut down and affect its completeness. Siu Bo revealed that the Hong Kong Film Award confidentiality has always been done to its fullest. As the president he would only find out 15 minutes before the awards began. However he usually did not want to know. In addition out of fear of they results leaking too much online they could not be shared with the media at the start of the show.
With ViuTV broadcasting the show, TVB did not send anyone to cover it. Siu Bo felt strange. "I haven't had the chance to ask. Actually I know the TVB big boss and we are not against TVB. We are government funded. Since they paid more, it was a business competition and was very open. With the chance I wanted to coordinate a little."
The year's Hong Kong Film Award hosts Louis Cheung Kai Chung and Charlene Choi Cheuk Yin for this performance already had meetings, rehearsals, music video and song recordings as early as the beginning of the year. With almost 100 people working toward the same goal they were finally able to get things done. Thus they hoped that everyone would be able to see an award show that would have sincerity and creativity and honor industry colleagues.
Ah Sa is new at hosting. She admitted that she would worry about her performance. "However Brother Chung has my back. In addition we worked on a series earlier, we would have chemistry." Ah Chung was not worried about his partner and even praised Ah Sa for her quick wit as she provided some interesting ideas. "I hope tomorrow we would be a little more solid and a little cute." Would they sell cuteness on the stage? He said, "No, I just don't want to be exaggerated. I want to be both respectable and funny." Ah Sa's former husband Ronald Cheng Chung Kei is nominated for Best Actor, would Cheung Kai Chung introduce this segment so Ah Sa could avoid it? Ah Sa asked, "Why? We are in the same business. It's just work. Hong Kong Film Awards is such a grand event, I don't want to mind for any reason!"
Speaking of Gillian Chung Yun Tung's wedding in Los Angeles in May 25th, Ah Sa said that the wedding would not have a bridesmaids. She, Joey Yung Tso Yi and Yumiko Cheng Hei Yi would form the bridal party. For now because they have very little information, they have not prepared to play games with the groom. Their first mission would be preparing for same style bridal party dress that would be pretty and not sexy first. Was Ah Gil's wedding gown also pretty? Ah Sa said, "She hasn't chosen one yet. She was a mess. Earlier when she booked her flight she also booked Hong Kong time by mistake. She had no experience and a lot to keep track. We are waiting for her to give us a complete list."
Ah Sa said that the bridal party has looked at the group chat to see if Ah Gil needed any help. She originally planned to give the wedding gown to the bride on her own. Now Joey would chip in and could lighten the load. "Actually we all want Ah Gil to marry pretty!" Would her boyfriend go with her? Ah Sa said no. "Because it would be my boyfriend and her sister's birthday, which I would celebrate later. Birthday happens every year, when a good sister gets married I have to go."