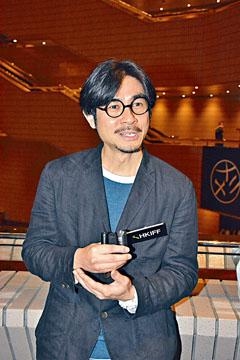 courtesy of singtao.com
Director Adam Wong Sau Ping two nights ago attended the 42nd Hong Kong International Film Festival award ceremony. As a member of the "international short film" competition jury, he said that many short film contestants came from Europe and the short films had very different style from Hong Kong. More were experimental while Hong Kong's would tell the story traditionally. He said, "No Hong Kong short film qualified, but after watching them I didn't feel any quality difference from Hong Kong. The difference was in style. I felt that Hong Kong short film in the past decade or so developed very well."
As for THE WAY WE DANCE 3 (KONG MO PAI 3), Wong Sau Ping said that he planned to start production this summer. He has talked with individual actors to prepare for the production. The cast would be a mix of new and old. He said, "Babyjohn and (Cherry) Ngan Cheuk Ling would return, their characters would be very attractive. Some actors from the first films would have major roles this time."