courtesy of on.cc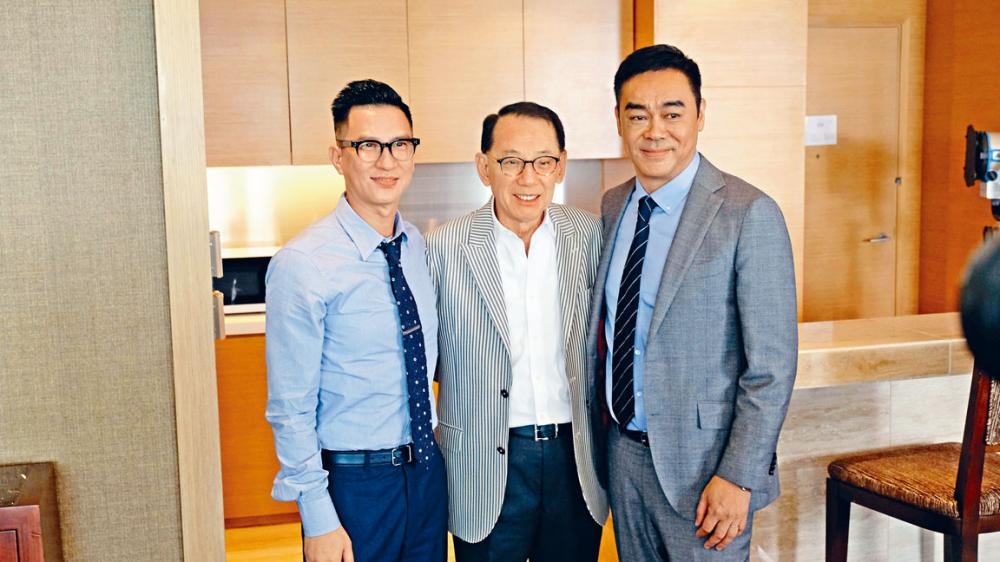 courtesy of singtao.com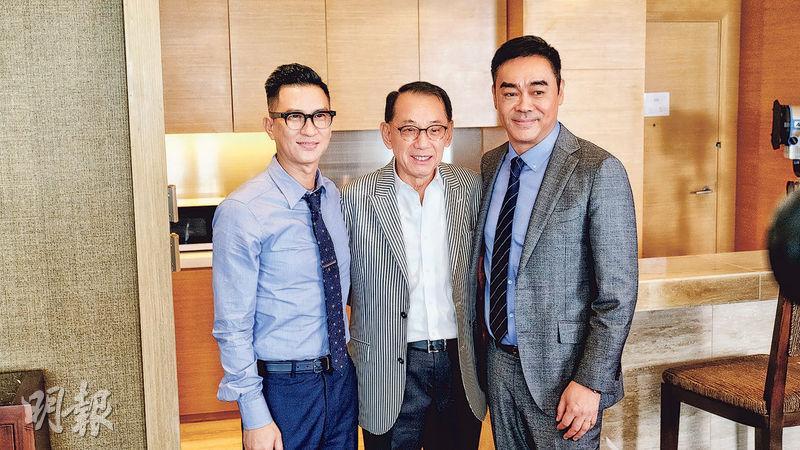 Nick Cheung convinces boss Albert Yeung to spend five figures on treats for the team
courtesy of mingpao.com
The golden team of Alan Mak Siu Fa and Felix Chong Man Keung teamed up again for the Emperor Motion Picture series INTEGRITY (LIM JING FUNG WON). The trilogy will be YIN MOK (SMOKE SCREEN), HAK MOK (DARK PLOT) and NOI MOK (INSIDE STORY). The opening shot YIN MOK starred Best Actors and Best Actress Sean Lau Ching Wan, Nick Cheung Ka Fai and Karena Lam Ka Yun. The cast also included Alex Fong Chung Shun, Carlos Chan Ka Lok, Kathy Yuen (Tong Y) and special guest star Anita Yuen Wing Yee. Emperor Group chief Albert Yeung Sau Sing even visited the set personally to cheer the team on. Very friendly with Mr. Yeung, Ka Fai immediately stood out and seek benefit for the team. Finally he successfully landed a five figure treat budget for the entire team.
Ching Wan and Ka Fai worked together again after THE WHITE STORM (SO DUK). On the first day of work they began to "fight" as soon as they got together. Ka Fai joked, "I am very honored, as soon as we took our marks we had to fight -- in a game of pool!" Actually during their breaks they would play at the pool hall. Ching Wan and Ka Fai had a conversation at a pool hall in INTEGRITY. Thus when they were not working on a scene, they "fought". Ching Wan said, "I have always played." On and off screen they had to compete, because Ching Wan and Ka Fai this time would be around Lam Ka Yun. Ka Fai said that in the film Ka Yun was Ching Wan's wife. "Ka Yun once played my childhood mother, this time she would only arrest me. Thus we had more involvement during the capture." Later Ka Fai and Ka Yun will even shoot a snow scene overseas. Ching Wan lamented, "He has more scenes with my on screen wife Lam Ka Yun than I do."
Aside from Ka Yun, Ching Wan also had another co-star that the audience would look forward to -- Yuen Wing Yee. Ching wan said, "Len Len is the actress I have worked with the most. We really haven't worked together in a long time. Before the shoot I ran into her family on the street. Later I learned that we would work together this time." In addition, to prepare for the ICAC character, Ching Wan revealed that director Mak Su Fai prepared a lot of material for him to study and introduced some former ICAC personnel to Ching Wan in hopes of him being able to understand their work in depth and be fully prepared.
As for Chan Ka Lok and Tong Yi, Tong Yi joked that she and Ka Lok have been waiting for years to play a couple but they were still waiting. "This time we don't get to play a couple, but I added some ambiguous looks. I don't know if the director caught that. Haha." Playing Ching Wan's assistant, Chan Ka Lok said that he has seen Mak and Chong's OVERHEARD (SIT TING FUNG WON) film series. This time INTEGRITY also was related to the community. "This time we talk about problems that a smoke screen would create, a lot of people would certainly take notice. However what the problems are, I have to keep them secret because we are ICAC." Ka Lok would pay attention to changes in Ching Wan's acting in every shoot. "He adds more life to the entire thing, he is great." Tong Yi said that when she worked with elders, especially Best Actors, she would have stress. "Now I instead look forward to it. Maybe before I wouldn't dare to look at them directly, but this time I would overcome that."