Neo Yau says that Stephy Tang is one of his goddesses
Stephy Tang tries to keep stay humble with her acting
courtesy of on.cc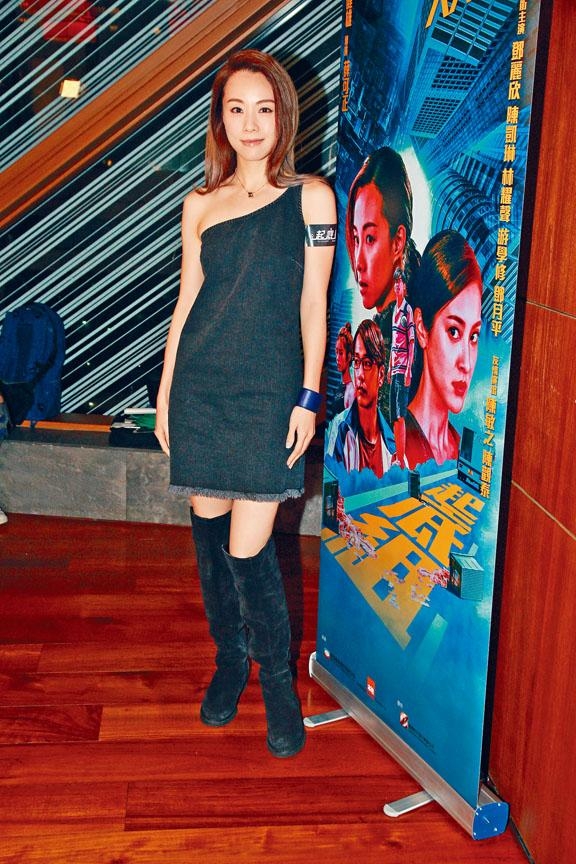 courtesy of singtao.com
The film KEYBOARD WARRIORS (HEI DAI JO) two nights ago held a wrap banquet. Director Michael Sit Ho Ching, actors Stephy Tang Lai Yun and Lam Yiu Sing attended. Grace Chan Hoi Lam due to work arrived later.
Speaking of Hong Kong Film Award Best Actress defeat, Stephy admitted that she felt lost but not disappointed. "The feeling is like after a big show, I am a little lost. Because I was nervous for several month and preparing for awhile. I wasn't disappointed that I didn't win. I won Best Dressed so I can answer to my sponsors!" Stephy said that she might look at ease in the dress, but it was actually worth HK$ 300,000, hand stitched and heavy. After half a night in her neck was all red.
Did her former boyfriend Alex Fong Lik Sun send a text to comfort her? Stephy said that she did not receive his text. Speaking of Siu Fong telling her to work hard, Stephy said, "I would, I have to maintain my original intention. I like to act, only because of that would I have motivation and goal. I would follow up again and again, I hope to run into another good script and good character!"
Stephy was somewhat upset that Rachel Leung did not win Best New Performer with SOMEWHERE BEYOND THE MIST (LAN TIN BAK WON) and Chapman To Man Chak for Best New Director with THE EMPTY HANDS (HUNG SAU DOH), since an award would be a type of encouragement. As for her Best Dressed award, would she be even sexier from now on? She said that people would have to wait for her to get into shape and wear even more pretty clothes so she would disappoint anyone.
Neo Yau Hawk Sau in KEYBOARD played a geek who helps with the investigation. He said with disappointment, "At first I thought I would play a couple with Stephy, but actually we only had a few scenes together. You have no idea how much I like her, Stephy is pretty and has a lot of potential. She has been that way from then to now, she knows I like her. I know all her songs. (Would you pursue Stephy?) How do you know Stephy or I aren't dating? However if she really is single, I vow to pursue her until I die! She is one of my goddesses. Earlier when I asked her to help with a video, she agreed with hesitation. Aside from her loyalty, when I got her reply I felt like I was dreaming."