courtesy of on.cc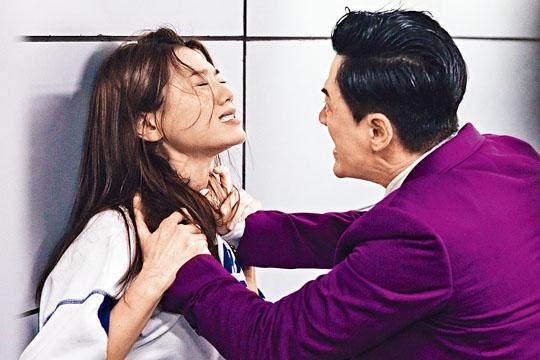 courtesy of singtao.com
The Raymond Wong Pak Ming produced, David Lam Tak Luk directed, Louis Koo Tin Lok, Kevin Cheng Ka Wing, Raymond Lam Fung, Gordon Lam Ka Tung and Chrissie Chau Sau Na starred P STORM (P FUNG BO) has become a hit since its April 4th Hong Kong and Mainland same day release. As of two days ago after five days in release its Mainland box office was 390 million yuan RMB, not only defeating the superhero film SHAZAM! but also became the single day box office champion for 4 days in a row as it poised to overtake its predecessor's 442 million yuan RMB record; as for Hong Kong it also became this week's Chinese film champion, as of two days ago it already made over HK$ 7.12 million!
As for the fourth installment of the anti corruption storm series, this film's stunts were stronger than previous ones. Aside from the helicopter catch, the safe house gun fight at the end between Goo Jai, Lam Fung and Sister Na made the audience's hearts pound. Lam Fung brought heavy machine guns to the safe house to kill Sister Na, luckily Goo Jai arrived in time to protect her. The team built a safe house set for this scene, prepared several hundred bullets and shot for three full days to create the raining bullet effect!
Lam Fung said that this time was the first time he used a light machine gun. "Actually it was very heavy, after using it I understand why so many special duty teams need gloves for shooting. They are not for looking cool, the shooting really would scratch your hands!" He said that he only had the chance to use different types of guns when he made movies, because even shooting ranges would very rarely had light machine guns. This time he had his fill of shooting!
Sister Na worked with Lam Fung again after many years. "Lam Fung in the movie really hates me, he even strangles me to try to kill me. In the film he is really scary, but after yelling cut, he would ask if I was fine as he was afraid of hurting me." Speaking of the safe house environment almost being completed closed off, each shot made the ears ring. "At first the team asked me if I needed ear plugs. I thought that might be exaggerated and turned them down. Yet each shot was really very loud, and the shots went nonstop. Even I was scared. When they fired I would jump, the reaction was very easy to perform."