courtesy of on.cc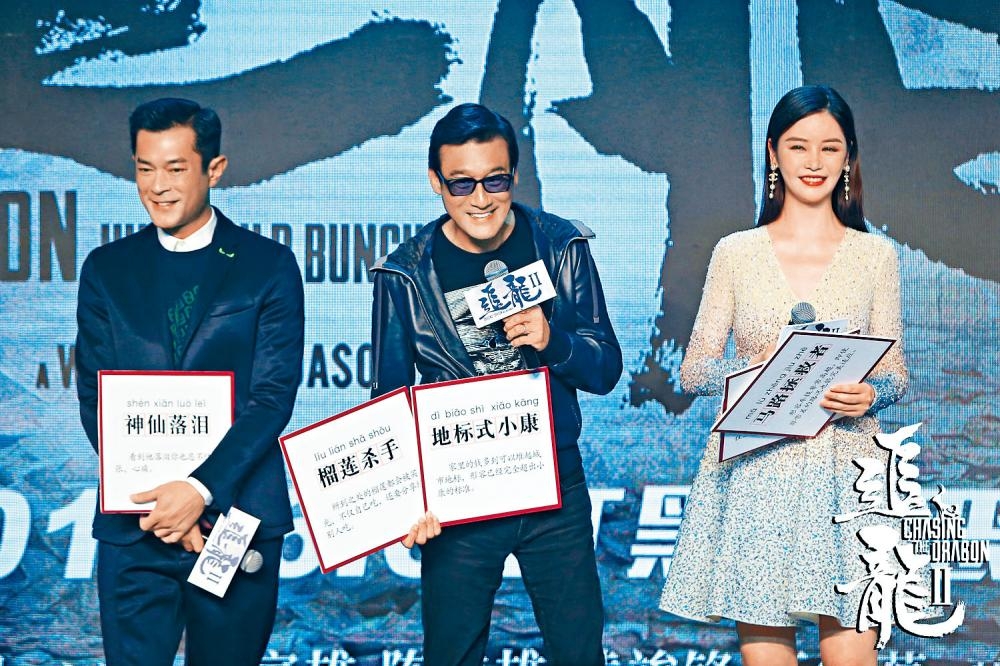 courtesy of singtao.com
The Wong Jing and Jason Kwan Chi Yiu directed, four Best Actors Tony Leung Ka Fai, Louis Koo Tin Lok, Gordon Lam Ka Tung, Simon Yam Tat Wa starred the film CHASING THE DRAGON II: WILD WILD BUNCH (JUI LUNG II: CHAK WONG) two days ago held a WILD WILD BUNCH appearance release date announcement event in Beijing. Executive producers Wong Jing, Yu Dong, and director Kwan Chi Yiu, star Leung Ka Fai, Koo Tin Lok and Sabrina Qiu appeared.
Director Wong Jing said, "CHASING THE DRAGON itself was a trailblazing challenge. I was very happy that it received the audience's love and recognition. We made the new CHASING THE DRAGON film in hopes of doing more contribution in the revival of Hong Kong film." The two directors worked together again on the second film of the CHASING THE DRAGON film series and certainly would be able to make another eye catching epic.
For the audience understand the film and the characters better, the stars at the beginning the event began to reveal each other's secrets. Leung Ka Fai said that Koo Tin Lok in the film had a "fairy shed tear" scene. When he saw him cry he was very heartbroken. Koo Tin Lok joked, "Brother Ka Fai in the film is very rich, so much so that he can pile it up into construction models."