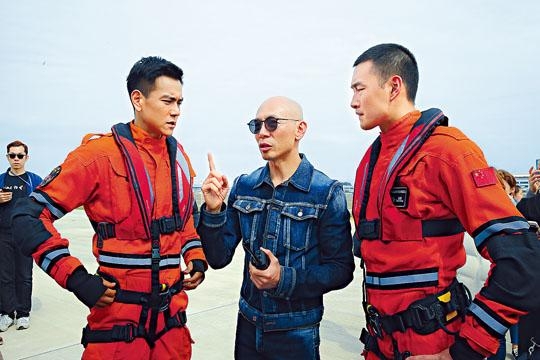 courtesy of singtao.com
The Dante Lam Chiu Yin directed Emperor Motion Picture OPERATION RED SEA made 3.65 billion RMB and had great word of mouth. Lam Chiu Yin followed up with the sea rescue film THE RESCUE (GUP GUNG GAU WOON) with Eddie Peng Yu-Yan, Carlos Chan Ka Lok, Ian Wang Yanlin, Xin Zhilei, Wang Yutian and others. The film shot on location in Xiamen, Fuzhou, and Mexico and would likely bring more visual surprises to the audience.
Lam Chiu Yim admitted that 5 years ago when he worked with Chan Ka Lok on TO THE FORE (POR FUNG), Chan was more immature but he paid attention to his performance at work. This time he felt Ka Lok was much more mature. Speaking of the RESCUE costing over 7 million RMB, did he feel any pressure? Lam Chiu Yin stated that whether the film budget was large or small the production would still have pressure. He wanted to make the film a success. He said, "This film had its script even earlier than OPERATION RED SEA, but I kept thinking about how I would make it. I didn't dare to make it either. Finally I thought of how to make it, but indeed it would require a lot of money. At the time I said if I didn't have the money I wouldn't make this movie, because the result would not meet the quality that the audience would need."
As for casting, Xin Zhilei was the only actress. Lam Chiu Yin said that he was never a chauvinist. For each film he would want to create a very strong girl and felt that with gender equality in modern society she would be able to work well in a rescue team. Thus each time he cast he would like to find an actor with determine. He said, "I am not too familiar with Mainland actors, but the producer would pay attention more. She felt that Xin Zhilei was great. After watching her performance in I AM THE ACTOR she really caught my eyes. Wang Yanlin had very little screen time in OPERATION RED SEA but made the character very strong, which was his contribution to the role. I am after actors like these who would give them all without any regret. I feel he is the person I need in the movie."
Working with the "Demon Director" Lam Chiu Yin again, Wang Yanlin said the directors' demand for his actors were no considered demon like. Instead he felt that he was treating myself more like a demon. The director would personally try each scene himself, whether it was an explosive or a fire. Thus they did not dare to avoid it. Wang Yanlin said that for this performance he took flying lessons. In a piloting scene, originally they asked Xin Zhilei to give it a try but she really went to pilot the plane. Everyone was frightened and screamed for her not to. Working with Lam Chiu Yin for the first time, Xin Zhilei said that it was rather comfortable. Because in the film she had to pilot a plane and dive, she learned a lot. If she did not participate in this film she would not have the chance to learn. Everyone would also be able to see her other side on the screen.
Ka Lok worked with Lam Chiu Yin on TO THE FORE (POR FUNG) but during the shoot Ka Lok had an accident and broke his left arm. Working together again, Ka Lok stated that he needed to adjust mentally. Because the last time he was too nervous and excited, he overlooked safety. This time he would ensure that he would be fully prepared and at the same time clearly know what he would need to do at each scene. He also trained fully before hand. He said, "However the director would personally try the scene himself, he even descended from the plane on a rope himself. Everyone was very confident, so we didn't get to skip anything. It also made us very united!"