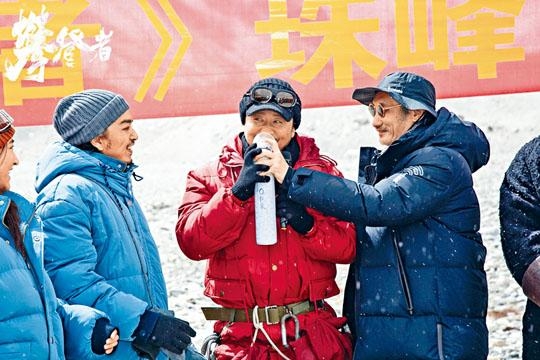 courtesy of singtao.com
The Tsui Hark produced, Daniel Lee Yan Kong directed, Wu Jing, Zhang Ziyi, Zhang Yi, Jing Boran, Hu Ge starred, Jackie Chan guest starred new film CLIMBERS earlier held the highest altitude production wrap ceremony at the Everest base camp.
After completing the final shoot of the film, producer Tsui Hark led stars Wu Jing, Zhang Yi and others formed "climber alliance" to attend the production wrap ceremony. Everyone shared other production experience. The film even announced that it will open officially on September 30th this year and released two film posters. Wu Jing at the high altitude required oxygen to fight high altitude illness.