Jennifer Yu has a wardrobe malfunction
courtesy of on.cc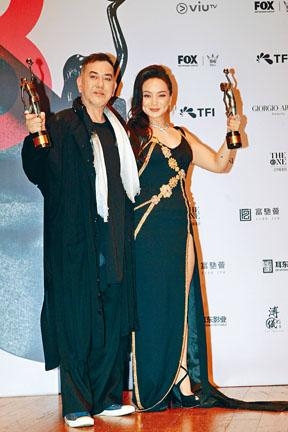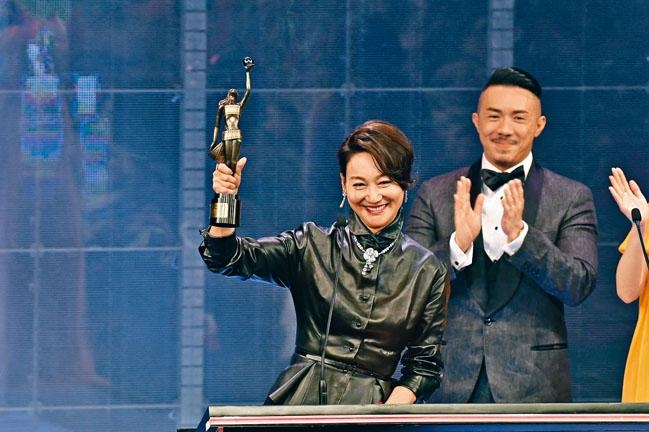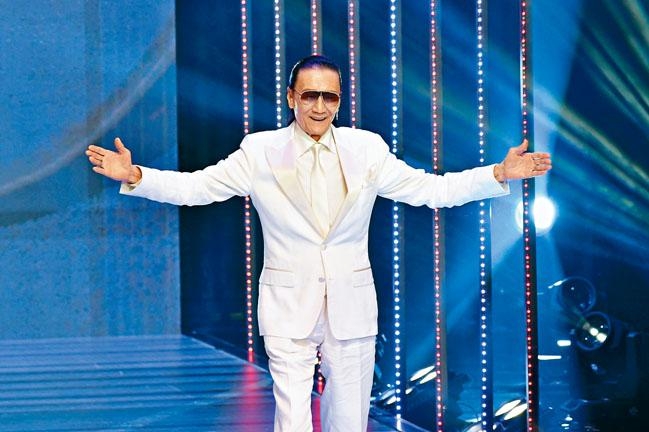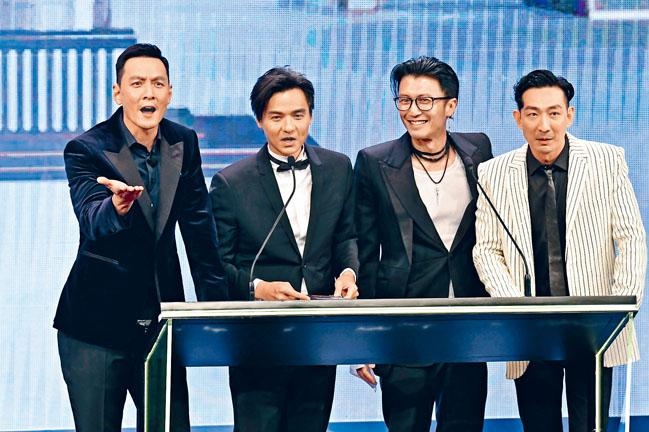 courtesy of singtao.com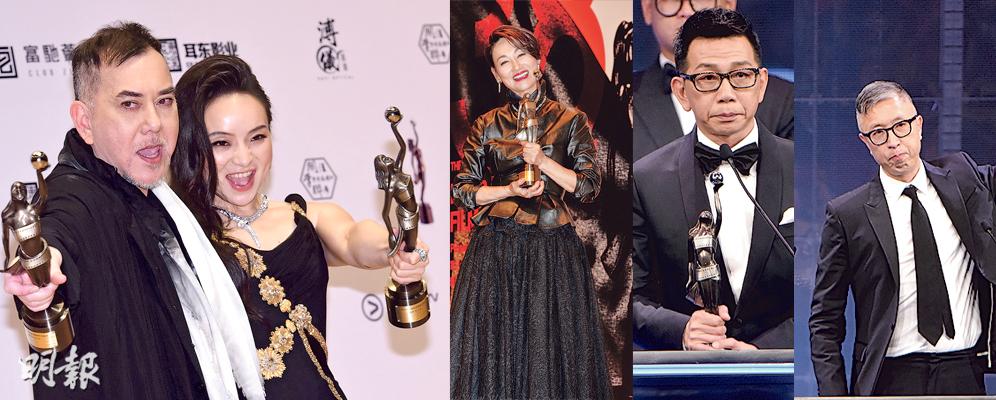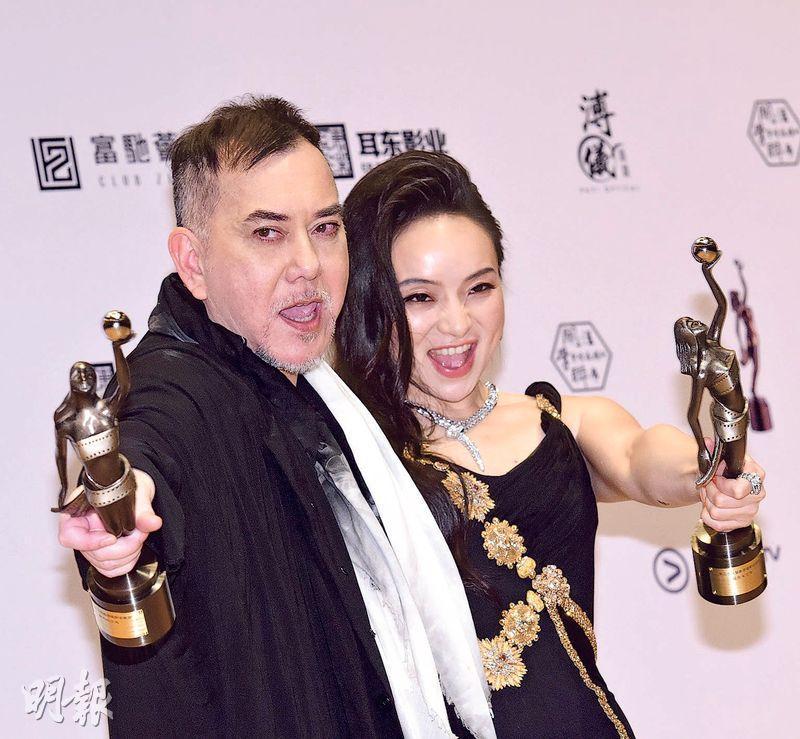 Best Actor Anthony Wong, Best Actress Chloe Maayan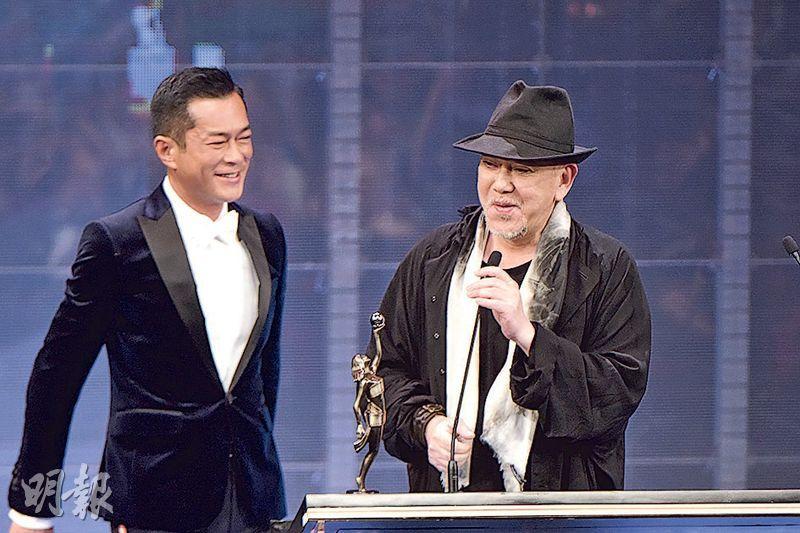 Anthony Wong jokes that if he knew Louis Koo would make it back from the Qin Dynasty, he would have asked him to accept the award on behalf for more applause!
PROJECT GUTENBERG brings Felix Chong Best Director and Best Screenplay awards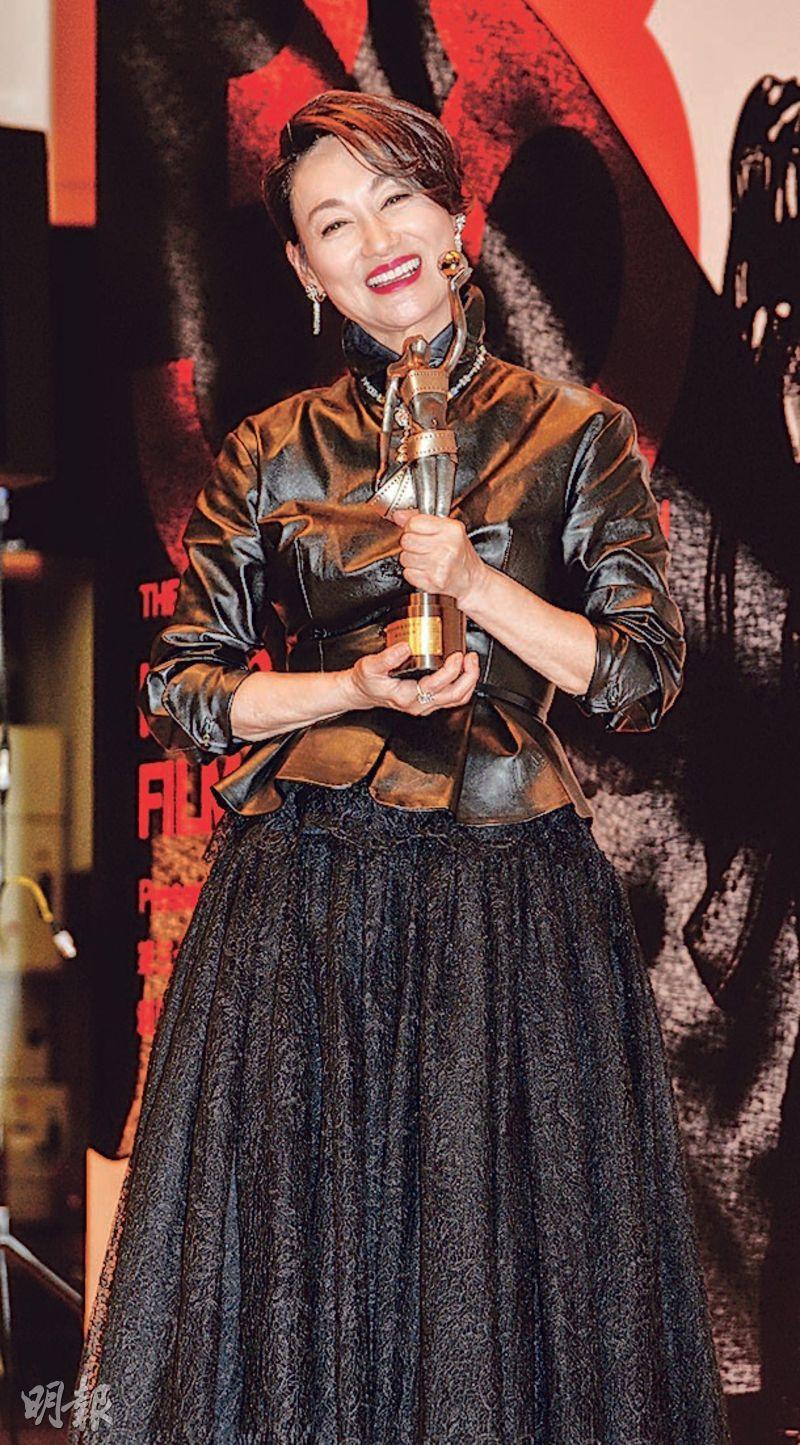 Best Supporting Actress Kara Wai wants to thank herself for being the most supportive of new directors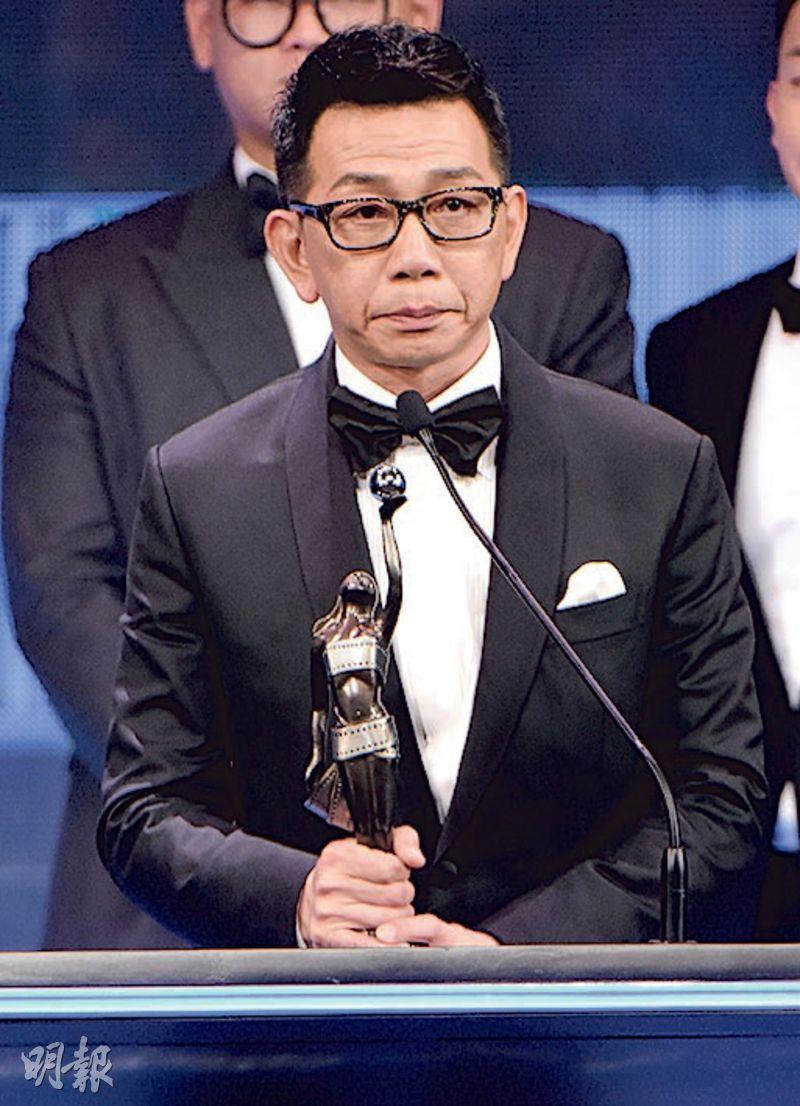 TRACEY's Ben Yuen wins Best Supporting Actor as the favorite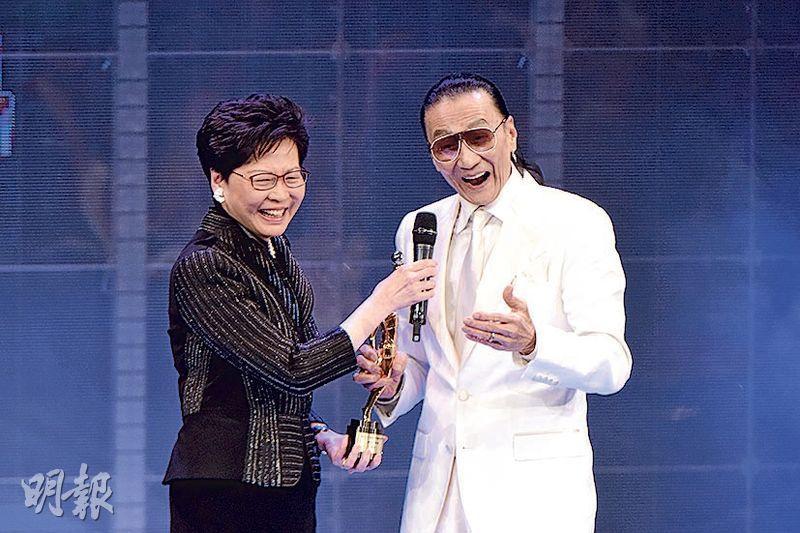 Chief Executive Carrie Lam Cheng while presenting the Lifetime Achievement Award to Patrick Tse claims that she grew up watching his films.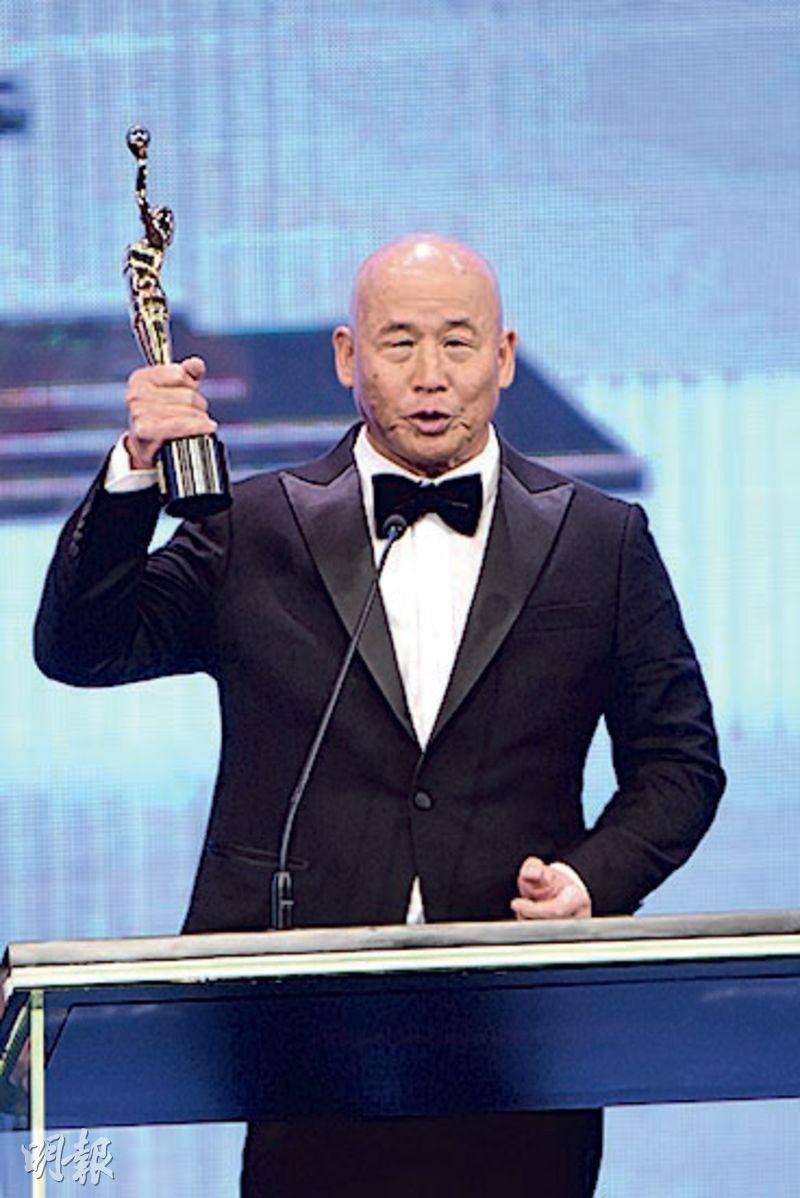 Professional Spirit Award winner Lau Won professes his love for Hong Kong film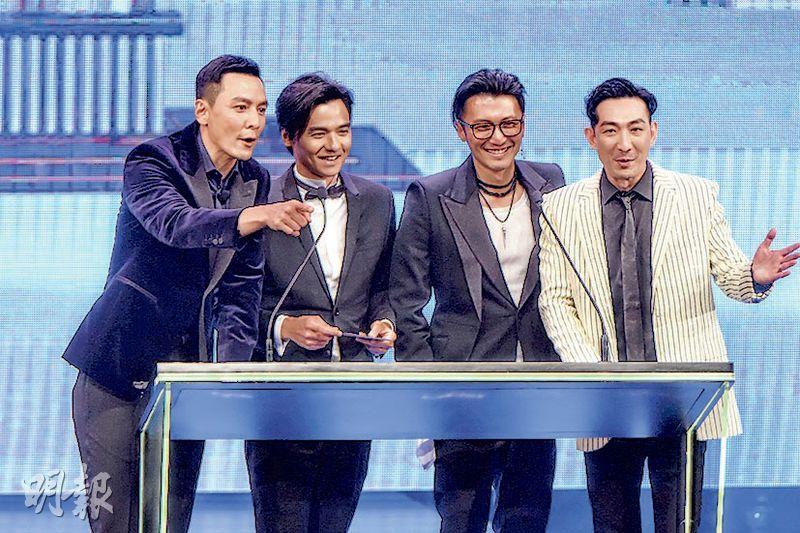 Daniel Wu, Stephen Tung, Nicholas Tse and Sam Lee bring back GEN X COPS memories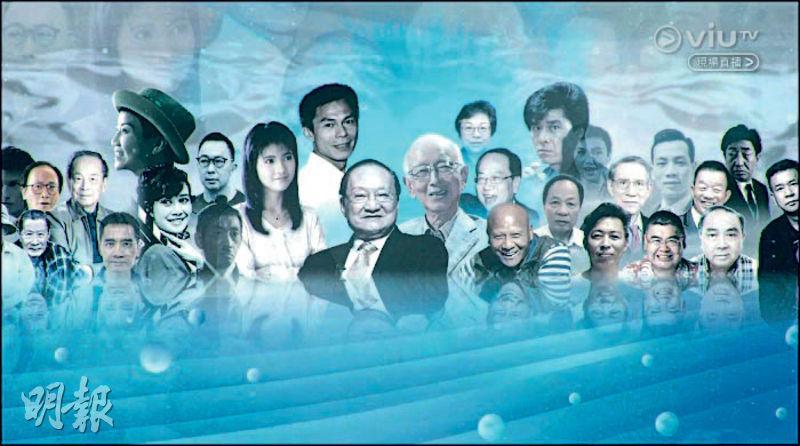 Hong Kong Film Awards salute the 33 film artists who have passed away in the past year.
Andy Lau talks about the theme of Keep Rolling
courtesy of mingpao.com
The 38th Hong Kong Film Awards took place last night at the Hong Kong Cultural Center. With 17 nominations, PROJECT GUTENBERG (MO SEUNG) won seven awards and became the big winner. They included three major awards in Best Film, Best Director and Best Screenplay. Anthony Wong Chau Sun with STILL HUMAN (LUN LOK YUN) and Chloe Maayan with THREE HUSBANDS (SAM FU) won Best Actor and Best Actress; this year's Lifetime Achievement Award winner was Patrick Tse Yin (Sei Gor) for his 60 years in film. Chief Executive Carrie Lam Cheng Yuet Ngor presented the award.
Last night the award show opened with a salute to various film workers who have passed away, including Raymond Chow Man Wai, Ringo Lam Lan Tung, Yammie Nam Kit Ying, Elliot Ngok Wa, Ng Kwan Lai, Leung Ka Lun, Cheung Chung Man and others. Then Andy Lau Tak Wa said, "Once ten thousand miles of mountain, kept two places distant, no need to see each other, you would know in your hearts. All the remembrance in the world actually is for passing the torch, we Hong Kong film will keep rolling."
With 60 years in the film industry, Tse Yin won this year's Lifetime Achievement Award. Chief Executive Lam Cheng Yuet Ngor presented the award to him. Dressed in white and sunglasses, Sei Gor appeared to a standing ovation. Then he bowed to the audience and waved. "Thank you everyone, I haven't seen you in awhile. Because my age is up there, I will have to retire soon. I am really very happy to see you again. Please feel free to ask me anything, I really have nothing to say. I have been in this business for over 60 years, today I am very happy to see you again, I wish everyone happiness and good health!" He also joked, "I think no one in the audience is as old as me (Someone responded in the audience) I am only 33, you just made me a few years older! I hope to make more good movies for you in the future." Then the event invited Chief Executive Lam Cheng Yuet Ngor to present the award. She said, "Sei Gor, the event invited me to present the award not because I am the Chief Executive, but because I grew up watching your movies." Tse Yin reacted, "Then I must be so old!" She continued, "I was very curious at the time at the movies, every movie had a different actress, but you were the only actor." Sei Gor joked, "I don't know either, maybe at the time I was greedy. I was out to make a living, I wanted money." Lam Cheng congratulated him on his Lifetime Achievement Award and praised Sei Gor as truly deserving.
Started as a screen writer, director Felix Chong Man Keung won Best Director and Best Screenplay. He said, "Back then when I was studying film, I discussed with my classmate what was directing. They all said, 'thousands of bones make a moment of success'. Thank you to PROJECT GUTENBERG's cast and crew, because without you I wouldn't be anything -- just a crazy guy! Thank you bosses Yu Dong and Yeung Sau Sing for their support without any regard. I also want to thank my wife, because she was the first person who thought that I would be successful in making movies." PROJECT GUTENBERG won seven awards, including Best Film, Best Director, Best Screenplay, Best Cinematography, Best Film Editing, Best Art Direction and Best Costume and Make Up Design. The event arranged for Andy Lau Tak Wa and Song Hye-Kyo to present Best Film. PROJECT GUTENBERG investors Yu Dong and Yeung Sau Sing both thanked for the creative team for giving them the chance to invest in this film and thanked the Hong Kong Film Awards.
This year's Best Actor went to Anthony Wong Chau Sun for STILL HUMAN (LUEN LOK YUN). Chau Sun accepted the award from Louis Koo Tin Lok. Chau Sun first put on his hat and said, "Actually miracles really do happen. I am not talking about me, I am talking about the show. At first I thought would young people as hosts put me to sleep? Actually they have been very entertaining. It's very meaningful, quite a honor to receive this award from the new generation film tycoon." Goo Jai immediately put a stop to his praises. "Enough." Later Chau Sun also thanked director Oliver Chan Siu Kuen for her patience and talent, on the set she coaxed him like a child and reminded her to keep his toes curled. He also thanked actress Crisel Consunji in English. He thanked everyone who voted for him, for letting him know that he could still act. He also thanked those who did not vote for him, for letting him know that he still had shortcoming. He thanked boss Albert Yeung Sau Sing for his financial support, so he was able to make this film without taking a cent. He urged everyone against following his suit because not everyone had a boss like Mr. Yeung. If everyone worked for free, everyone would starve to death and there would be no more Hong Kong film. However if anyone wanted to win an award they could give it a try, as good deeds yield good rewards. Wong Chau Sun also thanked his wife, late mother and assistant. "Thank you Wife for tolerating a husband who is constantly missing; thank you late mother, she taught me that life is very short. If you aren't happy then you are dumb." Chau Sun was rather excited with the award backstage and got sentimental. "Because I am old, I don't know if I will still be here next year! I of course hope to be able to make more Hong Kong films after the award, but everyone know how my situation is."
First time nominee Chloe Maayan with THREE HUSBANDS (SAM FU) won Best Actress. "I am very happy, thank you Hong Kong Film Award for giving me a pair of glass slippers. Thank you Mama for always supporting me. I want to share that THREE HUSBANDS began production on April 1st last year. Before then I have never been to Hong Kong, I didn't know going from Kowloon to Mandarin Oriental Hotel would require crossing the harbor. That day was the anniversary of (Leslie) Cheung Kwok Wing's death. I became encouraged from watching Gor Gor's movies, I want to thank Mr. Cheung Kwok Wing."
Best Actress Kara Wai Ying Hung with her excellent acting in TRACEY (CHUI SZE) won Best Supporting Actress. Ben Yuen Fu Wa also with TRACEY won Best Supporting Actor, as he tearfully thanked his girlfriend on the stage.
Filipino actress Crisel Consunji with STILL HUMAN (LUEN LUN LOK)'s Filipino maid character won Best New Actor with her first nomination. She said to director Oliver Chan Siu Kuen. "You are great, I hope every child grow up to be just like you." She said that she was very surprised and happy, as she hoped to continue to make movies in Hong Kong and even China. She said that she has lived in Hong Kong for awhile already, employed at three educational centers to teach children. Chan Siu Kuen after winning Best New Director said, "Thank you to First Feature Film Initiative for changing my life, thank you to my husband for being crazy with me. I will keep working hard."
GEN X COPS (DUT GAING SUN YUN LUI)'s Nicholas Tse Ting Fung, Daniel Wu (Ng Yin Cho), Stephen Fung Tak Lun and Sam Lee Chan Sam presented Best Visual Effects. At first Ng Yin Cho and Tse Ting Fung pretended that they could not be there as they pretended to be overseas in front of green screens. Then they made a surprise appearance. The four said that in the brink of an eye 20 years went by and joked that visual effects were very sharp as they made them younger. Ting Fung jokingly asked, "Then are we making GEN X COPS 3?" Lee Chan Sam said, "Does anyone want to see it?" Fung Tak Lun then asked, "Does any boss want to invest. I see Mr. Yeung ." Yeung Sau Sing nodded in the audience. Winners of the award went OPERATION RED SEA's Inho Lee and Taegyun Kang. In the audience film boss Albert Yeung Sau Sing was so happy that he raised his phone to shoot a video. Later RED also won Best Sound Design, the winners were Nopawat Likitwong and Sarunyu Nurnsai. They thanked boss Louis Koo Tin Lok in Cantonese. The film also won Best Action Design. The Professional Spirit award winner was Lau Won, who was the first stuntman to win this award.
Kara Wai Ying Hung earlier at the Asian Film Awards already won Best Supporting Actress. She said, "Thank you to the cast and the crew, actors and voters, I also have to thank myself. If everyone take a look back, in the past few years I have been the actor who has been the most supportive on new directors because I am all about loyalty. Hong Kong film has to be in full bloom. With newcomers rising, how much we make isn't important. I hope film can reach to when I first got into the business, over 400 productions a year with any and all variety of films and generations after generations of newcomers. To be able to contribute is my honor. We elders have to support the younger generation more."
Winning again this time she said that she would have to celebrate. After her "bikini" benefit, what else would she do? She said, "You have seen some places already, unless it's full nudity. However you saw that before in the photo collection, which is still available for purchase now. Now even if I am all nude no one would look."
Best Supporting Actor Ben Yuen Fu Wa said, "The Hong Kong Film Award to a Hong Kong actor is an emotional connection, an artistic honor. I am very nervous. Because I am a Hong Kong actor born and raised, I grew up with Hong Kong film and witnessed Hong Kong film getting bright and hot. I want to become an actor also because of Hong Kong film. Thank you for voting for me. The Best Supporting Actor nominees in the audience are all elders and friends who toil in silence without complaint. I want to take the chance to salute them. I hope the bosses on hand would support more new subjects. I also want to thank my girlfriend. Without her, I couldn't get here."
Speaking of thanking his girlfriend on the stage, he said, "Actually being an actor is very tough, it's not the so-called have home, have care and would make a lot of money. However she struggled along with me. (Would marrying your girlfriend be the next step?) You are asking for her, I won't fall for it. I have to think about it first."
Earlier he just won a stage actor award. Would he work in multiple areas from now on? He said, "I would take each step as it comes. I am still just half a bucket of water in each area, I still have a lot of skills to learn."
Dante Lam Chiu Yin with OPERATION RED SEA won Best Action Choreography. Boss Albert Yeung Sau Sing accepted the award on his behalf. Mr. Yeung said, "Lam Chiu Yin yesterday said that he would come, today he suddenly said that he couldn't. I took we were done for, we definitely would go home empty handed. Chair Yee Tung Sing, I trust Hong Kong Film Awards truly isn't predetermined."
Stuntman Lau Wong (Yu Tau Won) won this year's Professional Spirit Award. He accepted the award from guest presenters and brothers Chin Kar Lok and Chin Siu Ho. Kar Lok even said that Lau Won's older brother is Pak Piao. With over 50 years in the business Lau Won was somewhat emotional on the stage. After thanking people he wanted to thank in one breath, he was already so nervous that he forgot what else he wanted to say. Although Kar Lok dropped "hints", he hilariously said several times, "Let me think" and scratched his head. He brought a lot of joy to the audience. Then he would suddenly "remember". "Stunt men, more alert than others, professional spirit!" Finally he screamed "I love Hong Kong Film" and won everyone's applause!
THE 38TH HONG KONG FILM AWARDS NOMINATIONS
http://hkfaa.com/winnerlist.html
BEST FILM
PROJECT GUTENBERG
BEST DIRECTOR
Felix Chong (PROJECT GUTENBERG)
BEST SCREENPLAY
Felix Chong (PROJECT GUTENBERG)
BEST ACTOR
Anthony Wong (STILL HUMAN)
BEST ACTRESS
Chloe Maayan (THREE HUSBANDS)
BEST SUPPORTING ACTOR
Ben Yuen (TRACEY)
BEST SUPPORTING ACTRESS
Kara Wai (TRACEY)
BEST NEW PERFORMER
Crisel Consunji (STILL HUMAN)
BEST CINEMATOGRAPHY
Jason Kwan (PROJECT GUTENBERG)
BEST FILM EDITING
Curran Pang (PROJECT GUTENBERG)
BEST ART DIRECTION
Eric Lam (PROJECT GUTENBERG)
BEST COSTUME AND MAKE UP DESIGN
Man Lim Chung (PROJECT GUTENBERG)
BEST ACTION CHOREOGRAPHY
Dante Lam (OPERATION RED SEA)
BEST ORIGINAL FILM SCORE
RubberBand (MEN ON THE DRAGON)
BEST ORIGINAL FILM SONG
SONG ON THE DRAGON (MEN ON THE DRAGON)
Composer, Lyric, Sung by:RubberBand
BEST SOUND DESIGN
Nopawat Likitwong, Sarunyu Nurnsai (OPERATION RED SEA)
BEST VISUAL EFFECTS
Inho Lee, Taegyun Kang (OPERATION RED SEA)
BEST NEW DIRECTOR
Oliver Chan Siu Kuen (STILL HUMAN)
BEST FILM FROM MAINLAND AND TAIWAN
DYING TO SURVIVE
LIFETIME ACHIEVEMENT AWARD
Patrick Tse Yin
PROFESSIONAL SPIRIT AWARD
Lau Won