For the week ending Sunday March 31 2019
Photos courtesy of Yahoo! Movies Hong Kong


10 THE AFTERMATH
d. James Kent
Keira Knightley, Alexander Skarsgard, Jason Clarke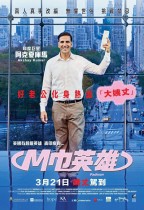 9 PADMAN
d. R. Balki
Akshay Kumar, Sonam Kapoor Radhika Apte


8 THREE HUSBANDS
Can : Sam Fu
d. Fruit Chan Gor
Chloe Maayan (Zeng Meihuizi), Chan Cham Man, Chan Kot Lui, Mak Keung,
Larine Tang Yueping
Rating : III
Length : 101 mins.
Opening November 25 2018 at the Hong Kong Asian Film Festival
Opening December 27 2018
Opening March 28 2019
Trailer :
https://youtu.be/rZ7QWAORv2A
[ HONG KONG ASIAN FILM FESTIVAL 2018 ]
A woman lives on the sea with her three husbands. With an overactive libido, she heartily devotes herself to her work as a prostitute.
7 ESCAPE ROOM
d. Adam Robitel
Taylor Russell, Logan Miller, Jay Ellis


6 SHAZAM!
d. David F. Sandberg
Zachary Levi, Asher Angel, Mark Strong, Jack Dylan Grazer


5 US
d. Jordan Peele
Lupita Nyong'o, Winston Duke, Elisabeth Moss


4 MASQUERADE HOTEL
Can : Ga Min Jau Dim
d. Masayuki Suzuki
Takuya Kimura, Masami Nagasawa, Takako Matsu, Atsuko Maeda
Rating : IIA
Length : 132 mins.
Opening March 21 2019
Trailer :
https://youtu.be/pZFVvr-B6Pg
[ BROADWAY CIRCUIT ]
Three murders have occurred in the Tokyo area. Left behind in all of the murders is a series of baffling numbers – a possible hint as to the next crime – that sets off an investigation to uncover the identity of a serial murderer. Kosuke Nitta of the Metropolitan Police Department Investigation Division deciphers the numbers and believes the location of the next offense will occur at the Hotel Cortesia in Tokyo. The police decide to investigate from within the Hotel Cortesia and Nitta is assigned to investigate posing as a clerk at its front desk. Selected to train Nitta in the ways of working at the hotel is their first-rate clerk Naomi Yamagishi. Nitta has focused himself on unveiling the "masks" of the hotel guests and to discover who the killer is. However, Naomi sees her priority to be with that of the guests' comfort and safety. Butting heads constantly due to their differing opinions, Nitta and Yamagishi forge on with the investigation, eventually discovering each other's worth as, over time, a trust is built between them. Meanwhile, the case develops rapidly. The police and the hotel are backed into a corner. Sure enough, the true identity of the culprit of the mystery is none other than......
3 EXTREME JOB
Can : Ja Gai Duk Gung Dui
Lit : Fried Chicken Special Force
d. Lee Byeong-heon
Ryu Seung-yong, Lee Hanee, Jin Sun-kyu, Lee Dong-hwi, Gong-myoung
Rating : IIB
Length : 111 mins.
Opening March 28 2019
Teaser :
https://youtu.be/Qv-aDJQaDkc
[ BROADWAY CIRCUIT ]
The narcotics team works hard day and night, but their performance remains at an all-time low, leading them to become the ugly duckling of the police department and potentially face dismantlement. Captain KO gets intel about an international drug deal and embarks on a risky undercover mission with his entire team. In order to establish around-the-clock and up-close-and-personal surveillance, the team takes over a rundown chicken joint across the street from the drug gang's safe house. But things take an unexpected turn when Detective MA's yet unrevealed culinary talents begins to shine, turning the chicken restaurant famous overnight. Should we chase chickens or criminals? When customers begin to flock in, undercover work gets pushed to the back burner so the detectives can focus on frying chicken. As a result, the team misses the big drug deal, even though it happens right under their nose. Now, with nowhere to go, the detectives launch a desperate mop-up operation.
2 CAPTAIN MARVEL
d. Anna Boden, Ryan Fleck
Brie Lawson, Samuel L. Jackson, Ben Mendelsohn, Jude Law,
Annette Bening, Lashana Lynch, Clark Gregg, Gemma Chan,
Djimon Hounsou, Lee Pace,
1 DUMBO
d. Tim Burton
Colin Farrell, Michael Keaton, Danny DeVito, Eva Green