Carlos Chan goes against type and plays a thug
Louis Cheung, Carlos Chan and Bosco Wong have a lot of action scenes
courtesy of on.cc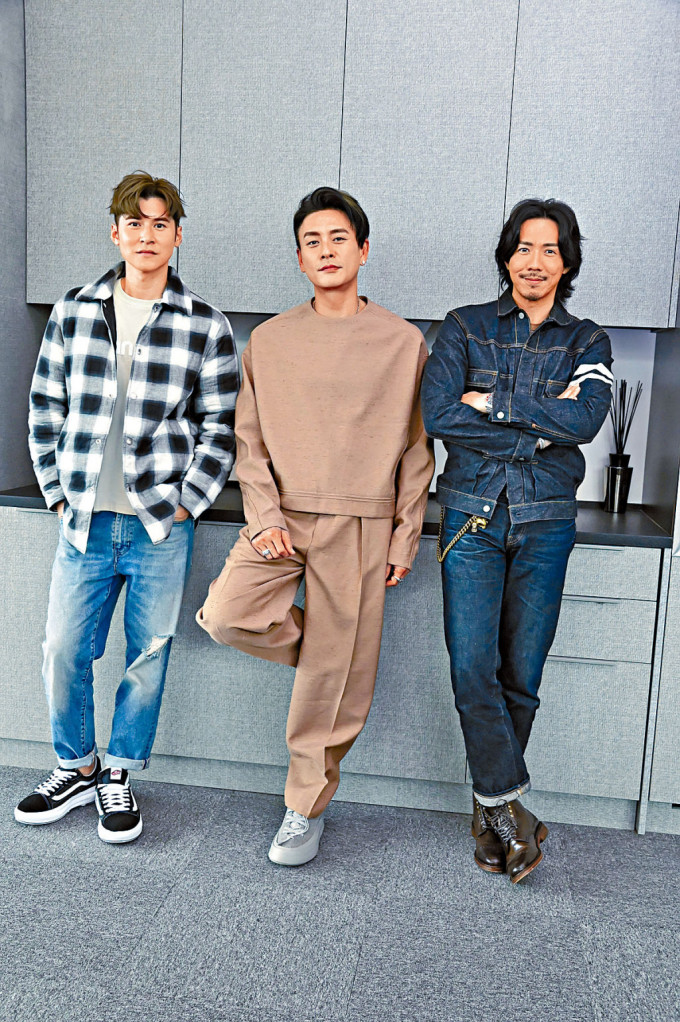 courtesy of singtao.com
courtesy of mingpao.com
The film BROTHERHOOD OF REBEL (JAT JIK 2) starred Bosco Wong Chung Chak, Louis Cheung Kai Chung, Carlos Chan Ka Lok as the story of the rise of three brothers in arms Wise Guys; the always mild mannered Ka Lok in order to look more like "Wise Guy" shaved his head to play the bad guy. In one scene where the brothers were being chased in the street, because it was too realistic pedestrians were so scared that they called the police.
The film BROTHERHOOD OF REBELS was 11 years after TRIAD (JAT JIK). This time would be an all new story of the rise of a "Wise Guy", Bosco, Ah Chung and Ka Lok starred. The film would not lack fight scenes, completely in the style of the 90s mob films. Although he had to handle a lot of action and chase scenes in the film, Ah Chung still said they were a lot of fun. He pointed out that each actor in the film had many action scenes. He personally had a lot of fun on the shoot. "When I was younger I watched many YOUNG AND DANGEROUS movies, this time during the shoot I also had many close combat scenes that had a flavor of the movies I watched. It has been a very long time since this type of authentic Hong Kong film genre existed." Injuries were inevitable in action scenes, Ah Chung felt fortunate that he only had superficial wounds. In comparison Chan Ka Lok had to jump from an overpass. Ka Lok looked relaxed as he recalled, he did not get hurt from this overpass jumping scenes. He did not feel it was too dangerous either. Instead in the entire scene he had to fight from Tsim Sha Tsui East to Nathan Road. "We ran all night, which instead was pretty exciting. The result was also great. Later discussions online thought that the mob was fighting!"
Bosco pointed out that this brothers chase scene was extremely realistic. Many pedestrians saw the chaos and called the police. Ka Lok also pointed out that when a group of people suddenly rushed out and "broke into foul language", many pedestrians were terrified. Ah Chung said that during the shoot the pandemic was very severe, the street traffic was few. Seeing such a scene at a familiar place at night would definitely be very shocking. Ah Chung was the happiest that this time they achieved the nostalgia of the YOUNG AND DANGEROUS (GOO WAT JAI) films. The script obviously was well written, about three brothers who grew up together but went on different routes. Aside from fight scenes, other scenes had potential too. Playing a dark side was also something that he did not have much contact with. Bosco was used to making action scenes, fight scenes could not stump him. He said, "When we took our marks we just chop like mad, even the prop knives were all broken. Many scenes were thug fights, with punches and kicks."
Ka Lok stated that since he started in the business he has made different subject films. He also guest starred in TRIAD (JAT JIK). This time he went from a thug to the boss, the little "evil" within was considered a new attempt. "From a small figure fighting to move up to becoming the boss, the director asked me to shave my head so the audience would get rid of their existing impression of me." Bosco worked with Ka Lok for the first time and said that in his impression he was good looking, this time when he saw him in costume he was surprised. Ka Lok said that after shaving his head he looked different from his past image. Even his friends would be a little afraid when they saw him. Bosco instead in the film seemed to be playing himself as he would take care of others. "Now I am already old, should I call Chan Ka Lok the big brother instead?" He joked that in the film he and Ah Chung treated Ka Lok like their own biological brother. In fights they wanted him to stand behind them, but their hearts ached over this little brother's sudden personality change in order to move up.