Kimbee invites Xu Jiao to the CJ7 15th anniversary ceremony and presents her with a hand knitted 7 Jai figure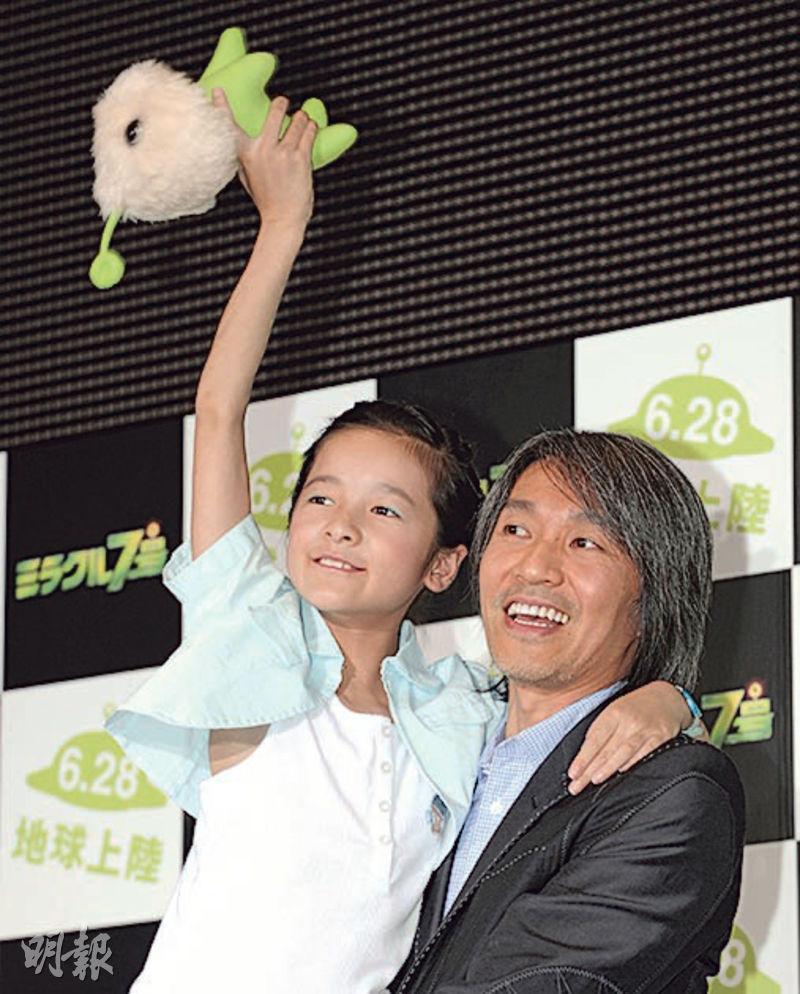 When Xu Jiao promoted CJ7 with Stephen Chow
courtesy of mingpao.com
Xu Jiao and Kimbee Lau Chan Hoi Wan yesterday attended the film CJ7 (CHEUNG GONG 7 HO)'s 15th anniversary unveiling ceremony. Playing father and son with Stephen Chow Sing Chi in the film, Xu Jiao sang and draw moon cake box designs. She also received from Kimbee a hand knit 7 Jai figure. Xu Jiao's flight due to the black rain warning was delayed for over a hour. She said that she saw on the news that the Wong Tai Sin MTR station was flooded and was very worried about the safety of the people of Hong Kong. She also felt fortunate that the event successfully took place, and wished that Hong Kong after this black rain would have fair weather in the future. Coming to Hong Kong again after 8 years, she really missed the authentic snacks. Upon arriving she immediately had stir fried crab and mantis shrimps. Before the event "Papa" Sing Yeh treated her to lunch and had roast duck and soy sauce chicken. They talked about movies. She said, "Sing Yeh said that after making CJ7 he saw an UFO that was the size of a cell phone, a black glass object. I also shared with him four dimensional space and some supernatural experience."
Sing Yeh is working on the SHAOLIN WOMEN'S SOCCER. Would Xu Jian take part? She said, "He told me to train harder. If he needs me I would be very honored." She revealed that Sing Yeh wanted to make a sequel to CJ7 and wanted her to play a Mama role. "If he really wants me to play Mama, it would truly be a big challenge because I have never been pregnant. I have no problem learning from him though." She said that she would like Sing Yeh to make a female version of GOD OF COOKERY the most. When she was little she wanted to be a gourmet.
Starting as a child star, Xu Jiao has grown prettier. Does she have a boyfriend? She said, "I know you would ask these gossip questions. Take a guess. Actually I am 26, having relationships with people would be very normal? (Have you brought your boyfriend to see Sing Yeh?) No, Sing Yeh directly asks about marriage, but I have never thought about marriage. Now many people don't want to get married, wanting to work more while they are young." Recently she worked on a horror film in Malaysia. Earlier she worked with Andy Lau Tak Wa on the film FUTURE X-COPS (MEI LOI GAING CHAT). She praised him for being friendly and taking great care of juniors. She hoped that in the future they would work together again.
Kimbee said that she invited Xu Jiao to promote in Hong Kong, the figure she presented her took only a little over a hour to knit. The bag she carried was also hand knitted. Reportedly she has been teaching her daughter knitting. She was very happy that Xu Jiao also liked to knit. Why did she not invite Sing Yeh to attend the event? She joked, "His highness is forgetful." She has been supportive of Hong Kong films. Would she work with Sing Yeh? Kimbee joked, "He is so powerful, he wouldn't need to find people to work with. (Has Sing Yeh looked for bosses to invest in his movies?) He can, let me ask him."