courtesy of on.cc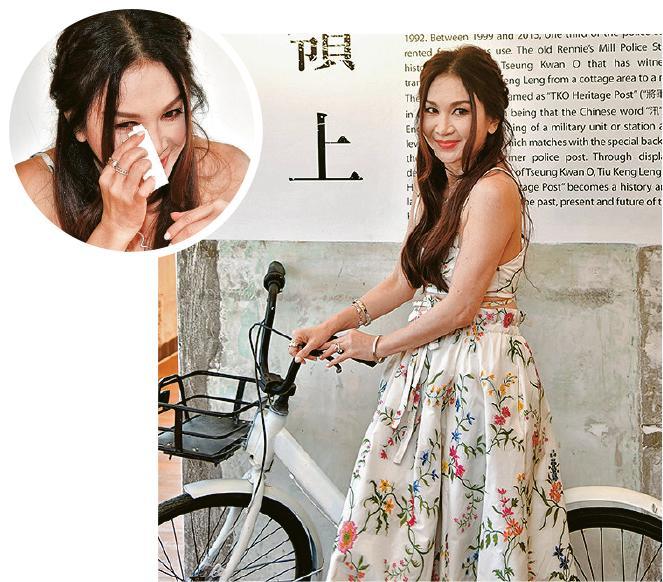 courtesy of mingpao.com
The Irene Wan Bik Ha produced and starred film LONELY EIGHTEEN (NGOR MOON DIK SUP BAK SHUI) would open on the 28th. The film would be a story of two girls growing up and was also adapted from Irene's adolescences experience. Yesterday she visited where she grew up -- Tiu Keng Leng, went to the old Tiu Keng Leng police station that is now the Tseung Kwan O Heritage Post Museum and brought back many of her childhood memories. She even thought of her parents' love for her, got sentimental and broke down in tears.
As the LONELY EIGHTEEN producer and lead actress, Irene said that she felt a little nervous as the film was about to open because the film took 5 years of planning and production. It was based on her adolescence story, in which family, friendship and love were on display. Irene remembered when she was little her Tiu Keng Leng home was on the middle of the hill, she had to walk half a hour to go to school. To go into the city she even had to walk a hour before being able to take a bus. At the time one of her neighbors was Idy Chan Yuk Lin. She would constantly see this pretty sister pass by her door. She has also seen Chow Yun Fat taking Chan Yuk Lin home. She pointed out that artists who lived in Tiu Keng Leng also included Pauline Wong Siu Fung, Kara Wai Ying Hung and Rosamund Kwan Chi Lam. Sometimes when she went out guys would flirt with her, and Big Sister Wong Siu Fung was very protective of her. At this film premiere, she would see if she would be able to invite them to watch the film and reminisce about the past together.
This time in the film Ti Lung played her father, the resemblance Irene thought was uncanny as both were very strict. Yesterday returning to where she has lived in the past, Irene remembered being with her parents. "Papa was very strict with me, but I was very rebellious. When I was 14, Mommy slapped me and I left home. Later a star scout discovered me. Because I wasn't 18 yet, I had to beg Mommy to sign the contract for me. Originally Papa didn't approve, but Mommy still came and cried as she signed the contract. She said to Manfred Wong (Man Jun) and David Lai Dai Wai to properly take care of her daughter. I thought I was very bad, but my parents actually loved me very much. It was only that I was little and didn't know how to think......" Remembering her late parents' love for her, Irene could not help but succumb to tears and had to stop the interview for awhile.
Aside from family, Irene said that the movie also had friendship and even invited her friend Loletta Lee Lai Chun to perform. "The film is about two young girls growing up. Sister Chun and I both grew up and made movies together, and we have experienced a lot of joy and sadness. No matter how we changed, perhaps now we see each other less, our ideas may not be the same, but in our hearts is still a great relationship. This friendship would never change."