Andy Lau receives the Special Tribute Award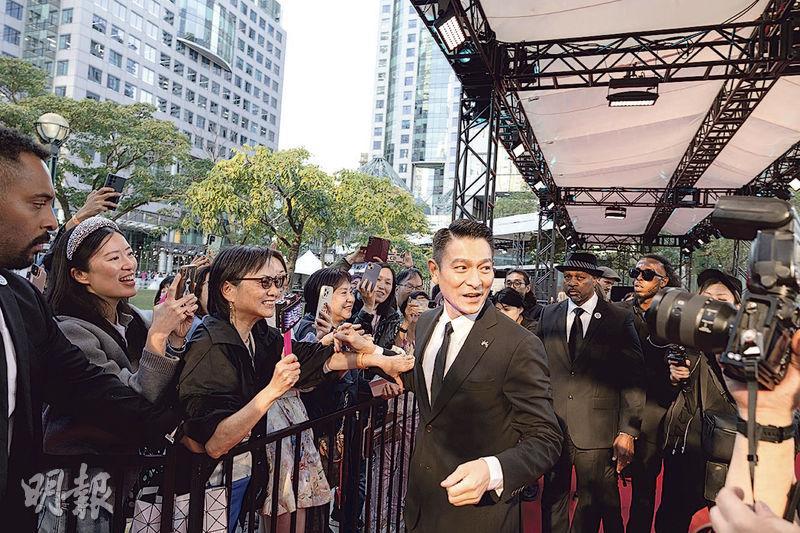 Many fans show their support for Andy Lau
courtesy of mingpao.com
Andy Lau Tak Wa on the 15th attended the 48th Toronto International Film Festival award ceremony and received the "Special Tribute Award" to honor his contribution to the film industry and at the same time his new film THE MOVIE EMPEROR would hold its world premiere. Wa Jai while accepting the award encouraged the audience to choose the path they want, work hard and do their best. He also would never forget the fans' support.
Over ten years without stepping foot in Toronto, Wa Jai was welcomed at the airport by a big group of fans' cheer for their idols. They often loudly said, "We miss you very much, Wa Jai Happy Birthday!" After an over 10 hours long distance flight, Wa Jai saw how passionate the fans were and immediately returned to form as he waved to everyone. He also thanked everyone for their continuing support and hoped to return to Toronto very soon to meet with everyone a little longer.
Wa Jai after accepting his "Special Contribution Award" happily said, "This Special Tribute Award to me means many things. It represents that everyone has the possibility to do more than you imagine. Thus, choose your own path, work hard and do your best. I would never forget the love you have given me, thank you!" Wa Jai's schedule this time was intense, as he would only be able to stay for 3 days before rushing back to work in Hong Kong. Aside from the award, Wa Jai on this Toronto visit would also attend his new film THE MOVIE EMPEROR's premiere with director Ning Hao and accept local media interviews. Wa Jai while accepting the award gave a special introduction to invite director Ning Hao to the stage. Ning Hao said, "I am very happy that Brother Wa was able to receive this award. In the film his character hasn't won any award, but off screen and in reality he truly has won. So I am very happy."