Anson Lo attends over 30 audience appreciation shows with his team in hopes of pumping up the box office
Anson Kong braves the red rain warning to promote at the movies
courtesy of on.cc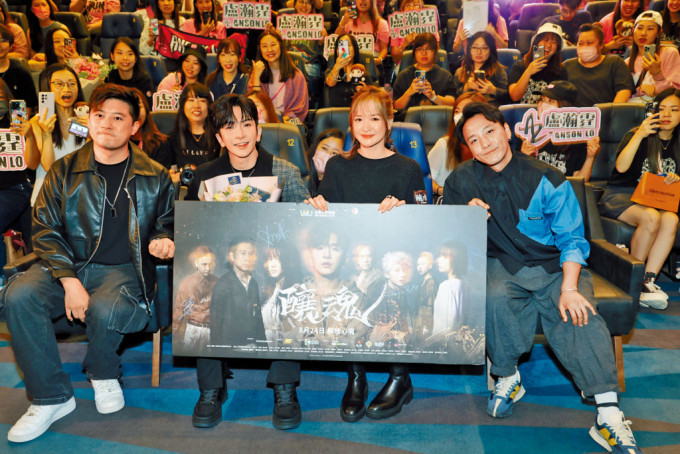 courtesy of singtao.com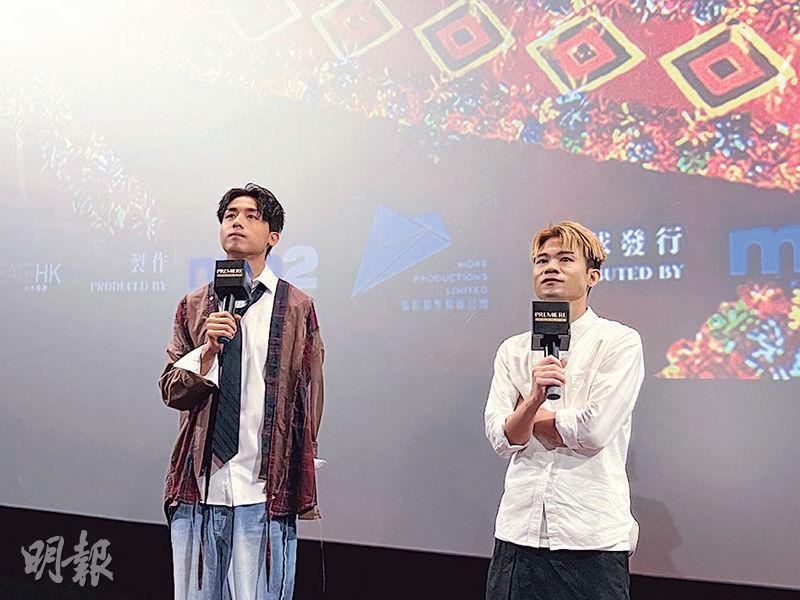 AK shares his production experience
"Little Boss" Wong Chi Lok is popular with the audience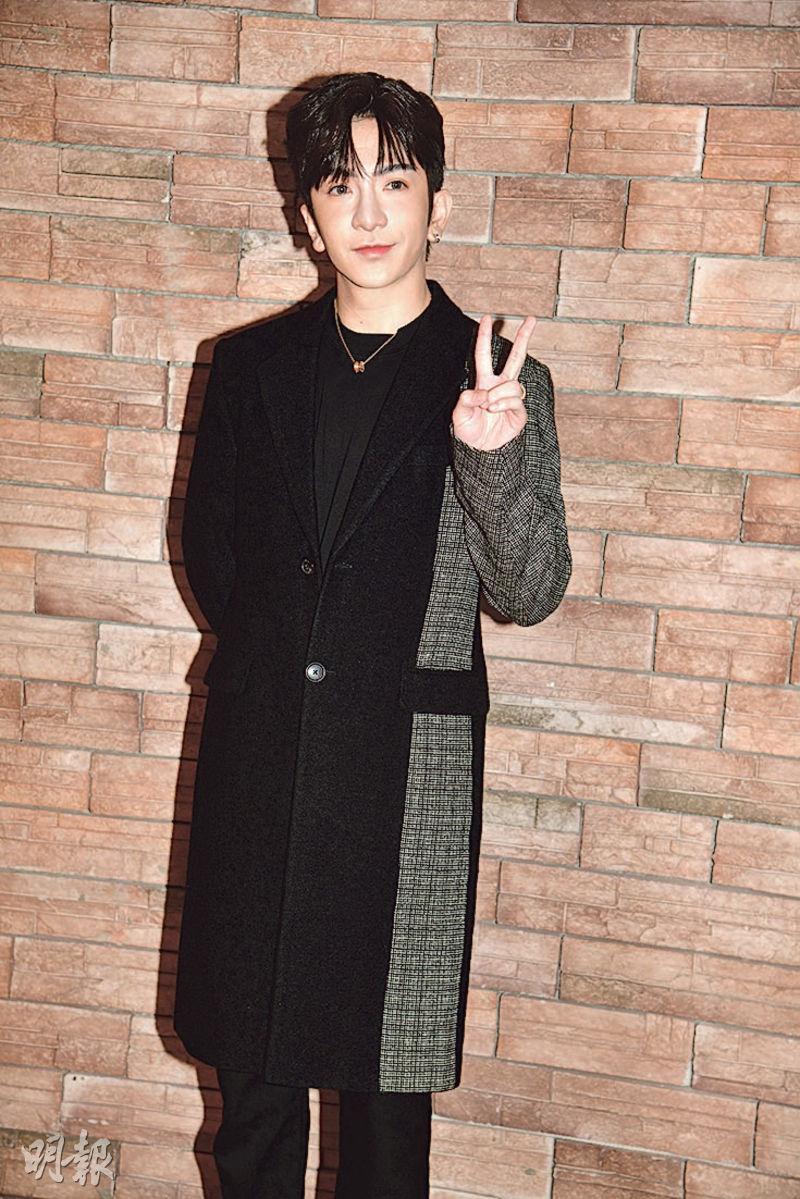 Anson Lo is not discouraged by the HK$ 6 million box office, instead he feels happy
Anson Lo is surrounded by "disciples" as he leaves, making each step difficult to take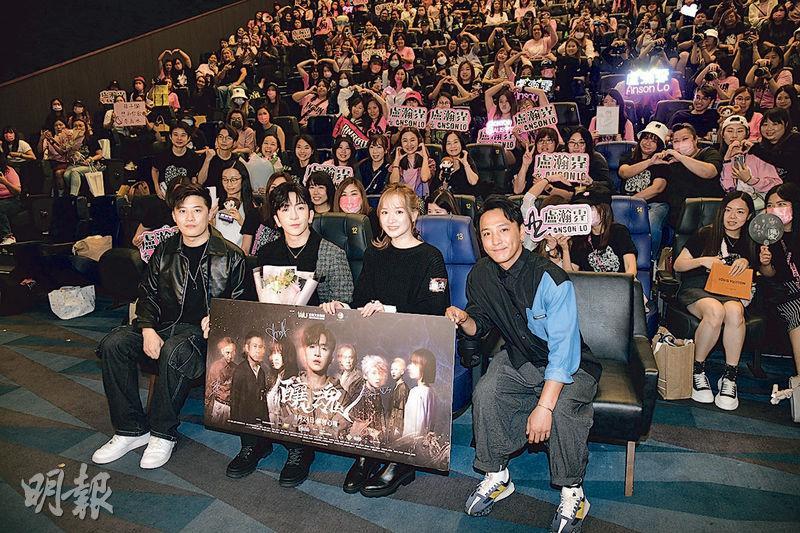 Director Sham Ka Yin, Anson Lo, Summer Chan and Lam Yiu Sing pose for a group photo with the audience
courtesy of mingpao.com
The MIRROR member Anson Lo starred film opened last month, a group of "disciples" have come up with ways to pump up the box office for their idol. Unfortunately after 3 weeks in release the film only took in around HK$ 6 million and for now has been unable to beat his previous film SHOWBIZ SPY (GA MO NUI TUEN). Ever the optimist, he has not yet been discouraged as he attended over 30 audience appreciation shows and promoted hard.
The Anson Lo starred supernatural film IT REMAINS (YEUNG WON) opened on August 24th. His "disciples" have risen to book shows to watch the film. Many have booked over two shows. Yesterday some "disciples" even stated that they have watched it 40 times. When the film just opened, "disciples" with audience appreciation tickets in order to pump up the box office of the first few days stated that if someone watched more than 4 shows they would be able to receive an audience appreciation show ticket. Anson Lo's support club also started ticket stubs for prizes events, 15 tickets could win a film still and a picture frame. They have come up with many ways to help their idol attract viewers, but the box office has yet been able to surpass his previous film.
Anson Lo yesterday led the film's cast and crew to audience appreciation events. Actually the audience appreciation activities were originally scheduled to take place on the 2nd, but due to the typhoon they were delayed until yesterday. He and his partners went to over 30 shows at cinemas from Tsim Sha Tsui, Mongkok to KITEC, met fans at close distance and went the full 8 hours as they did not stop until around 8 PM.
The first audience appreciation show was sold out. The "disciples" brought light signs to cheer. When Anson Lo appeared, screams arose everywhere. Many even brought long range lenses to get photos. Anson Lo only stayed for 10 minutes, before leaving he took a group photo with the fans. Many "disciples" after taking photos left to chase the star.
Anson Lo said that attending many audience appreciation shows was not tough, instead he worried about the fans. "At each show we stay for a very short time. They seemed to have been planning for a long time. (What do you think about the movie making HK$ 6 million so far?) I am very happy, the performance is considered pretty good. I am the happiest that people who aren't familiar with me, or don't really watch ghost films have attended. Their reviews have been better than I have imagined." His 2021 film SHOWBIZ SPY had a box office of HK$ 7.73 million. This time IT REMAINS has yet to surpass it. He said, "The genres are different, not to mention the movie hasn't left the cinemas yet. (Would you like it to make over HK$ 10 million?) I don't dare to predict, I am still a film rookie! Although schedule wise today is my final audience appreciation show, I still want to attend one more day and have more contact and exchanges with the audience. Sometimes audience appreciation isn't just to pump up the box office." Speaking of group mate Anson Kong's horror film BACK HOME (CHUT YUET FAN GWAI) opening recently, was he worried about comparison? He said, "The movies opened at different times, they can't be compared. Everyone please support Hong Kong films more! Every movie needs the support of ticket buyers."
AK also did not dare to get lazy. Two nights ago he braved the red rain warning and attended audience appreciation events with director Nate Ki (Tse Ka Kei). The 7 audience appreciation shows for BACK HOME have sold out long ago, with an added show that was also sold out. AK shared his production experience and took a group photo with the audience. He even personally handed the microphone to fans for questions and made everyone very happy! Lead actress Bai Ling due to work in Los Angeles was unable to attend, but earlier on the opening day she already went on a live chat with AK, the director and the producer and kept delivering her Cantonese dialogues to complain about how difficult they were. The director wanted her to practice them in a short period of time, and shoot in all Cantonese. Bai Ling said that she really liked the script and praised that BACK HOME was not just a horror film but also full of humanity. She hoped that it would perform well and open in even more places.
Many viewers said that the film hid too many details and had to watch more than once to be able to find the answers. AK and the director both said that the first 4 days' box office was very important, and welcomed viewers to provide suggestions and discuss the details in the film at anytime. They hoped viewers would continue to support the film. Playing the childhood AK, "Little Boss" Wong Chi Lok and producer Man Pui Hing also attended. Wong Chi Lok upon his arrival received cheers of support from viewers and was invited for photos and autographs. Viewers said, "Little Boss is the most popular!"