Ben Yuen and Ng Siu Hin are arm in arm like father and son and cannot be any closer
courtesy of on.cc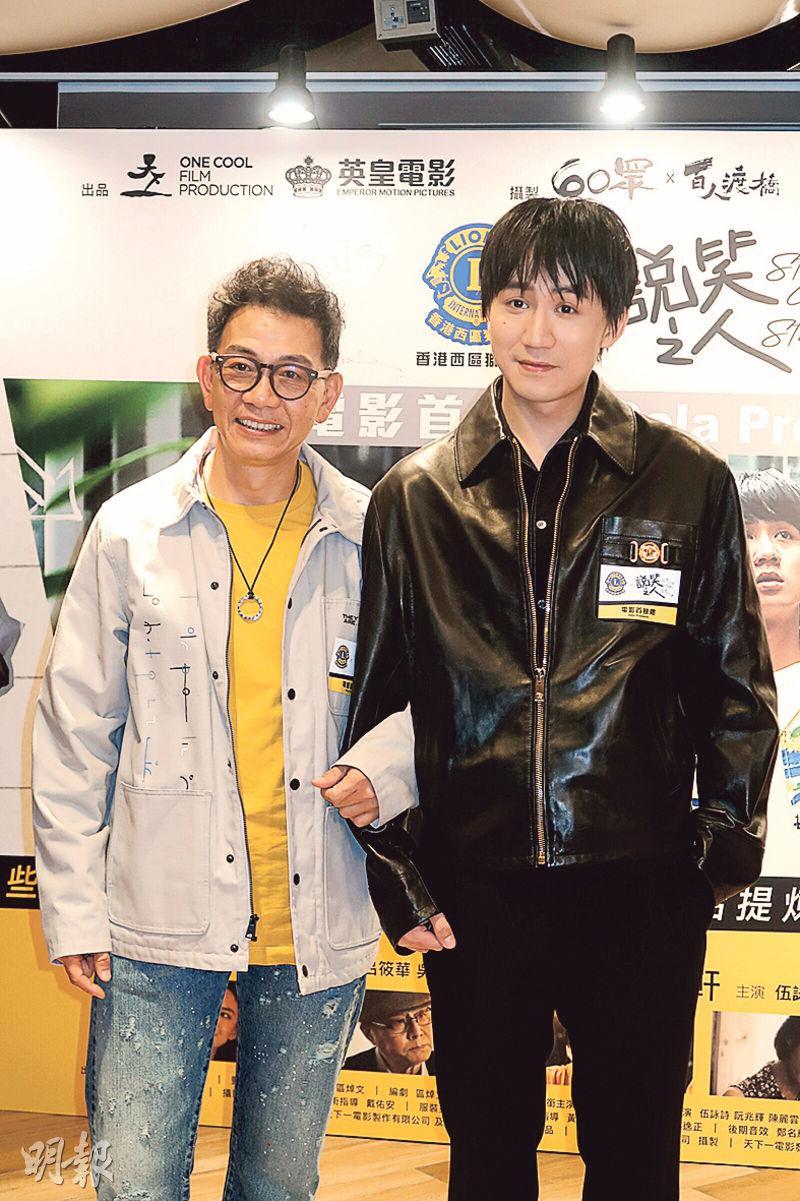 courtesy of mingpao.com
Ng Siu Hin, Ben Yuen Fu Wa, Ng Wing Sze, Joman Chiang and Chan Lai Wun two nights ago attended their film STAND UP STORY (SUET SIU JI YUN) premiere. Speaking of his box office confidence, Hin Jai pointed out that some online estimated the film would only reach HK$ 2 million at the box office. However his goal was HK$ 20 million, when it would happen he would thank everyone with a stand up comedy show. If the box office would break the HK$ 2 million online "curse", he would make egg drop congee for everyone at the audience appreciation shows.
Good news came for the film earlier. At the 17th season Asian Pop Up Cinema in Chicago, Yuen Fu Wa and Ng Siu Hin respectively won "Pinnacle Career Achievement Award" and "Bright Star Award". They also have departed for Chicago to accept the prizes. After returning to Hong Kong they would attend audience appreciation shows for the film. They also have thought about their speeches. Yuen Fu Wa would like to thank the staff for their contributions, in particular for completing the film under the difficulties of the pandemic and limited resources. Hin Jai said, "I now can thank (Louis) Koo Tin Lok, because during the shoot after he saw the film would call me and talk for two hours on what adjustments needed to be made. When I went to the bathroom he called again, in the end in the bathroom we talked for another half a hour."
Yuen Fu Wa said that for his first lead actor role, his confidence was half and half. He wiped away his sweat and said, "I have so much pressure that I am sweating bullets. Thank you to the director for daring to heavily utilize me, with the great coordination with the cast and the crew the movie is made. I urge the general public to support small budget productions."
Ng Wing Sze considered this her first female lead role, but she has not yet seen this film. She was rather anxious. Both she and Ng Siu Hin praised elder Yuen Fu Wa as easy to get along with. At work he would study acting with the young generation and create a comfortable atmosphere. Ng Siu Hin revealed that directors Sunny Chan Wing Sun and Ho Cheuk Tin after watching the advanced screening responded decently, which added to his confidence.