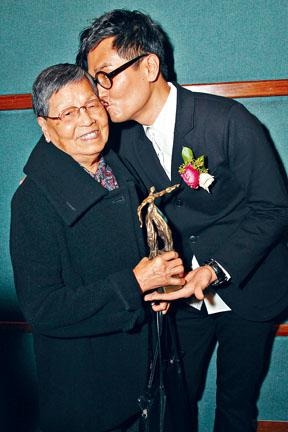 courtesy of singtao.com
Gordon Lam says that an actor has to be nosy and greedy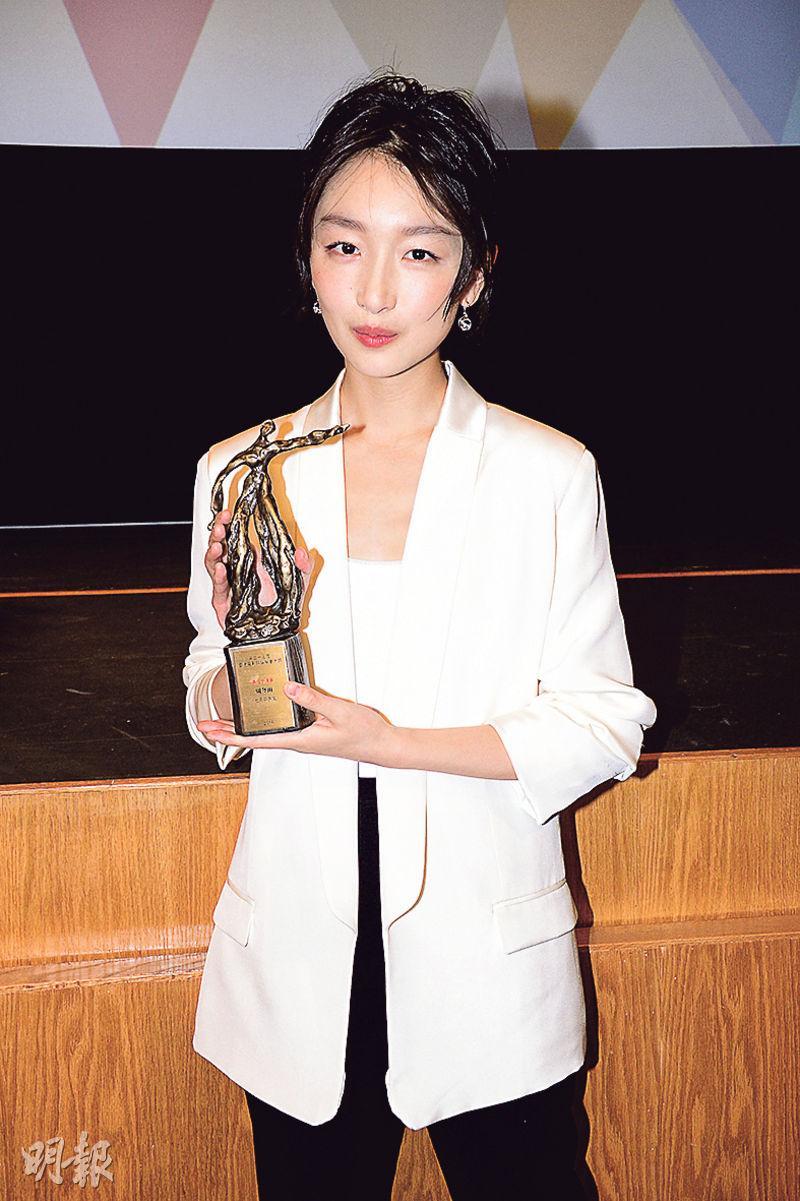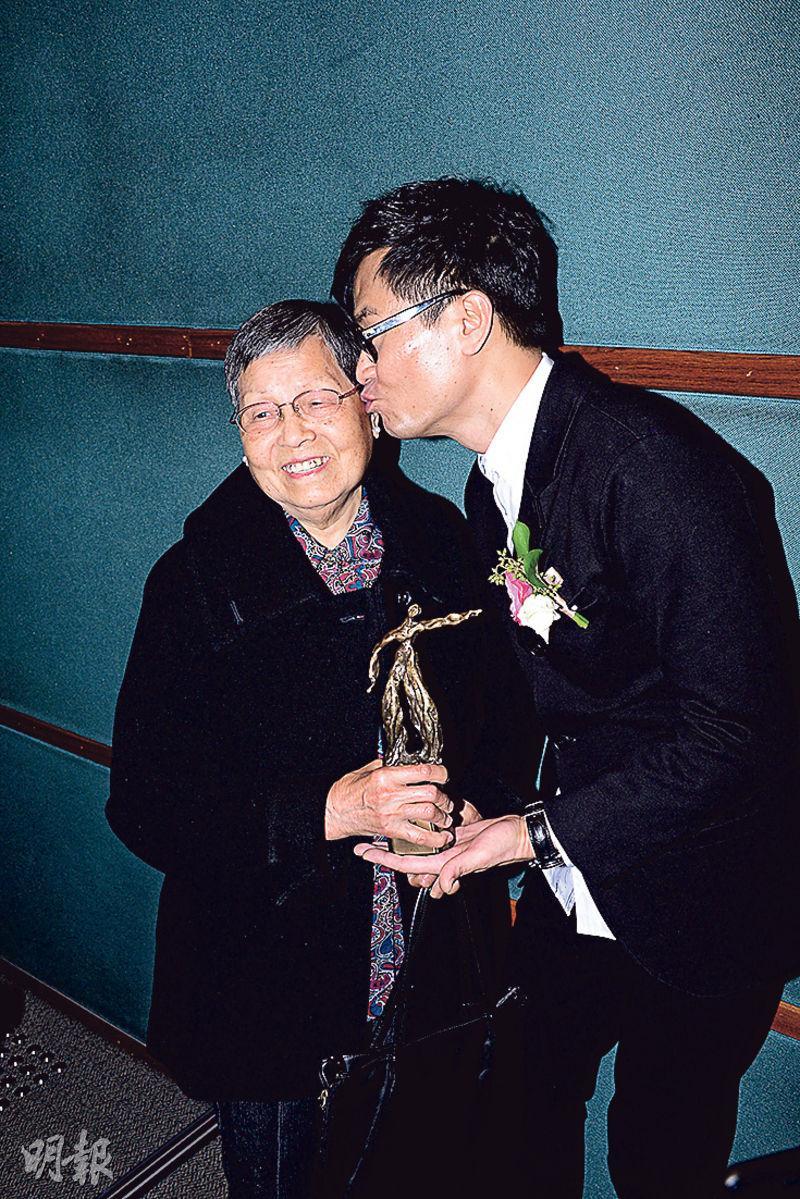 courtesy of mingpao.com
Best Actor Gordon Lam and Best Actress Zhou Dongyu
Michael Hui presents the Best Actor award to Gordon Lam
Fresh out of the oven Best Actor Gordon Lam gives his mother a kiss
courtesy of on.cc
The 23rd Hong Kong Film Critic Society Awards presentation took place yesterday at the Hong Kong Film Archives. Best Actor Gordon Lam Ka Tung, Best Actress Zhou Dongyu personally accepted the awards. Ka Tung even brought his Mommy to witness his first performance award. After accepting the award he could not help but kiss Mommy; Zhou Dongyu graciously talked about former rumored boyfriend Shawn Yue Man Lok's new romance. She pretended to breathe a sigh of relief and behaved mischievously, she even wished everyone a Happy Women's Day.
The film critic society president Wong Chi Fai presented the six recommended films: MAD WORLD (YUT LIM MO MING), MERMAID (MEI YUN YU), SOUL MATE, WEEDS ON FIRE (DIM NG BO), SNUGGLE (BOON SUN) and SEE YOU TOMORROW (BAI DOH YUN). Then guest presenter Michael Hui Koon Man presented five major awards, Best Screenpaly to MAD WORLD's Chan Chor Hung, Best Director to MERMAID's Stephen Chow Sing Chi and MAD WORLD's Wong Chun, Best Actor to TRIVISA (SHU DAI CHIU FUNG)'s Lam Ka Tung, Best Actress to SOUL MATE's Zhou Dongyu and Best Film to TRIVISA.
Hui Koon Man sad, "This award is different from the ordinary award, it is from the people who know their stuff. Film critics are like food critics, they know their stuff the best. An award from people who know their stuff the best, even I haven't received one. I really want one. This time all the awards are very original and creative, the pride of Hong Kong. Lam Ka Tung is an outstanding actor, a rarity in Hong Kong. He can use body language and express to express himself. Miss Zhou's performance method is very successful, from the earthy flavor of UNDER THE HAWTHORN TREE to the trendiness of SOUL MATE this time."
First time Best Actor Ka Tung said that months ago when he learned that he won he already felt very uneasy, because he never had this type of experience. "This film has achieved a lot. For three people to tell this story, in the past year this film was very topical. Actually actors are very simple and naive, they only have to be nosy and 'smell' other people's lives and sniff out their business. In the future I will thoroughly gossip and sniff out others' business. I hope in the future I will be able to play even more characters for everyone."
Ka Tung won the Hong Kong Film Critic Society and the Hong Kong Film Directors' Guild Best Actor. He hoped that he will win at the Hong Kong Film Awards. This time was his first performance award. Ka Tung said that he was very uneasy because he had to think in detail what he wanted to say. He truly had too many people to thank, he also invited Mommy and hs teacher to witness his award acceptance. "When I learned that I won I immediately told Mommy, but Mommy's reaction actually was see no evil hear no evil. She just went 'Huh' and went to sleep. "The next day I found a red envelop under my pillow with ten bucks inside. It really was a small gesture but it was very meaningful. I am very happy, as I finally can answer to my family. (Will Mommy attend the Hong Kong Film Awards?) It will depend on her schedule because she has to go to the Temple. She is also afraid of staying up too late. This time is my first award, she has to be here." Speaking of only Jordan Chan Siu Chun did not receive any nomination, Ka Tung admitted, "I of course wanted him to be nominated, the entire film was three in one. I want to walk the red carpet with Siu Chun and Siu Chai together, I hope everyone would have dinner together and have a little fun."
Zhou Dongyu after the Golden Horse Award again won Best Actress with SOUL MATE. She said, "I am especially emotional to win this award because this is a professional award. I thank everyone for the recognition, for more people to know Dongyu. In the future I will put even more effort into playing the characters well. Today is March 8 Women's Day, I wish all the comrades a happy holiday." Was she confident about winning the Hong Kong Film Award? She said, "I am especially nervous about the Golden Horse Award and this award, but the Hong Kong Film Award hasn't happened yet so I don't know. I hope the team will be able to win even more awards. This isn't the hard work of one person. (Have you seen the competition's work?) No, because some films weren't released in the Mainland. I actually really want to. (Would you see Ma Sichun as a rival?) I have always really liked Wai Ying Hung. She is amazing, so I can't choose. When I watched her movies before I was very moved, she played her characters very well and she was very able to touch people. (What was the hardest part about SOUL MATE?) It didn't have any very difficult part, I should say that the entire team was great. I am not a hard worker, but the team was highly demanding. It relied on everyone's hard work, otherwise it wouldn't be successful."
As for her former rumored boyfriend Yue Man Lok and Taiwan star Sarah Wang Tong-Yun, Zhou Dongyu said, "I heard about it. They are trending online, to be able to find some you like is very hard. (You can breathe a sigh of relief?) I can be in rumors with anyone, guys, girls, I am already used to it. Actually this only happens because our relationship is good." She also sad that she did not have a boyfriend now. If she would she would tell everyone.