courtesy of on.cc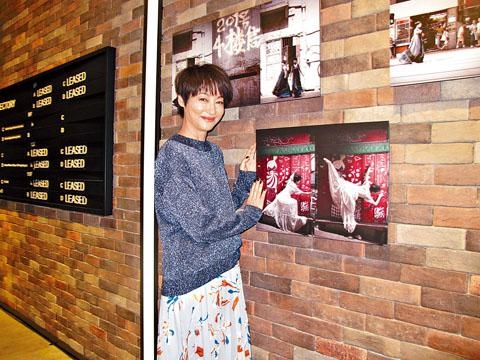 courtesy of singtao.com
Kara Wai Ying Hung after finishing her final action film MRS. K invited artist Another Mountain Man (Stanley Wong Bing Pui) to shoot a series of photos that merged kung fu and art. Yesterday the photo exhibit "MOVING ON 57 X 57" held an opening ceremony.
Sister Siu Chun while shooting MRS. K injured her kneecap and chest. When she shot this series of photos she slipped during a kick and injured her left leg. She still did not stop after that and even performed a flip. When she heard a snap she was afraid that her leg might fall off and immediately halted the shoot. At the doctor's office Sister Siu Chun's left thigh had a huge blood clot. She spent a lot of money on physical therapy, acupuncture and swimming to gradually recover. This time did she really choose beauty over life? Sister Siu Chun said, "I wanted to exceed my own expectation and make a memory for myself. I hope to be able to find photos with my own style to express that."
Sister Siu Chun said that this time she "risked her life" to make her final action film, so she was very anxious as well. Since she started as an action actress and each of her films broke box office records back then, this time she had to "show off" for everyone. Yet saying "goodbye" to action film, Sister Siu Hung admitted, "I am very reluctant but I don't want to keep going when quality declines, which would feel even more 'grotesque'. So I would be better off not being so greedy. Risking my life at the best opportunity would be the best. I don't want to get older to keep going with doubles and less courage to make matters worse, but I could still do it at age 56. I would rather quit while I am ahead!"
Sister Siu Hung has made over 135 films, roughly over 100 were action films. Since she started to leaving Shaw she has been the lead in 56 films, all were action films. Then at age 49 she made WU XIA, the response was "wow" and she was very pleased. "That time made me think how could I not be able to do it, so at age 56 Wai Ying Hung could still fight!" Has she thought about a Guinness World Record? Sister Siu Hung said, "That's right, I can ask the company for help. I have made so many movies and at this age too!"