Shirley Chan, Eric Suen, director Checkley Sin, Lemon Yip and Rachel Chau
Alex Fong Lik Sun, Janet Chow and Timmy Hung
courtesy of on.cc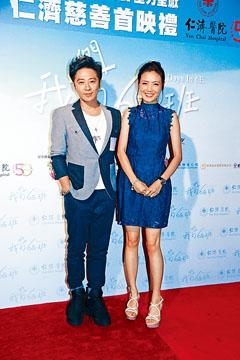 courtesy of singao.com
Eric Suen Yiu Wai, Lemon Yip Chi Yu and Shirley Chan Yan Yin two nights ago attended their film OUR DAYS in 6E's charity premiere. Eric's wife Macy Chen had to work and was unable to attend. He said that his wife had to watch the store for him. He also considered booking a show to watch the film with fans. Eric said, "Because my fans are very radical, they can't tolerate me in any rumor! Before I got married fans scolded my wife and would use dirty language."
As for the most radical time, Eric said, "A fan tried to upload my wife's photo, then posted another of her only in a bra to prove that her figure was better than my wife's." Eric admitted that his fans' behavior made his heart ache, sometimes he would have to block them. "Both sides are people who loved me, they shouldn't target each other with negative comments. However now they have slightly eased, maybe after marriage everyone started to come to their senses. I used to get letters written in blood in my mailbox.
Yip Chi Yu admitted that she was very nervous about her first film. Constantly daydreaming, she needed numerous reminders from her co-star Eric. She said, "Eric is a very nice guy, he would teach me how to act very attentively. He would even imitate my voice and movement to demonstrate it once for me." Playing a problem student, Chan Yan Yin had to try to kill herself in the film. She revealed that later she will try the action actress route. Now she has already started working out in preparation.