Jackie Chan
courtesy of on.cc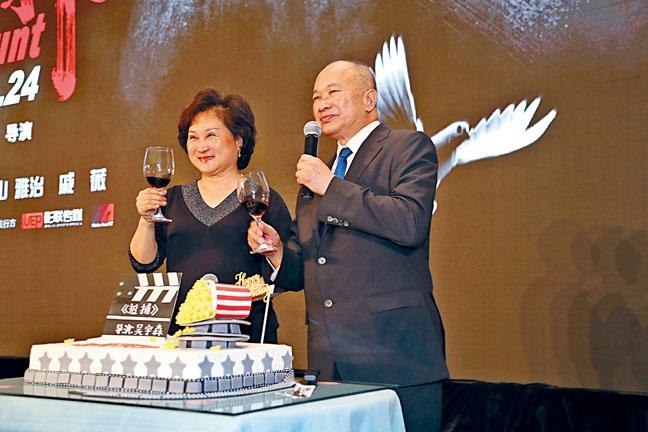 John Woo celebrates his birthday with his wife while promoting MANHUNT in Qingdao
courtesy of singtao.com
Yesterday was famous director John Woo (Ng Yu Sum)'s birthday. His action epic MANHUNT has been selected for many international film festivals, which sent him all over the world lately. He just attended a film promotion in Qingdao. Since it was his birthday, the event prepared a surprise birthday banquet to celebrate with him. His friend Big Brother Jackie Chan even sent a video, which surprised the director even more. In particular Director Woo said that he thought he came to attend the Qingdao film promotion, he never thought that everyone would present him with this birthday surprise. Mrs. Woo was also invited to the stage for a toast and cake cutting with her husband.
Jackie Chan was dressed in black, but for the video he borrowed other colored clothing from his friends. "I wanted to find more joyous color like red, but I really couldn't find any." He said, "Brother, I remember when we were kids, I already thought you could be a good director. I also thought that I could act. From our first collaboration to now, over 40 years went by in the blink of an eye. Heaven has treated us well, now we can still fight, still shoot, still act. That is something that many only say, but I have to seriously say it once. I really, really look forward to us working together again. What do you think? I am waiting for you!"
Director Woo of course immediately said that he was looking forward to it and sentimentally said that he and Jackie Chan have made movies for more than half their lives, which were lives well lived. He hoped that in the future he would be able to work the job that he loved. As early as 40 years ago when he and Jackie Chan worked together Chan's energy. "In one fight scene, Jackie Chan's head hit a rock and he blacked out for a long time. Luckily he rock wasn't sharp and he was able to stay alive." Years ago he still remembered the scene like it was yesterday and even put these thrilling elements into his film creations.
In 1973 Director Woo already invited Jackie Chan to be his film debut THE YOUNG DRAGONS' action director. Director Woo saw how hard Jackie Chan worked. In 1976 when he made HAND OF DEATH he directly invited him to perform in his new film. After the shoot Director Woo told him, "You will definitely be a big star in the future." He encouraged him to keep making movies. Although for a very long time Ng Yu Sum and Jackie Chan made their own movies and opened up different styles of roads, their passion and persistence for film were the same.