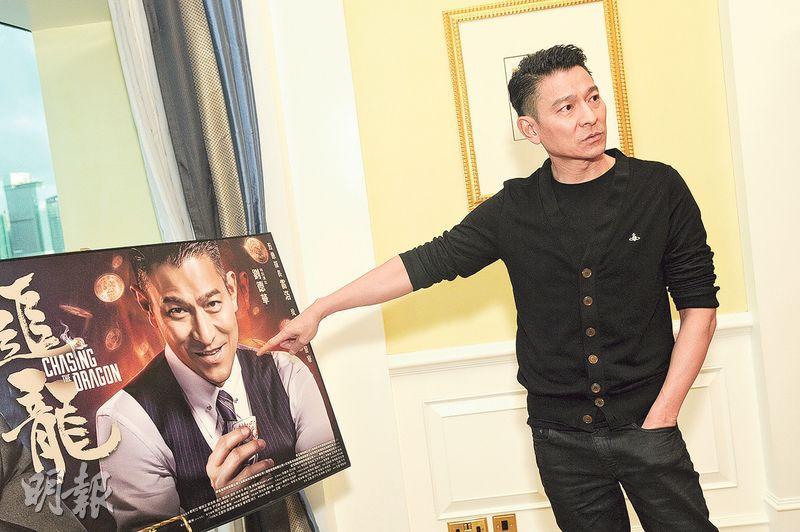 Jason Kwan says CHASING THE DRAGON cannot be without Andy Lau's character so he splits the film with Donnie Yen
courtesy of mingpao.com
Over 20 years, the film TO BE NUMBER ONE and LEE ROCK because Hong Kong biography film legends. Now Wong Jing and director Jason Kwan Chi Yiu directed CHASING THE DRAGON (JUI LUNG) remade two legendary figures "Crippled Ho" and "Lui Lok"'s stories. Director Kwan said that when he asked Wa Jai to reprise the role, he did no ask him to play it like he did 25 years ago. He wrote character personality and image in the script for him. He with his life experience explored and created this character without imitating his previous performance.
Wa Jai also admitted that he did not deliberately impersonate his previous performance but the method was the same. Because the role was the same in both films, he created them himself and had certain knowledge. This time in the film some lines from the previous film were used for him to repeat again, but Wa Jai said, "The previous one was on the surface and not in depth because at the time I was only 20 or 30. Now I am already 50, I feel that I must have seen more and have more calmness. The previous one was more like an image!" Wa Jai said that the character was someone who brought balance to an era, with a little temper in his personality he still changed with the times. He had to give up some stuff. Wa Jai said, "Playing the role again 20 some years later, I felt that I kept depth before. Now I can have a little more!" Did he watch his previous film before the performance? Wa Jai said, "People have asked me that, but Lee Rock never left. Actually this performance whether with the image or the hairstyle, everything was the same as before. The age was divided with Hawaiian shirts, suits and later three piece suits!"
This time in the film Donnie Yen Chi Tan's "Crippled Ho" was the main plot. Wa Jai felt that Chi Tan's performance was different from the first generation "Crippled Ho" Ray Lui Leung Wai. This was the difference was the era. He said tha Ah Lui's performance was more GODFATHER like, Chi Tan's truly leaned toward the 70s. His apperance, hairstyle and accessories were packaged into another atmosphere. The Kowloon Walled City, and "his generation" of actors like Felix Wong Yat Wa and Kent Cheng Juk Si. He said, "The feeling was that nostalgia, you can smell it. It really is very special. I also congratulate Brother Jing, finally I go him some good word of mouth. This time he truly is serious. The Hong Kong film heroic duo and era film, even biography film's flavors are still here!"
Wa Jai back then played the role from age 20 to 70. This time it was delayed until 30 something when he became the chief Chinese captain. Was he no longer confident about playing 20 something again? Wa Jai laughed, "They didn't write it for me! Other people may not be able to, I can!" He also admitted that he had to pretend to be mature to play the role. Back then he performed without aging make up. Now his age has already reached the middle spot and indeed it would be a little awkward. Thus he still had to dye his hair black! Wa Jai revealed that this time he was a guest star but he worked on over 30 units of scenes. He went from the originally 1/3 to 2/3 and became the lead. It was also more like a heroic duo film. Thus Wong Jing had to compensate him a lot more. He joked, "Let's see how well this film sells, if well then I should get a bonus!" However Wa Jai said that Chi Tan still had the most scenes. He also had a lot of scenes with Chi Tan. At the opening and the ending they saved each other at the Kowloon Walled City, both had a series of action stunts. He said, "Of course Chi Tan had more action, but his performance this time was decent as well!" Director Kwan added that this was not a kung fu film so it was thug fights. Seeing Wa Jai getting hurt during a gun fight he felt bad for him. Speakng of Wa Jai not longer working with horses after his accident, would he still work on fight scenes? Wa Jai said that he would not be able to fight from the beginning to the end like he did in MAGIC CRYSTAL when he was young, because it would be too dangerous. Instead he could still accept stunts like in SHOCK WAVE and FIRESTORM.