courtesy of on.cc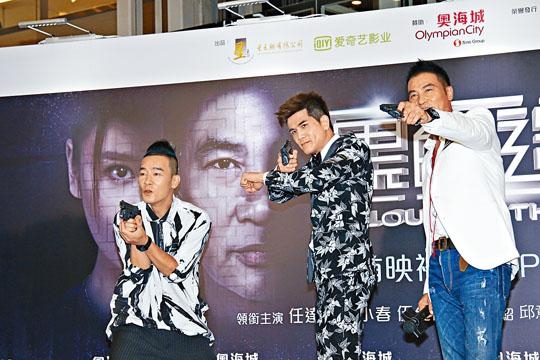 courtesy of singtao.com
courtesy of mingpao.com
The film COLOR OF THE GAME (HAK BAK MAI GUNG) two nights ago held its premiere. Actors Simon Yam Tat Wa, Jordan Chan Siu Chun, Philip Ng Won Lung, Sabrina Qiu (Yau Yi Nung) and Hazel Tong Chi Yui attended. A large contingent of Siu Chun fans were present but when Yam Tat Wa arrived, Fans immediately asked Brother Wa for selfies.
Brother Wa in the film played a mob boss. The most memorable scene for him was when he had to force Lam Suet to eat 10 bowls of rice until he got sick. After the shoot Lam Suet even fainted. Brother Wa also posed with guns with Siu Chun and Ng Won Lung. Brother Wa said that they were of different eras so they could not be compared, but while shooting in the middle of summer he had to wear a thick wig while they could take off their shirts on the set at will. Although he was not so "open", his physique could hold its hold as he posed for a photo book before. Brother Wa revealed that earlier at the airport he ran into a group of airport police and took photos with them. He actually always wanted to direct and star in a movie about airport police, so he put the photo on his desk to encourage himself to be in the best shape to achieve the goal.
Siu Chun and Brother Wa worked together again after YOUNG AND DANGEROUS (GOO WAT JAI). He remembered that back then he did not dare to converse with Brother Wa, now they could talk about parenthood. Siu Chun knew Brother Wa worked hard for his daughter's future education and dowery. He even shared overseas investment tips, but Siu Chun did not have enough money to buy a home for his son yet.