courtesy of on.cc
Carina Lau says finding financing is the hardest part of a film production
courtesy of singtao.com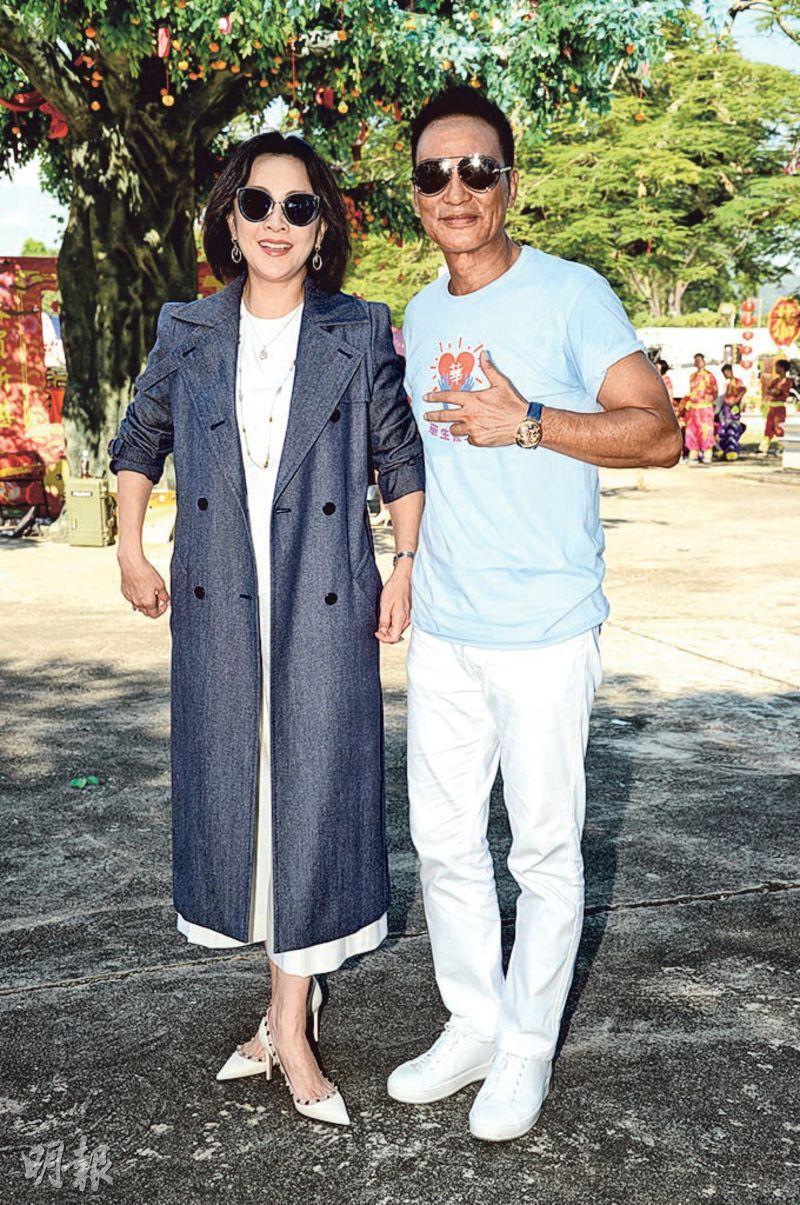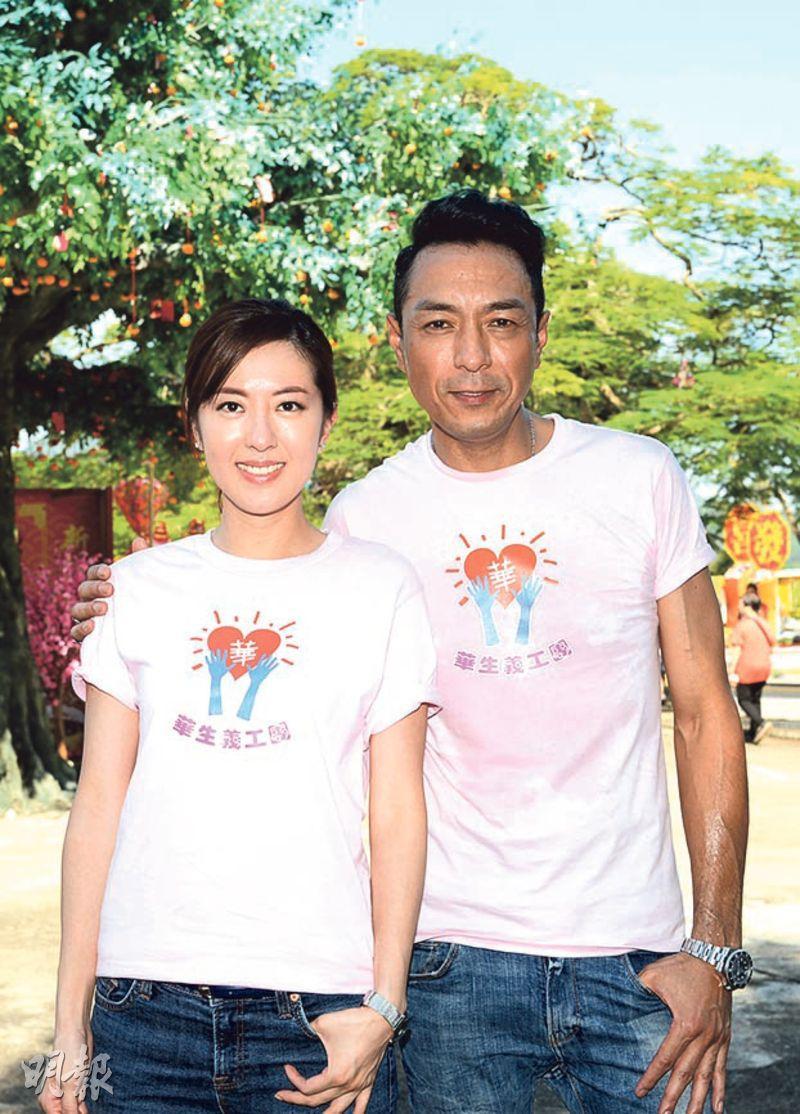 Natalie Tong does not give chewing gum to Philip Keung for their kiss scene
courtesy of mingpao.com
The Lunar New Year film MOTHER IN LAW VS. SON IN LAW (NGOR DIK CHING DIK NUI SAI) yesterday worked on a Lunar New Year dragon and lion dance at the Tai Po Lam Village Wishing Tree. Actors Carina Lau Ka Ling, Simon Yam Tat Wa, Vincy Chan (Wing Yi), Sherman Chung Shu Man, Philip Keung Ho Man, Natalie Tong Sze Wing and Mak Ling Ling participated.
Yet yesterday under the heat, Yam Tat Wa came to the shoot at 6AM. Although he only wore a tee shirt he was still drenched in sweat. He said that he almost had to dress once a hour. By the afternoon he already changed ten shirts. Lau Ka Ling remained calm despite being in a long sleeve top. Brother Wa said, "With the goddess here I am especially passionate. She is making me sweat. She is way too hot!" Ka Ling said, "When I worked on Tsui Hark's film in Beijing it was no small matter either. That is how making a movie is, you don't get to complain!"
Brother Wa in the film played a "chop shop king". Later due to Ka Ling's goddess influence he became good. After remodeling the chop shop he rented the place to young people for two bucks. The film was very positive. He also believed that filmmaking would one day come true! He even said that if he had money he too would rent cheap for people to do business. Reporters joked that with all his properties around the world he was already rich. Brother Wa stated, "I have rented to people cheap! Otherwise they wouldn't still rent from me. Even the store front was rented for over 10 years, which proved that I am a good owner!" Would Ka Ling have properties all over the world like Brother Wa? Brother Wa chimed in, "She could take 30 of mine with one of hers!" Ka Ling admitted that she and Brother Wa have studied property investment, but they had different ideas. She felt that more properties would instead be more burdens. She would have to find people to live in them and hire people, even pay management fee, maintenance fee, all of which were rather troublesome. As she grew, her thinking was changing too. Now investment would be riskier so she would choose to be in business.
Speaking of many actors and singers as guest stars in this film, each one has asked Ka Ling for a photo. Ka Ling said, "The director has the most and often put them on social media. However this time has been the most enjoyable. I ran into many former colleagues and old friends!" Brother Wa agreed, "This time I saw many former TVB colleagues and many new singers. Making one movie felt like making 50, it really has been very joyous!"
The Lau Ka Ling produced for the first time and starred, Ng Siu Hin, Tse Kwan Ho and Jennifer Yu Heung Yi starred film IN YOUR DREAMS (YI CHING CHUN DIK MING YI) was selected to be the Hong Kong Asian Film Festival 2017's opening film and competition. Ka Ling admitted that it was very encouraging because she felt that now making a movie is very hard. Finding an investor was very difficult, the lack of money made every step uneasy. Once the financing was in place naturally professionals would participate. For this film she did not take a salary. William Chang Suk Ping also did not charge her for helping with the editing. Even the cinematographer was on a volunteer basis. She said, "Hong Kong has the technical personnel, but due to market accommodation now they have to make co-productions. However good movies would always have an audience. How else would there be a 5.6 billion box office!" Brother Wa agreed, "As long as the subject is fresh, Hong Kong film would always have their own uniqueness!"
Philip Keung Ho Man in MOTHER IN LAW VS. SON IN LAW (NGOR DIK CHING DIK NUI SAI) played Simon Yam Tat Wa's nemesis since childhood but was often bullied by Brother Wa. Brother Wa even won over the goddess that they both liked. Natalie Tong Sze Wing played Brother Wa's assistant, who handled the good and the bad for him.
Today they worked together for the first time and even had an intimate kiss scene. They even had to have the instant click first love feeling. Yet today the shoot took place under the blazing sun in the Lam Village in Tai Po. Hak Jai joked that he knew Sze Wing was some more resistant of her co-stars and would give them chewing gum. Luckily that day she did not give him any. Sze Wing awkwardly laughed, "Usually the co-stars are great, bu some would get chewing gums. I gave them to (Benjamin) Yuen Wai Ho because he likes coffee too much and forgets that he has the coffee stench!" Did she have any bad experience with a co-star before? Sze Wing said, "Actually I would make some preparation before any intimate scene. This time we start with a kiss scene, but Hak Jai is pretty good!" Hak Jai said, "Great!"
Earlier for Kristal Tin Yui Nei's birthday, Sze Wing made her a cake. The theme was Super Woman because Ah Tin at work and among her friends was indeed Super Woman.