Nancy Sit shows her support
courtesy of on.cc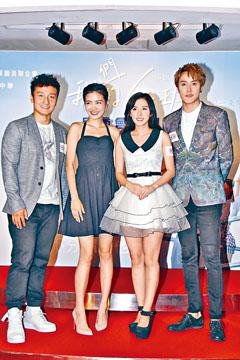 Alex Fong Lik Sun, Lemon Yip, Rachel Chau, Brian Yuen
courtesy of singtao.com
courtesy of mingpao.com
The film OUR DAYS IN 6E (NGOR MOON DIK 6E BAN) two nights ago held a special charity screening. Actors Alex Fong Lik Sun, Eric Suen Yiu Wai, Shirley Chan Yan Yin, Lemon Yip Chi Yu, Rachel Chau Ka Lei, Sharon Luk Sze Wan and Cheung Kwok Keung attended. Siu Fong in the film played a sponsor who sponsored students in a competition. He did not run into any school violence while at school but he was discriminated against. He joked, "For example I was discriminated against for being more handsome than others and swimming faster than others. I was also discriminated against when I did bad in school."
Speaking of online rumor about Siu Fong saving up to wed former girlfriend Stephy Tang Lai Yun in 2018, he admitted that he noticed the report but he said that not even 10% of it was true. Thus no media asked him to respond after it came out because everyone knew it was "fake news". Siu Fong said, "Some only read the headline and not the content. Still many people congratulated me, only no one asked me to confirm." Perhaps people online could tell it was fake right away. He said, "Maybe they are certain that I won't get back together again. Maybe I really would get married in 2018!" He stressed that he had to save money, since any wedding would require money. "However I wouldn't get back together again!"
Yip Chi Yu played a class teacher, but she joked that she would like to play the school beauty more; Chau Ka Lei played a discipline mistress. She had to put thought into her make up and manner of speech, as her performance would be more mature. Ka Lei said that this time she had a chance to work with her idol Suen Yiu Wai, but unfortunately they did not have any intimate scene together. The director originally arranged for her to kiss Ricky Fan Chun Fung, but he said that his wife Charmaine Li Si Yan was on the set. In the end she still managed to keep her first on screen kiss intact.