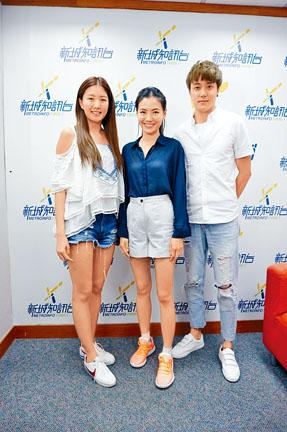 Rose Chan, Lemon Yip, Brian Yuen
courtesy of singtao.com
Rose Chan Ka Wun yesterday represented Master Checkley Sin Kwok Lam and led Lemon Yip Chi Yu and Brian Yuen Chung Yeung to promote the new film OUR DAYS IN 6E (NGOR MOON DIK 6E BAN) on Metro Radio. Although Rose was the elder, she revealed that she was the youngest out of them.
Rose revealed that in the film she guest starred as herself, a comedy spot in the youth inspirational film. She also said that because Master did not ask her to play the school beauty role she was jealous. "I have never been the prettiest girl in school in reality. All the classmates treated me like a guy, asking me to erase the blackboard, change the light bulb and all that, so I wanted to make up for this regret in film. However Master said that if the film would perform well at the box office, he would keep making movies. I hope in the next one I would be able to play the school beauty, haha!"
Yip Chi Yu said ha she was rather anxious about her silver screen debut. She called Rose for advice over all things big and small, even Master joked that Rose was more like their manager.