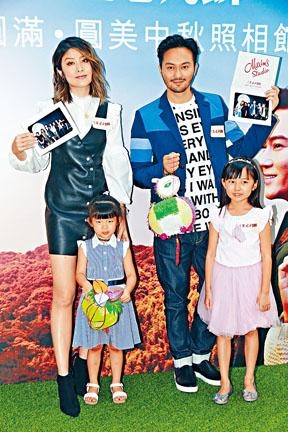 courtesy of singtao.com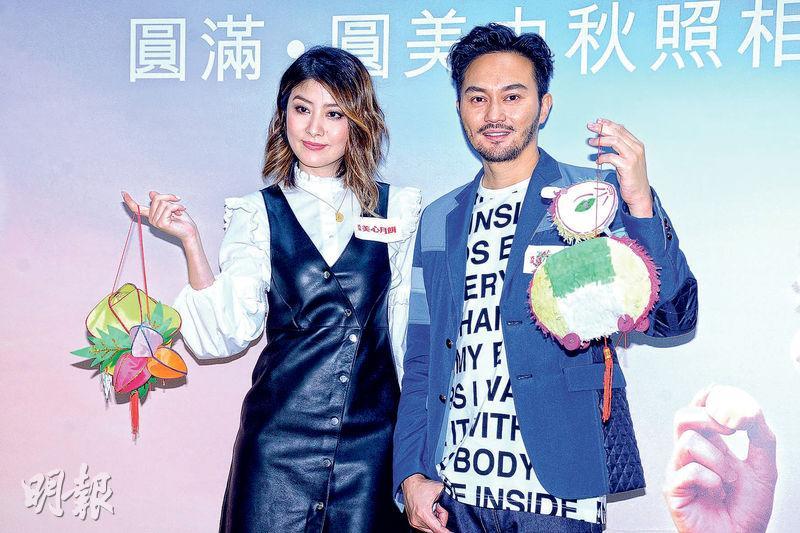 Kelly Chen will turn 45 soon. Julian Cheung praises that she gets prettier with age
courtesy of mingpao.com
Julian Cheung Chi Lam and Kelly Chen Wai Lam yesterday attended a moon cake promotional event. They even shared their childhood photos with everyone. When Chilam saw Kelly's photo at age 4, he praised that Kelly for not changing much. Later they even worked with children on a 3D Mid Autumn Festival photo frame and finally celebrated an early Mid Autumn Festival with everyone with lanterns.
Chilam revealed that he will be working in Thailand on Mid Autumn Festival. His family would spend a hot Mid Autumn Festival there. Chilam afer finishing his movie on the 30th will shave and changed into another an look for Leung Ka Shu's new film. Thus he was preparing to go under the (tanning) lights. When asked if he would ask his friend Aaron Kwok Fu Sing for tanning light, Chilam said, "You ask Kelly." When asked if he knew that Sing Sing's daughter had to remain at the hospital, he said, "I really don' know, I am not lying. Lately we have had less contact, as we have our own movies to make. Later I hope to have a chance to get together. I really want to know about his condition from your (reporters) mouths."
Kelly was clueless and had no idea that everyone was talking about Sing Sing becoming a father. After the media informed her, Kelly said, "They were due? Congratulations to him, boy or girl? (Rumored to be a girl!) It's either boy or girl." As for advice for the new father Sing Sing, Chilam immediately reminded Kelly that it was a hypothetical and unconfirmed. Kelly said, "As long as he coordinates with his wife he is fine. Do whatever his wife says." She and Chilam did not share any parenthood advice because their children are older.