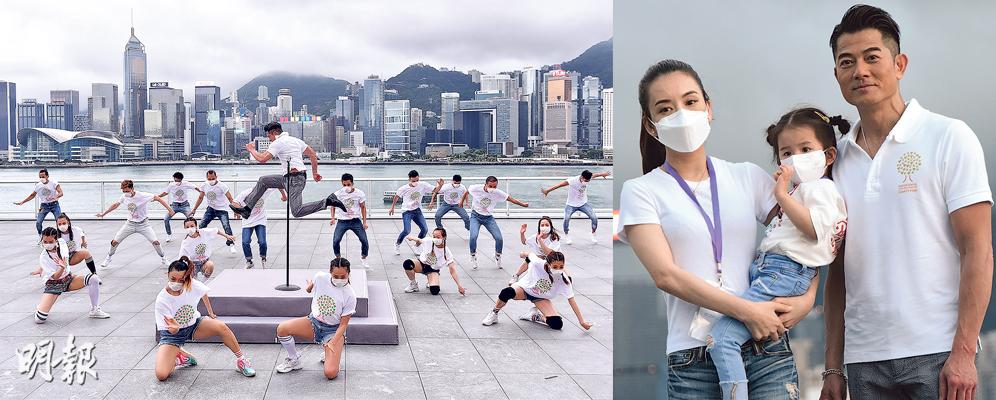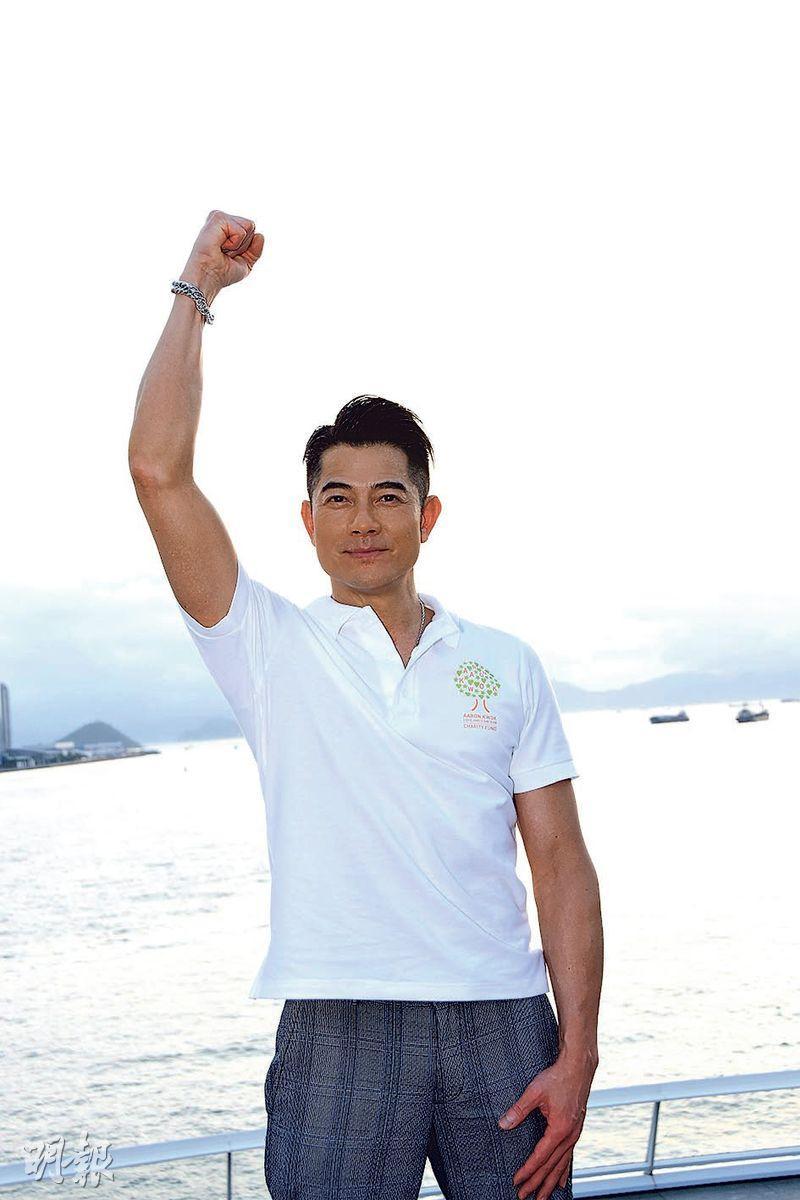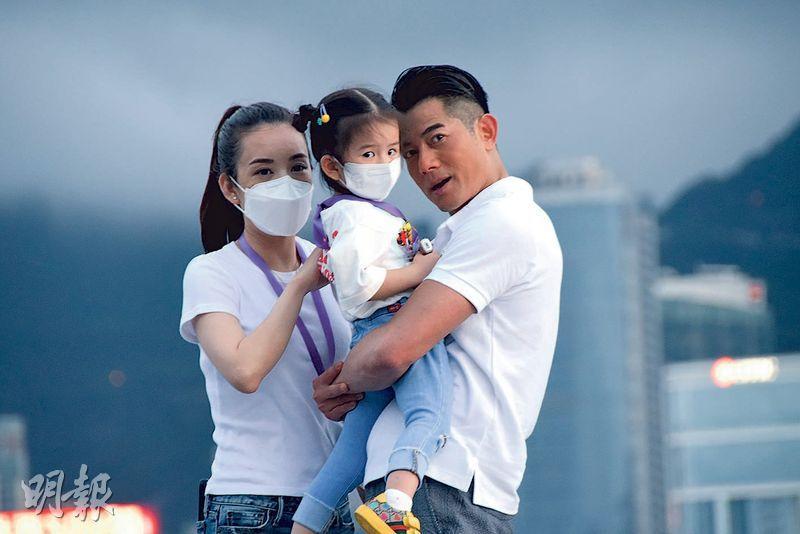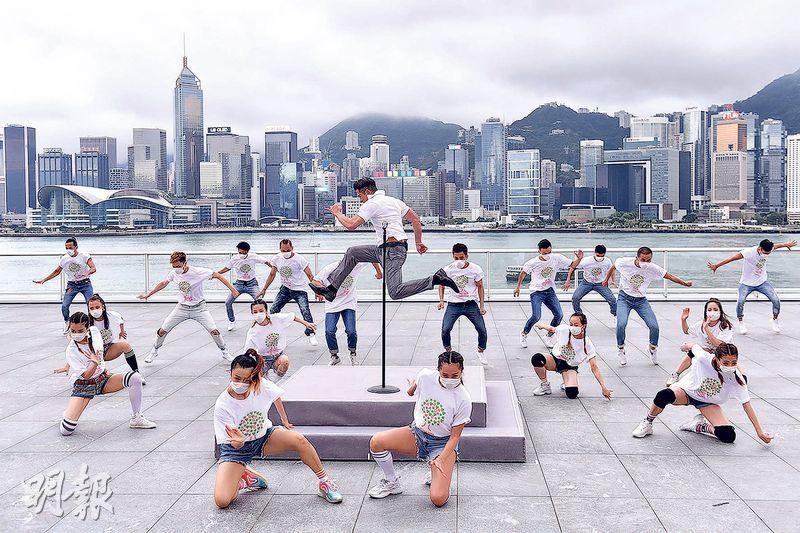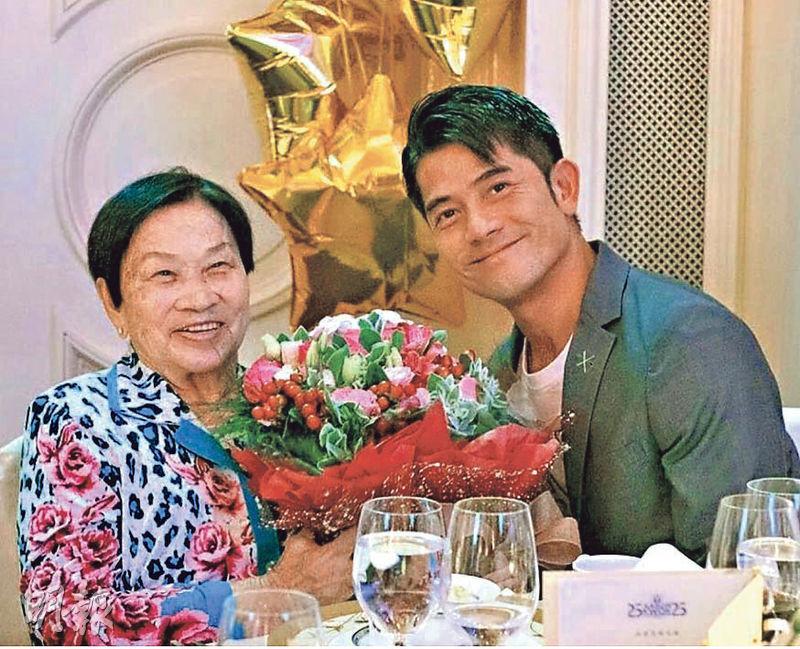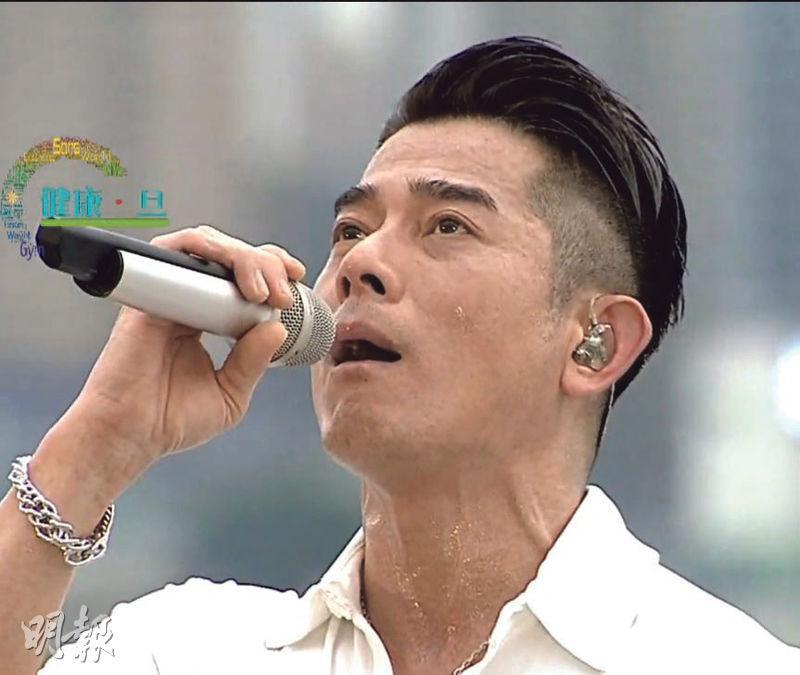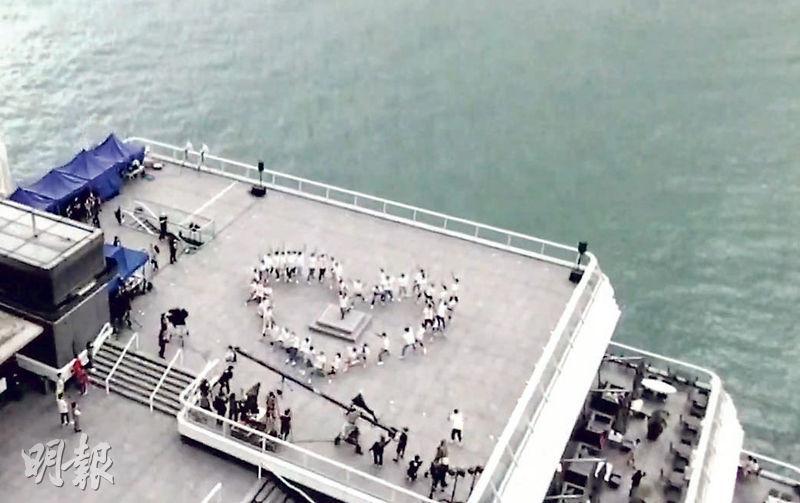 courtesy of mingpao.com
courtesy of on.cc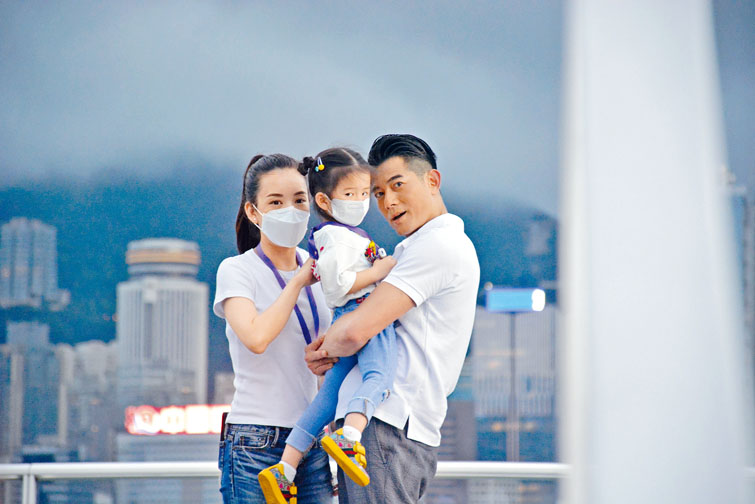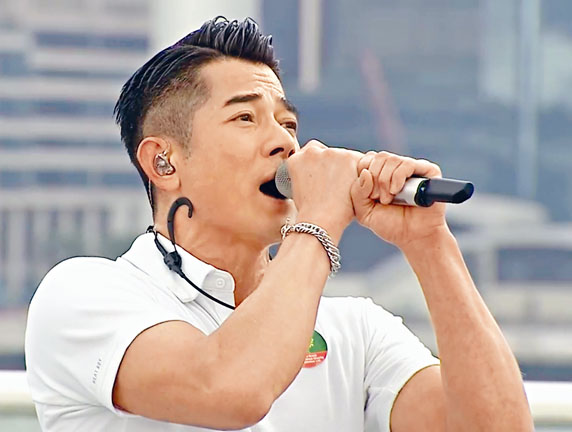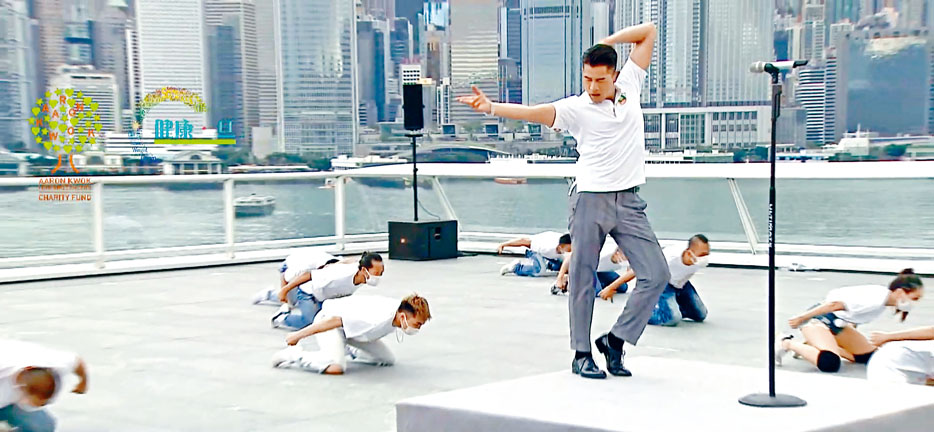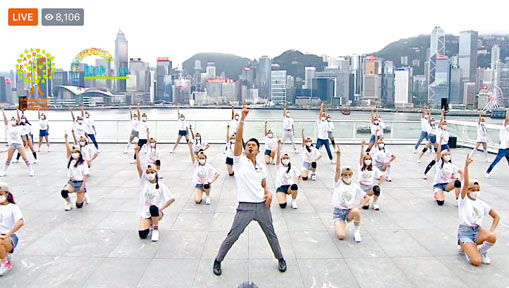 courtesy of singtao.com
The Aaron Kwok Fu Sing started online charity concert to raise fund for professional dancers and behind the scene basic level film workers yesterday took place at Harbor City. In a white tee shirt and gray pants Sing Sing did not wear a mask as he sang and danced with almost 100 dancers in masks. In a hour he performed 13 classic hits and dedicated AGELESS LOVE SONG to his late mother for Mother's Day. During the performance he was once moved to tears, as his real emotion touched all of Hong Kong. Sing Sing's wife Moka Fang also brought their older daughter to enjoy the show live. After the show Sing Sing even brought his wife and daughter to enjoy the Victoria Harbor scenery and took photos.
The online concert started yesterday at 5PM. Sing Sing first sang ENDLESS LOVE FOR YOU with almost 100 dancers, he said, "This concert is very important. Because I started as a dancer, seeing a group of dancers unemployed I hope through this concert to be able to ease their troubles. A lot of things have an expiration date, only charity has no expiration date." Sing Sing then performed EFFECTIVE DATE and WILD CITY. Aside from fast songs, Sing Sing also chose slow songs and Mandarin songs. Due to the heat and the humidity, after a few songs he was already sweating buckets.
Before performing DIVERGENCE (SAM CHA HAU), Sing Sing talked about the film industry. "A song in a film has a deep meaning. It brought me the first film honor. A song, a film theme song, here I dedicate it to the countless workers who have made movies for Kwok Fu Sing."
Today is Mother's Day, after losing his mother earlier Sing Sing sentimentally said, "Charity is my job for the rest of my life, at first I started my own charity foundation due to my Mama's influence. Because when I was little she brought me to volunteer, I received a lot of joy from being able to help others." Sing Sing said that although Mama has already passed, she would always remain in her heart. He would continue to perform charity work and dedicate AGELESS LOVE SONG to all the mothers in the world. "A lot can change in the world, only motherly love doesn't change." He then blew a kiss to Heaven.
Finally he ended with the song STRONG to cheer on all of mankind. "From starting as a dance to today I am able to be on this stage and witness a group of dancers continue to love dance. Although I like them have no job, it doesn't matter since we have faith! To be able to help you is my honor, I hope to use this song to cheer on all of mankind in Hong Kong and the world. May they be just as STRONG as this song!"
After the show Sing Sing spoke to the media. He said that the high temperature expended more energy than he expected and during the rehearsal. The overall performance was considered smooth. He said, "This time I witnessed history in my career, because in 10 days we were able to perform the concert and contact 100 dancers. Many dancers have already switched jobs and worked part time. They returned to perform to show the strength of unity and spread positive energy to everyone." Sing Sing said that this time he sang 13 songs in a hour. Each song he chose, whether song or lyrics, had meaning. The concert would be available on demand online so everyone would be able to continue to enjoy and perform charity work.
Sing Sing said that he started this online concert due to the influence of "Song God" Sam Hui Koon Kit. Earlier when he did voice work he ran into a behind the scene worker, learned the difficulties dancers and behind the scene film workers faced. Thus he suggested to help them raise fund to get past the pandemic. When asked if singing AGELESS LOVE SONG was particularly sentimental, Sing Sing said, "The person I loved a lot was Mama. Now that I am a father I understand even more how noble the love of Mother is. Although my state of mind has changed, I still would miss Mama because she suffered to raise me. Now her job was done, she retired and passed on. I would also miss her, but this is life."
As for Mother's Day today, Sing Sing said that he would simply have dinner with family. He shall see if he would have any chance to bring his daughters to stretch their legs in the streets. He said, "I have been eating at home for three months already, indeed behind I very rarely had the chance to eat at home. Now I have even more time to be with the family, our relationship has improved a lot. I was able to play with the children. All of those were what a father should do. I wish all the mothers a Happy Mother's Day and good health."
The government's fund to fight the pandemic was unable to take care of dancers and behind the scene film workers fully. Sing Sing said that after he spoke up he hoped the government would be able to take care of this type of self employed individuals. As for how Sing Sing's career was going, he revealed that he did not stop because of the pandemic. He said that he has been preparing for a new film that would be able to start production as soon as the pandemic would pass. He would not just sit and wait, ultimately he had to face life with positivity.
Sing Sing's official choreography and friend Sunny said that for safety all dancers were asked to perform with masks. He said, "Although everyone has worked with Sing Sing for years and already had chemistry, the performance still had difficulties. Aside from arranging the choreography anew, many dancers have already switched jobs or worked part time. Bringing everyone together would require unity. This event was very meaningful. Everyone selflessly did their part for their colleagues." Without an elegant stage, lighting or platforms, Sunny said that the most important was to bring the spirit of unity and the power of togetherness. Performing at a simple and clean venue, they did their best just for dance. Reportedly, Sing Sing would be responsible for the dancer's performance fees for this concert. The number was around six figures. According to the event, the online charity concert yesterday between 5 and 6PM in Hong Kong, its global facebook live streaming total views reached 1.5 million. The "Health Tan" YouTube channel's live views were 480,000. Harbor City donated HK$ 1 million to the "Aaron Kwok International Love and Concern Charity Foundation" in a show of support.
Kwok Fu Sing took the baton from Song God Sam Hui Kit and performed his online charity event on the eve of Mother's Day. This performance received high praises online. "Health Tan" gave special thanks to fans around the world, "Your support is very important!"