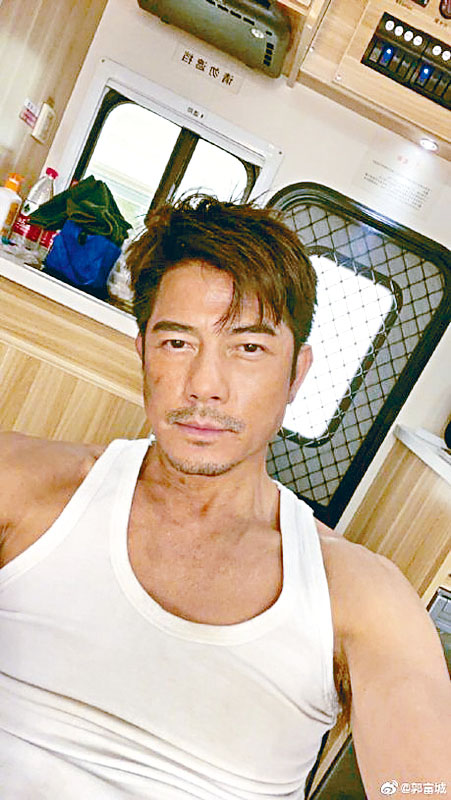 courtesy of singtao.com
courtesy of on.cc
The film series THE WHITE STORM (SO DUK) has already reached its third installment. This time the cast would remain strong. Aside from the regulars Louis Koo Tin Lok and Sean Lau Ching Wan, Aaron Kwok Fu Sing joined the fray. Three Best Actors would test their acting skills in the film, with Sing Sing and Goo Jai opposing villain Ching Wan. The team in June has already begun production in Xishuangbanna, Yunnan. Some caught the leads at the shoot locally and shared the photos online. Sing Sing's "worn out old undercover uniform" was spoiled and so was his identity.
The film THE WHITE STORM 3 would be Herman Yau Lai To directed again. Earlier it began production in Xishuangbanna. Lately many production videos have been found online as the three leads' costumes were unveiled. Sing Sing had the most costume appearance, in a white tank top, and on a motorcycle with sunglasses looking rather cool. In the video he was revealed to have "worn out his old undercover uniform". His character has been spoiled. Sing Sing knew that his costume has already been unveiled, and flat out shared his all new look from the film on his social media. He was unshaven, his hair was messy and his face dirty as he looked a little down. However he still was masculine. Sing Sing posted, "I am looking for another film character. Hard work? Worth it. Never forget your original intention. Work hard to do your best. The film is THE WHITE STORM 3, let's go!"
Another hunk Koo Tin Lok was dressed in black and continued to play Cool Man. He had a big group of people around him at all times. Always a good actor, Lau Ching Wan seemingly wore a bulletproof vest in the back seat with a dark smile. In addition, many black sedans were in a crazy car chase in the city.